How to Put iPhone in DFU Mode
What is DFU mode?
In simple terms, a flash mode is an environment where the mobile phone has no operating system, and it works like plain old Java or like a terminal. At this terminal, a user can do programming tasks supported by the mobile phone, downgrade firmware, upgrade firmware and perform other kinds of work. In Apple's terminology, it's called iPhone DFU (Device Firmware Update) mode.
When you would want to use it?
The iPhone is completely different from all other mobile phones. For doing all sorts of programming task like the ones mentioned above, it needs to be put into DFU mode. DFU means Device Firmware Update. DFU mode is similar to flash mode for other mobile phones. If something goes wrong with your iPhone, DFU mode is the last attempt to successfully restore your iPhone back to its normal state. Follow the instructions given below to learn how to activate iPhone DFU mode.
Instructions to get iPhone DFU mode
Step 1: Open iTunes and make sure that your iPhone is connected to the computer.
Step 2: Press and hold the iPhone's Power button and at the same time press the Home button.
You should press both the buttons together otherwise you will not be able to put your iPhone into DFU mode. If the Apple logo appears on your iPhone that means you didn't press the buttons correctly and so the iPhone has loaded the operating system and started in normal mode.
Step 3: After 10 seconds, release the Power button and continue to press the Home button. You should keep the Home button pressed until a popup appears in the iTunes window that says, "iPhone detected in recovery mode". Press the OK button to continue.
After the iPhone has successfully entered DFU mode, you may notice either a black screen on your iPhone or a nice icon like a USB cable pointing to a hard drive. It depends if you have already jailbroken your iPhone or not.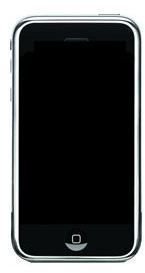 Note: If you notice a blank screen on your iPhone after performing the above steps and you are still not aware if your iPhone is really into DFU mode, then you need to connect your iPhone with your computer. Start iTunes and wait for iTunes to detect your iPhone. After a while you may receive an alert from iTunes saying, "iPhone detected in recovery mode." You may then perform your required operation.
However, if you try to restore your iPhone while in DFU mode, you will get an error from iTunes along with an error code, which you will have to search for on Apple's website to get a complete description. This error usually appears if you are trying to restore a jailbroken iPhone.
If you have any question(s) related to a blank screen on your iPhone, don't hesitate to ask me.
Images Credit
Screenshots by Apple.com