App Store Track Sales iPhone App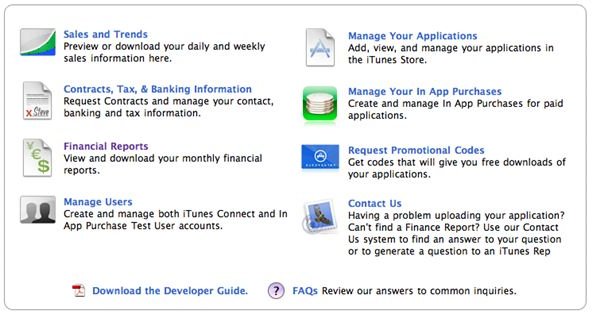 How's My App Doing?
After submitting your brand new iPhone application the first thing you're going to want to know is if all your weeks (or months) of hard work are paying off. The most obvious way to do this is to check out your apps first-day sales! But you're new to the App Store, and new to checking this kind of stuff, so you're kind of lost. That's ok though, we'll guide you through the dark times and into the world of checking your App Store sales.
Thankfully, your yearly developer fees are put to good use in the form of well-designed app sales programs that are both web-based and also available in app form. We'll cover the ups and downs of both of these methods and let you know everything you need to make the decision on which one would be best for you.
iTunes Connect Sales & Trends
The first, and perhaps most technically accurate way to check your app sales is to check out the daily, weekly and monthly Sales and Trends reports. These reports are put out daily at between about 5 a.m. and 10 a.m. Some days suffer slight delays but they are never typically an issue for more than a couple of hours. Once the reports have been posted you can open them in preview mode or download the report data directly right from the Sales and Trends tab from within iTunes Connect.
The reports break down your sales by region, price, currency, id, units, and finally number of product sold. It is an extremely rich source of information for people who like to deeply analyze who is buying the app and why, so that they may market more effectively.
Each daily report is available for seven days before it is purged from the system, the weekly reports are purged 13 weeks after generation. The monthly reports only take into account the number of free apps downloaded, so they are of little use when trying to find out how much money you will have coming your way.
iTunes Connect App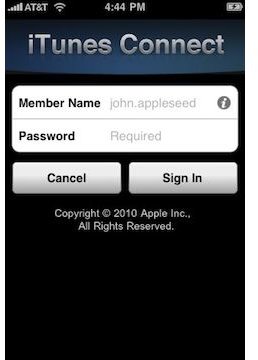 Not long ago, Apple saw fit to put some time into developing a sales and trends app for the iPhone and iPod Touch. At first, many were skeptical, as it's a rather simple process to check the iTunes Connect numbers from the iPhone's web browser. Still, Apple released the app and it has turned out to be one of the most useful tools for an aspiring iPhone developer.
After logging in to iTunes Connect from within the app, developers can check all the same information they would be able to on the web-based version of ITC, and also much more. You can see your sales sorted by region, timeframes, and total sales and then have them presented in an elegant graphed fashion. You can click each sales number and see the difference between that number and the previous numbers. For example, you'll be able to see how many more or fewer apps you've sold for each region or timeframe, with just a click.
All-in-all, it's a super refreshing thing to see that Apple has put some serious time into making sure their developers have all the necessary tools to check their sales from virtually anywhere.