E-Book for iPhone: Top E-Book Shopping and Reading Apps for the iPhone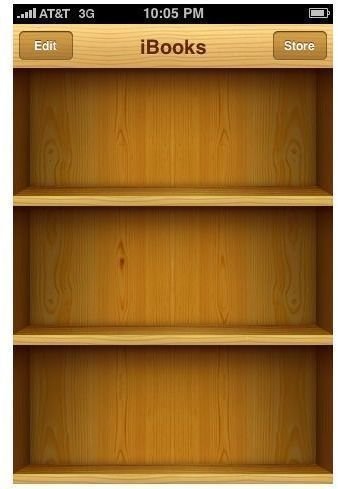 E-Books Once Again
The electronic book format is something that has been on the commercial horizon for years, but has had trouble taking off until recently. Most people had trouble transfering the type of reading they do with their books over to a computer, but with smartphone technology and devices like Amazon's popular Kindle it seems as though e-books are going to become a portable institution. The iPhone, with its touchscreen, as well as its new tablet companion, the iPad, are prime for taking up this demand because of their constant internet connectivity and their use of a vibrant and high resolution touchscreen. Now we are seeing that books have become their own category at the iTunes' App Store and there are several sub-genre iPhone applications. Here are is a look at some of the best iPhone e-book applications that operate as a more standard e-book reader and allow you to both buy and read e-books.
iBooks
iBooks is Apple's own step into the e-book realm and comes standard on the iOS 4. With iBooks you essentially have an e-book version of the iTunes' App Store. You have an empty book shelf that you can fill up with books that you purchase and download to your iPhone. Right from the iBooks iPhone app you can jump over to the store and begin looking through books in dfferent categories. You can check out the best seller charts, browse by categories and top iPhone download lists, search for specifics, or see what Apple has featured today. A surprising number of e-books are available through iBooks, and the number is growing as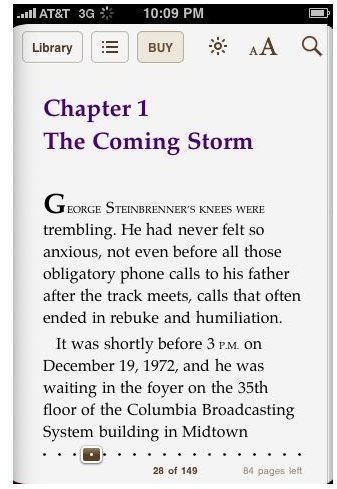 authors and publishers try to jump on the bandwagon with the "next big thing." What is nice about this is that you can download samples of the e-books to your iBooks library, which is part of our "try it before you buy it" consumer mentality. The pages of the books look good and there are a number of options for enlarging text and changing font, and these will probably only increase as iBooks is going to stand as a new staple for Apple. The iPad makes iBooks especially essential, and since it is the Apple controlled app that is forced on these devices the likelihood is that it will be successful and then develop further.
Amazon Kindle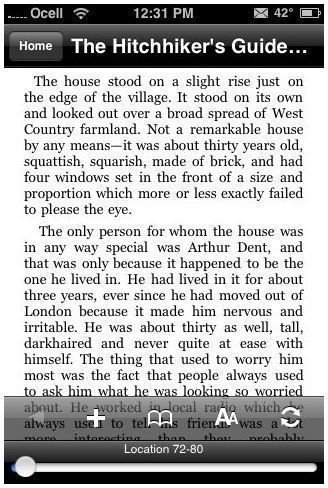 The Amazon Kindle has expanded itself and is not just an e-book reader on its own, but also an e-book iPhone app. In this regard the Kindle acts in a similar way to iBooks. It allows you to browse books in different ways, seek them out, and then read them through the program itself. The pages are brighter in the Kindle than in iBooks, and there are some more controls to specify what you want out of the page. With the display on the iPhone 4 and the shift toward the inclusion of multimedia content through the Amazon Kindle this may be a major staying point for the iPhone and, especially, the iPad. You also get a more inclusive library with the Amazon Kindle as they have continued to be pioneers with this technology. Too bad you cannot get the page feel that comes on the actual Kindle reader. Expect to also pay standard book prices, though these will likely drop on both the Kindle and iBooks as e-books become more popular.
Borders eBooks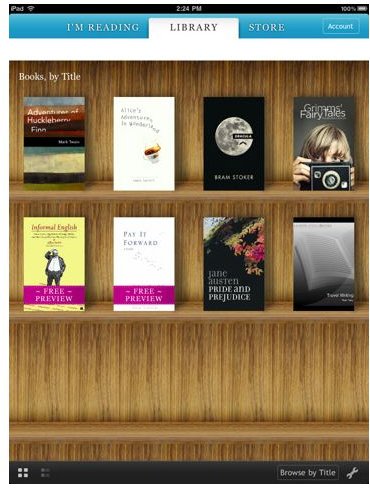 Borders eBooks comes in the same format as both the Amazon Kindle and iBooks, but with a different type of variety. The library itself has a nice modern feel to it and the I'M Reading section will let you stay on target with your Borders eBooks. What is also nice here is that you can begin expanding your e-book reading into the possibility of social networking, though we are just beginning here. In the future the e-book reading apps and stores will likely begin to drop off and centralize, and we will see if quality iPhone e-book apps like Borders eBooks will maintain themselves. You will also find that Borders eBooks is positioning itself to really shine on the iPad.