iPhone 4 Wi-Fi Tethering Explained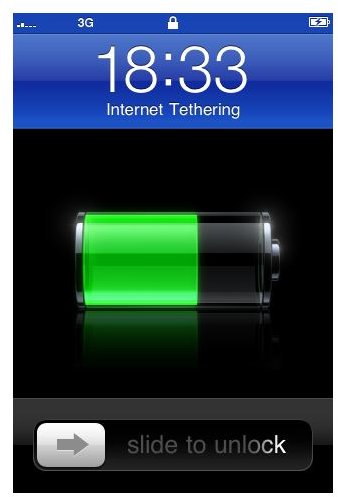 iOS4 Tethering: Options
With the release of the iOS4 and the iPhone 4 many users are anxious to enable Wi-Fi tethering. Wi-Fi tethering will enable users to share their iPhone internet connection with other devices wirelessly. iPhone 4 and iOS4 Wi-Fi tethering is quite easy to use and it is built into the iOS4 operating system.
Many cellular networks such as AT&T require users to purchase a special tethering plan to use tethering with their iPhone. Tethering plans are often over priced and do not offer large amounts of data transfer. Users with jailbroken iPhone's can enjoy the luxury of Wi-Fi tethering using their cellular data network without purchasing a tethering package. Accomplishing unofficial tethering will require the use of special software that can be downloaded on a jailbroken iPhone.
Users of non-jailbroken iPhones who simply wish to utilize tethering through a tethering plan on their cellular network can do so quite easily. This guide will cover the official Wi-Fi tethering method for the iPhone 4 and iOS4 and then afterwards it will explain how to tether with a jailbroken iPhone 4 or iOS4.
iOS4: Official Tethering
Tethering the iPhone 4 and iOS4 the official way will often require you to purchase a tethering package from your wireless provider. The procedure for purchasing a tethering package will vary based on provider. Not all users will need to purchase a tethering package. You can test to see if a tethering package is required by activating internet tethering. To activate Wi-Fi tethering for iOS4 follow these steps:
Open settings. Tap the grey settings icon on the home screen of your iPhone.
Choose network. Tap on "General". Tap on "Network" to open the network settings section.
Enable tethering. Enable tethering in iOS4 by tapping "Set up Internet Tethering". Choose either Bluetooth or USB. The Wi-Fi tethering feature with official support has been removed from the iOS, therefore for Wi-Fi tethering there is no other choice but to jailbreak.
Purchase a tethering package. The iPhone may prompt you to enable internet tethering for your account. This will require you to contact your wireless provider and purchase a tethering package. Once you have purchased a tethering package repeat the steps in this guide. If you are not prompted to purchase a tethering package, skip this step.
iOS4 Tethering: Jailbroken Method
Tethering with the iPhone 4 and iOS4 can be easily accomplished with the built-in tethering functionality. The built-in tethering function is both limited and requires a subscription to a tethering package with your wireless carrier. Jailbroken users can enjoy the use of tethering without a tethering package and without limitations using a great piece of software called "MyWi".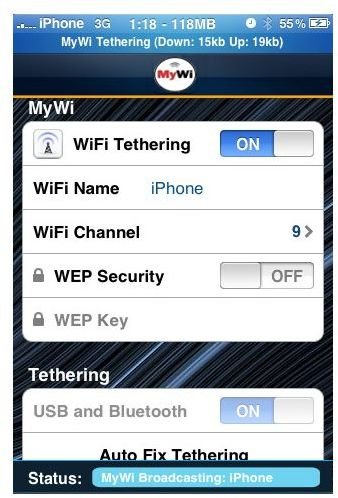 Open Cydia. Open Cydia by clicking the Cydia icon on your iPhone's home screen.
Search for MyWi. Tap "Search" on the navigation bar of Cydia. Type "MyWi" in the search box and tap search.
Download MyWi. Tap MyWi to bring up the install option. Select "Install" in the upper right corner. Select "Confirm" in the
upper right corner to begin the download and installation.
Launch MyWi. Tap the MyWi icon on the home screen of your iPhone to launch MyWi.
Enable Tethering. Tap the slide next to "Enable Tethering" to turn tethering on in iOS4 or on the iPhone 4. Set the Wi-Fi name to anything you would like. You may also set security when using Wi-Fi tethering for iOS4 and iPhone 4 with MyFi.