Top 5 iPhone Fishing Apps & Where to Get Them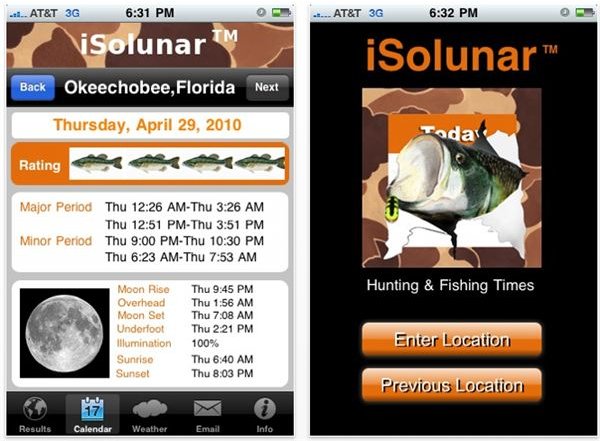 iSolunar Hunting & Fishing Times
Here's an amazing iPhone fishing app that determines the best fishing time for any date or any location, no matter where you are located. It also helps you determine what time the fish will start biting. The app combines precise astronomical data from the US Naval Observatory with the Solunar Theory. Featuring easy-to-read tables, the app makes use of the iPhone's built-in GPS feature to pinpoint longitude and offers peak feeding and activity times for all types of fish based on moon position and moon phase. Did we say that iSolunar has many great features? Some of these features include - auto GPS or manual entry, save locations, major and minor feeding / activity periods, day rating, moon phase data, moonrise / moonset times, sunrise /sunset times and more. (Price: $4.99) (Download link).
Animated Fishing Knots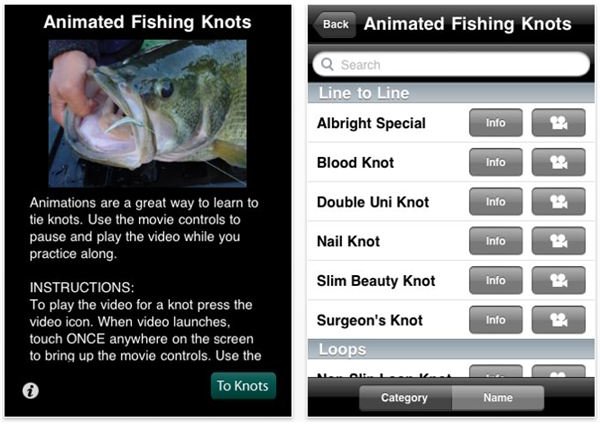 If you're an angler, you need to know how to tie different knots. This app has got you covered with 21 fishing knots complete with animation, video, and pictures of the finished knots as well as descriptions and how to use them. The app list these fishing knots alphabetically and you can search by name, category, and use. (Price: $0.99) (Download link).
FishMate - Fishing Times With Tight Lines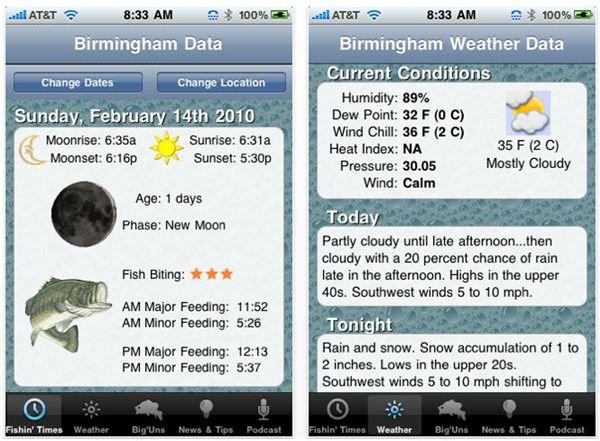 Another great iPhone fishing app, FishMate, gives you information on the major and minor feeding times, moon phase as well as weather forecasts to help you plan your fishing outings. Developed by former touring professional bass angler and the host of the syndicated radio fishing show called Tight Lines, Sammy Lee, this app is full of Mr. Lee's 30 years of fishing experience. The app features Fishin' Time, which tells you everything you need to plan your fishing trip, current weather conditions for your area, Big'Uns for storing photos of your catch, fishing news, and tips and a facility for connecting Sammy Lee's podcast of his radio show. (Price: $9.99) (Download link).
Fly Fishing Reporter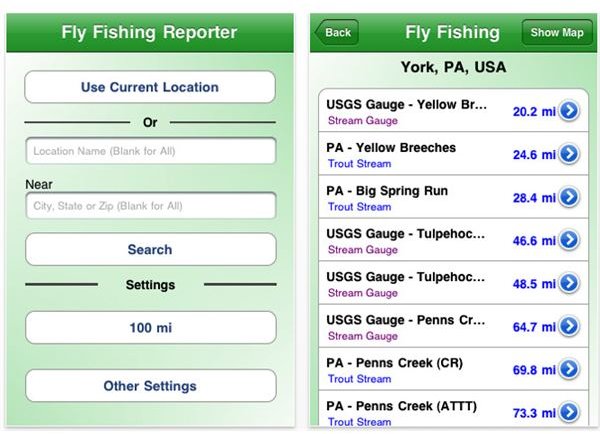 Want to get quality information about the best fly fishing destinations in the US? This iPhone fishing app is your best bet. The app maps America's best trout streams in key areas including California, Colorado, Connecticut, Georgia, and more. The app features a built-in locator for finding the best streams and rivers near your location. You can search by distance to see the best streams, access points, and stream gauges. And, to show you the exact location and to help you plan your fishing trip, the app integrates with Google Maps. (Price: $0.99) (Download link).
Flick Fishing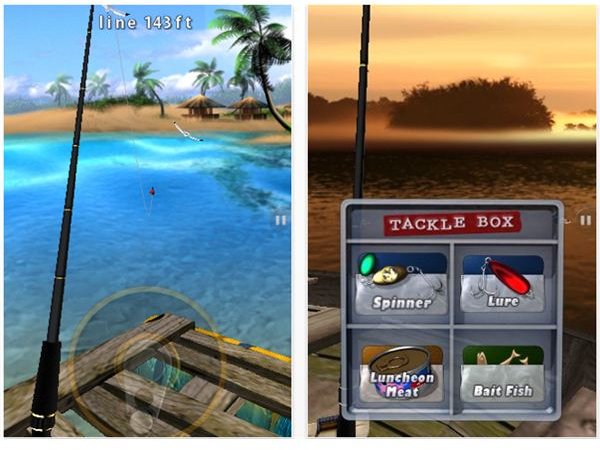 So, while your on your way to your fishing destination, why not indulge yourself into a great fishing game on your iPhone? Flick Fishing is possibly the best iPhone fishing game around. The game offers 7 realistic fishing locations, 9 types of baits and tackle, 12 tournaments, and dozens of unique species of fish. This game is so enjoyable that you won't even notice that you've arrived at your fishing destination. (Price: $0.99) (Download link).
You may also want to read our full review of the Fish Flicking App for the iPhone.
Screenshots: iTunes App Store (Arnold Zafra)