Using the Google Voice iPhone App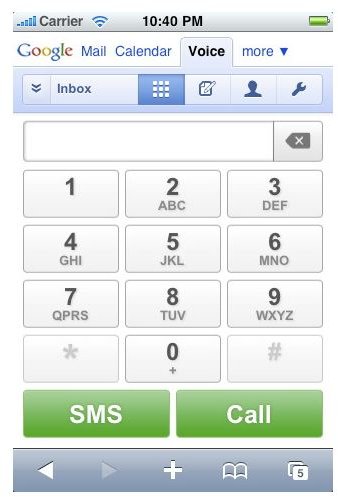 Installing the Google Voice app is incredibly simple and does not require any downloading. Google Voice is easily accessible and loads quickly from the iPhone. The Google Voice interface is entirely touch based and incredibly easy to navigate.
Users of the Google Voice app on the iPhone can set default numbers, control settings, send text messages, listen to voice mail messages and place calls. The Google Voice app is a very complete and well thought out application for the iPhone offering unparalleled access to the Google Voice service from the iPhone.
Using the Google Voice app is quite simple thanks to the well thought out design by Google. The Google Voice iPhone app is a web-based app for the iPhone which will enable full access to the Google Voice services for owners of Google Voice accounts. All the major functions of Google Voice are available in the Google Voice iPhone App.
Using the Google Voice iPhone App
Navigate to Google Voice. Open Safari on the iPhone and navigate to "https://voice.google.com". This will open the homepage of the Google Voice iPhone app.
Login to Google Voice. Using your Google Voice username and password login to Google Voice.
Install the Google Voice iPhone app. Tap the "+" icon in Safari and select "Add to home screen" to install the Google Voice iPhone app. Notice the new icon for Google Voice on the home screen. Use this icon to access Google Voice directly.
Set default number. Set the default number to call when prompted by Google Voice. If you do not use the calling feature or only have one number you may not be prompted for this step. Simply skip this step if not prompted by the Google Voice iPhone app.
Send and read SMS. Select Text from the drop-down navigation box in the Google Voice. Read any text messages in the inbox by simple clicking on them inside the Google Voice. Send a text message from the Google Voice iPhone app by selecting the notepad and pencil icon to write a new SMS. Enter a phone number or select a contact by selecting "Choose contact". Write your message and press send to send the SMS message.
Place a call. Choose the number-pad icon on the navigation bar in the Google Voice iPhone app. Enter the number and press call to initiate the call.
Edit settings. Edit settings in Google Voice by selecting the wrench icon. Choose "General", "Phones", "Do not disturb" or any of the other settings to make modifications.
These basic steps will get you started using the Google Voice iPhone App. All other features are apparent and visible from the menus found in the above steps. Voicemail messages appear in the Inbox from the text message menu and are listened to by simply clicking on them. As previously mentioned, the Google Voice App is very easy to use and this guide should have given you a great basic understanding.