Top 10 Best Green iPhone Apps to Live a Green Lifestyle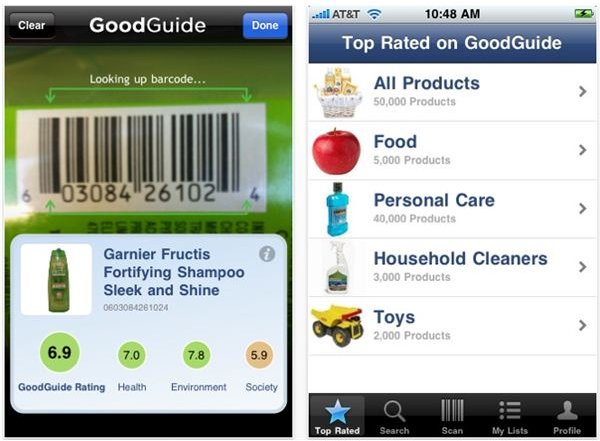 Good Guide
If you're really serious about living a green lifestyle, the Good Guide app for iPhone is a good tool to help you get started. This app helps you find safe, healthy and sustainable products just by scanning the barcode of the product and immediately displays detailed ratings of its health, environmental and social aspects. The app covers household chemicals, toy, personal care and food products, practically all the things you need to have a green lifestyle. Features of the app include more than 65,000 product ratings for food, personal care, toys and household cleaners, a facility for creating personalized shopping lists and a list of products to avoid.
(Price: Free)
Green Genie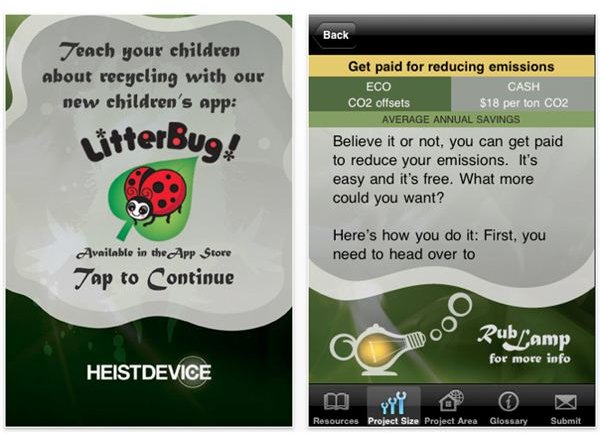 Developed in collaboration with a LEED Accredited Professional and a professional Sustainability Consultant, this app provides you with a complete guide to living sustainably. It contains a huge collection of green projects and resources that would certainly inform and educate you about living green. The app also features more than 100 projects, sharing features, links to various carbon footprint calculators, breakdown of certified green products, full glossary of green terms and more.
(Price: $0.99)
Tree Hugger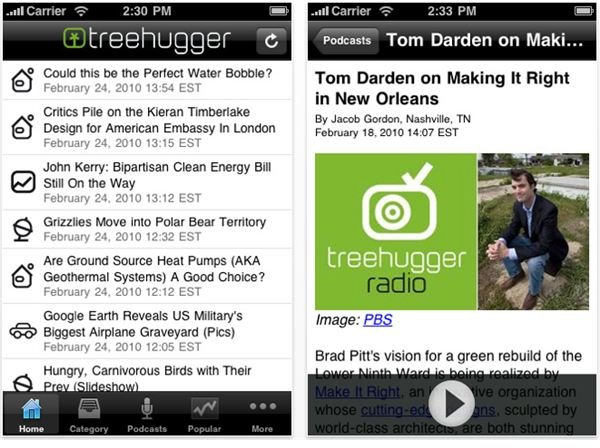 For a source of green news and announcements delivered straight to your iPhone, Tree Hugger is your best bet. Tree Hugger aims to be the one-stop shop for green news, solutions and product information. The app lets you see the latest green news, read articles from various categories, listen to podcasts, see what's hot on Tree Hugger, read articles from your favorite green authors, and also check out Tree Hugger's Twitter feed. The app also lets you share information on your Facebook Wall or Twitter account.
(Price: Free)
Green Calculator - Carbon, Environment Friendly Calculator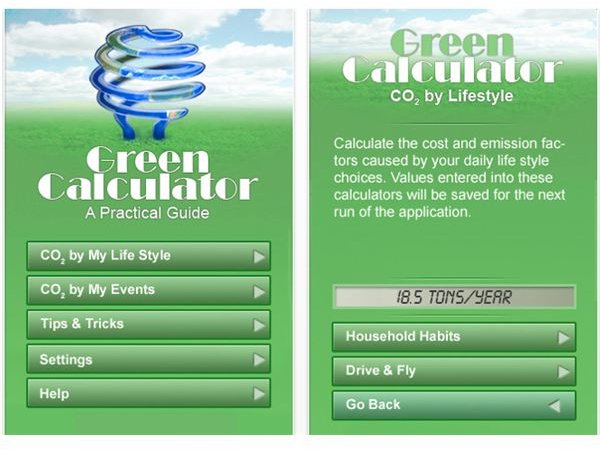 Here's a great app that will surely have a great impact on your environment advocacy. What the app does is to calculate CO2 emissions based on your lifestyle choices. These choices include various activities you do in your daily life including driving, flying and using household appliances. With its simple and user-friendly interface, this app also helps you determine which of your actions consume the most amount of energy and suggests how you can reduce its impact to the environment as well as help you save some money.
(Price: $1.99)
greenMeter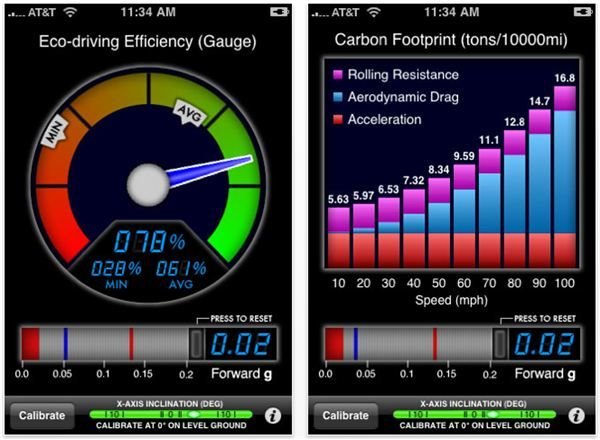 GreenMeter is a pretty good app for computing your vehicle's power and fuel usage characteristics and to evaluate your driving to increase fuel efficiency, reduce fuel consumption and cost to reduce your environmental impact. The app displays the results in real-time which could be while you are driving so as to give you a quick feedback if you are currently consuming more than what you should be consuming. You can use this app more effectively while on the road, although it would still come in handy when you are about to hit the road so that you can plan out your driving strategy. One great feature of the app is that it allows you to simulate acceleration and its effect, aerodynamic drag and rolling resistance across various speed ranges. Surely, this green iPhone app will help you live a green lifestyle whether you are hypermiling or eco-driving.
(Price: $5.99)
iGoGreen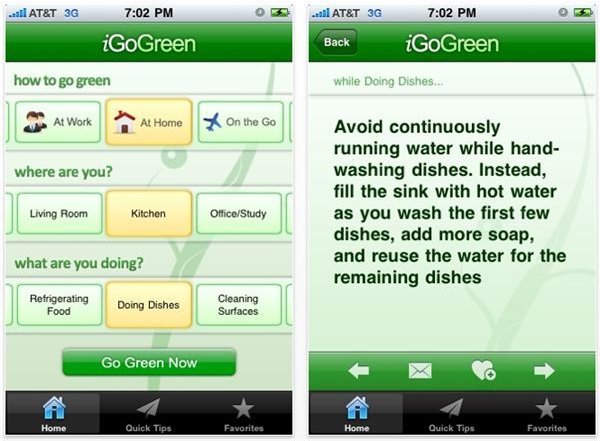 Featuring various simple tips to increase environmental awareness, iGoGreen will make you more conscious and aware of easy ways to conserve energy and resources as well as minimize your environmental impact. The app was primarily designed as a learning tool for the ultimate goal of making you a more environmentally-aware individual who will apply simple things to your everyday life. The app features more than 400 different tips, email tips to friends, share tips on Facebook and Twitter, and store your favorite tips for quick access.
(Price: $1.99)
The Green Book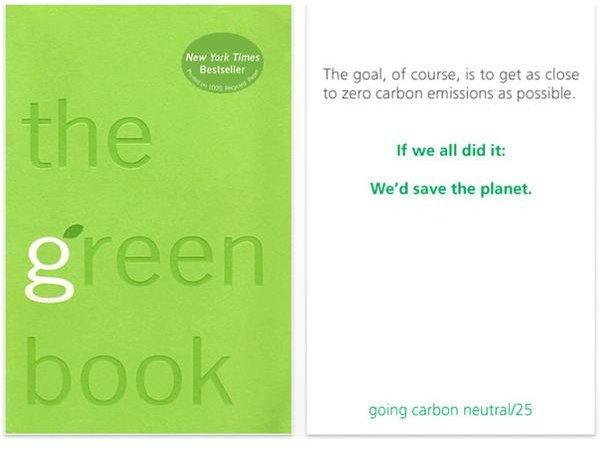 This is the only ebook app that made it on our best green iPhone apps list. Based on the book The Everyday Guide to Saving the Planet One Simple Step at a Time by Elizabeth Rogers and Thomas Kostigen, this book has 600 pages of reference that will help you make small subtle changes to your daily routines that have positive impacts to the environment. The book is composed of various sections full of green living tips. The ebook also has anecdotes from famous personalities including Ellen DeGeneres, Robert Redford, Will Ferrell, to name a few.
(Price: $5.99)
Greenopia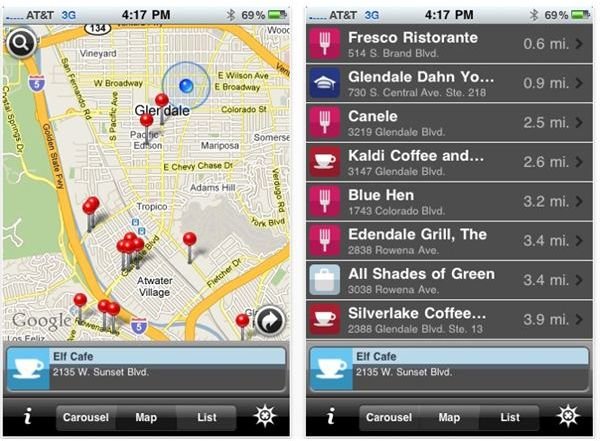 If you want to shop with the green lifestyle in mind, this app will help you do exactly that. It will make it easier for you to shop, eat and live green by helping you discover green-rated locations in your area. The app also provides reviews and various reliable information that will help you decide whether a particular location is green-aware or not. It also has green ratings for practically thousands of businesses in more than 50 cities. Other features of Greenopia include - location carousel, search bar, quick links, and aerial view.
(Price: Free)
Greenpeace Tissue Guide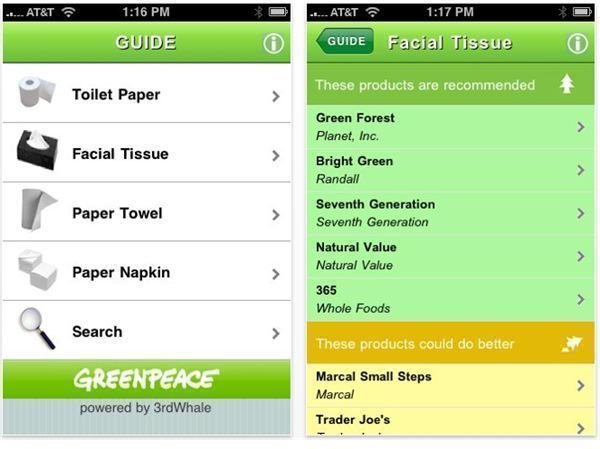 The perennial problem of producing tissue paper is becoming a major issue in the environment sector. Why would it not? Tissue paper consumes trees and people consume tissue papers. The more tissue papers are used, the more trees are cut. Thankfully, you tissue paper can now be manufactured using recycled paper. But how do you know which tissue paper are environment-friendly? Well, this is the app for that. This app makes it easier and quicker for you to find out which brands of facial tissues, toilet paper, napkins and paper towels were environment friendly based on the 100 brands evaluated by Greenpeace. This app will come in handy while you are doing your grocery shopping.
(Price: Free)
The Power of Green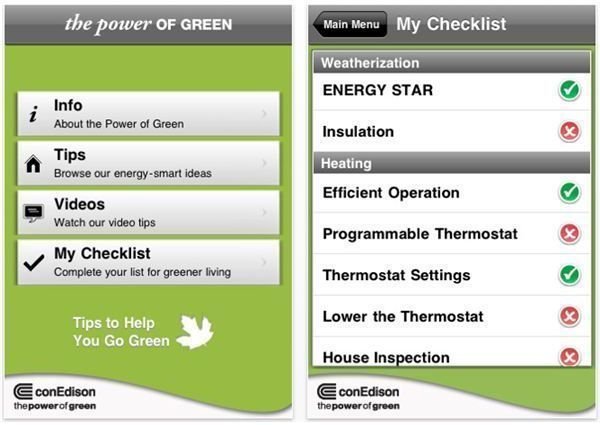 Here's a pretty good source which lists more than 100 illustrated tips for saving energy including weatherization through insulation, air leaks, door and window efficiency and more. It also include information about heating, particularly programmable thermostats, pipe insulation and duct cleaning. The app also has information about cooling techniques such as air-conditioning, fans and fresh air. For water heating, the app includes information about temperature settings, insulation and water-saving tips. To make its environment learning advocacy even better, the app also contains video tips on how to save energy and lower costs of energy consumption.
(Price: Free)
References