iPhone Sex Offender Locator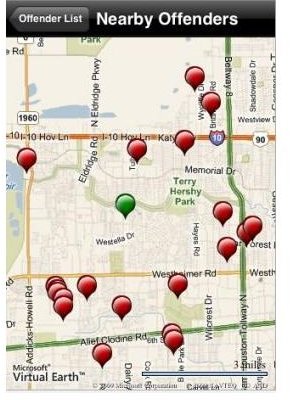 Offender Locator for iPhone
The best selling sex offender app for the iPhone is appropriately titled 'Offender Locator'. It allows you to search for potential sex offenders in your neighborhood both by address and name. After doing a quick scan of local records it will produce a list of sex offenders that meet your search criteria. From this list you can browse information from each offender, such as name, date of offense, and even their mugshot from the time they were arrested. The nearby offenders are shown on a static map of your neighborhood. Your location will be displayed as a green bubble, while the locations of registered sex offenders will appear as red. This will give the user a good idea of how far away they live from those less desirable neighbors.
The list is updated from a central database so the app is stocked with the latest information without having to manually update the application each time a new listing is added.
Uses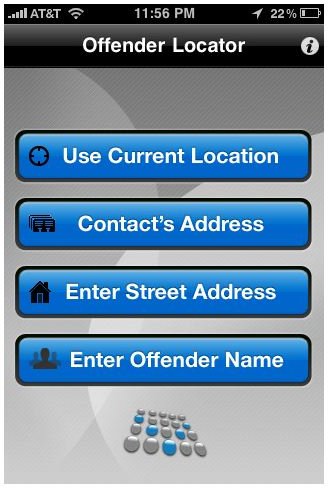 The first question that may come to mind when checking out this app is "Why?". Well, there are a couple of uses for the Offender Locator that could benefit many people. Those with children will most likely be the most interested in this application, especially when planning things like routes for children to get home from school. Safety is always a parent's number one concern, and the Offender Locator should do quite a bit to ease a worried mind when allowing a child to play at a local park, or spend time at a friend's house.
However, the app doesn't just benefit those at home. Many people have reported using the app when going on vacation. When you're in an unfamiliar city or town you may not have the same privilege as the locals do when it comes to knowing where the city has set up areas for registered sex offenders. Local newspaper will typically put out notices when an offender is taking up residence in the area of their readership, but if you're not from the area you simply wouldn't have that same kind of information available to you. That's where the Offender Locator comes in; simply run a zip code search for the area which you will be visiting and a list will appear in a matter of seconds.
Controversy
In the time since the app has been released, the creators have faced several well-publicized legal issues. The app was removed from sale for a short time due to concerns that it was in direct conflict with several privacy laws in the state of California. This was reportedly remedied by removing instances of information specific to California laws, while retaining all the publicly available listings for the state.
Some have also criticized the app as sparking fear and doing more harm than good. That, however, is all up to those who purchase the application. If you are searching for peace of mind or simply some more information on your neighborhood, the Offender Locator seems to do its job well. However, if you're more comfortable not knowing this kind of information you can simply turn a blind eye.