Repairing the iPhone Exchange ActiveSync Problem from the iPhone iOS 4 Update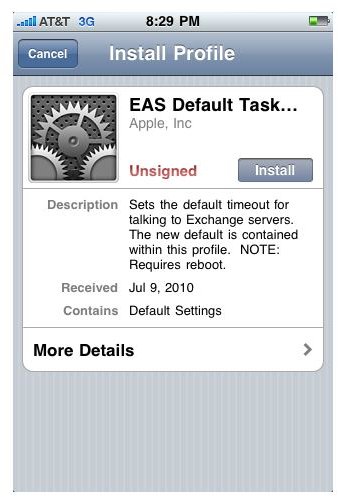 The iOS 4 iPhone Update
The iOS 4 update has been a benefit to most iPhone users. However, most of the time when you update your iOS you are going to find that there are some problems that occur with the regular functionality of your iPhone. This is often because small aspects are overlooked, especially if they are not common to all iPhone users. Syncing has always been a tentative issue for iPhone users, which is often highlighted with the large number of items and features that are synced between your iPhone and your computer. Directly after many iPhone users updated to iOS 4 they found that Exchange ActiveSync Mail, Contacts, or Calendars had trouble syncing in the way they did before. Beyond this the iOS 4 iPhone update may have actually slowed some devices down, and since this is true of the iPhone 4, iPhone 3GS, iPhone 3G, and the iPod Touch this can be a problem that affects a number of people.
If you found that after the iOS4 upgrade your iPhone couldn't access email then fear not. Here is an easy way to repair the Exchange ActiveSync Mail problem that has shown up for some users who installed the iOS 4 update for the iPhone and similar devices.
Apple Configuration Profile
To fix the Exchange Active Sync Mail issue with the iOS 4 you will need to download the Apple Configuration Profile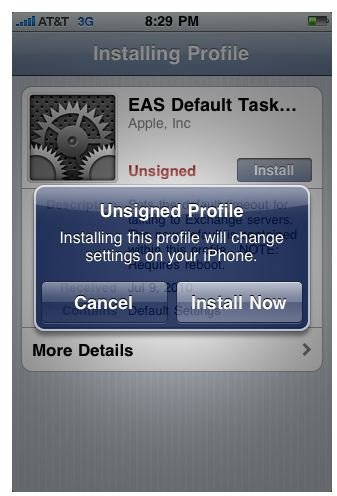 that has been released. Start by going to https://support.apple.com/kb/ts3398,which is Apple's page for the Apple Configuration Profile, on your iPhone's Safari internet browser. The link on that page will take you to an Install Profile page that will allow you to Install the Apple Configuration Profile to your iPhone. This simply requires you hitting the Install button, clarifying this again on the pop up screen, and allowing it to download and install. This happens almost instantaneously and then takes you back to your iPhone Safari screen. If you have security settings in place then you may have to enter in your passcode.
Result
The result should be almost immediate to your iPhone as the Apple Configuration Profile should have patched up the apparent Exchange Active Sync Mail problem that showed up with the iOS 4 iPhone update. This is not going to require any kind of extended software or any component that rests on the computer you sync, your iPhone or iOS 4 device. Just to ensure that all of your devices are up to all the requirements that are around then you should update every device you have, except for the iPad. This should be true even if you do not actually use the Exchange ActiveSync Mail since this is also going to end up speeding up your device after the slow down that occurred with the iOS 4 iPhone update.