How to Use Skype on iPhone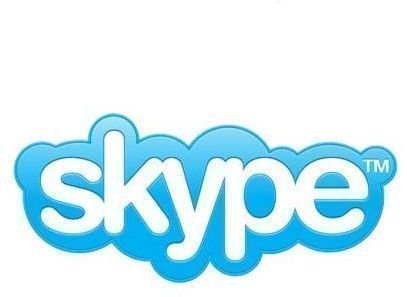 Skype Me
Skype continues to stand out as a fundamental revolution in communication. Instead of operating like a standard social networking service like Facebook or MySpace, Skype allows you to make phone calls directly from your computer. When on your computer you can make audio and video calls to other Skype users, or make calls to existing phone numbers for a dramatically reduced rate as compared to cell phone and long distance carriers. It is only logical for this social networking service to be ported over to the iPhone, even if it further challenges AT&T's control. It should go without saying that Skype is heavily restricted on the iPhone, so here are a few Skype iPhone tips to help you work with it in a way that won't make you cringe and will allow you to make free phone calls on your iPhone.
Accessibility
Skype on the iPhone is going to allow you to make free iPhone phone calls in a certain sense, but it's only going to be useful if it is accessible and easy to get started. To do this you want to make sure that both the auto-lock is off and that you will automatically sign in to your account. Start by going to the iPhone Settings. Go down to the fourth block of options, which is where the iPhone applications are, and find Skype. It is here that you can see the version of Skype on iPhone you are running, and set it to Sign In Automatically and also Don't Auto-Lock.
Wi-Fi
The best tip to follow for using Skype on your iPhone is to do it with Wi-Fi. This is going to make the Skype calls easier to connect with and run much smoother, which is what you will need for real time conversations.
Skype Account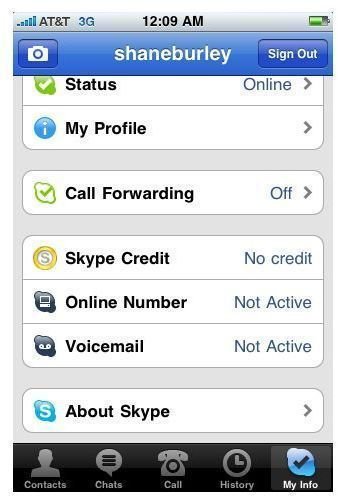 You are going to need to keep up on your Skype account to use it period, not just on your iPhone. If you are on your iPhone Skype app you can go into the My Info page to check these aspects out, which is to the far right next to History. Here is where you can get a lot of information such as your Status, what your online number is, your voicemail, and other features. You can also see Skype Credit, which is how much credit you have for making phone calls to non-Skype numbers. You have to deposit into your Skype account to be able to do this and will be unable if your Skype Credit is listed as No Credit. You will also eventually need to pay a subscription fee, but your trial Skype subscription lasts for quite a while.
Forwarding
If you use Skype for a lot of common communication you will likely need to back up your phone calls to your actual iPhone number. This will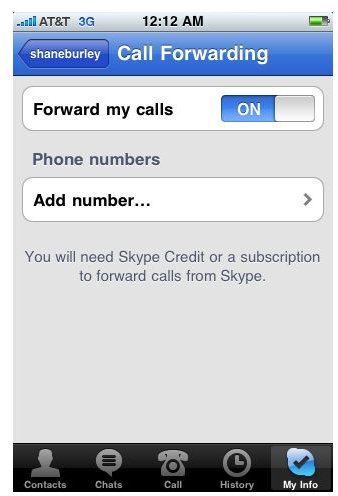 make sure that you remain available at all times. When you are in the same Home tab where you checked your Skype Credit go to Call Forwarding. Set this to On and then select Add Number under the Phone Numbers heading. When you see this select your own contact from the Select from iPhone option or choose Enter Phone Number and enter your own. This will extend your chances of making free iPhone calls and maintain the consistent social network you want.
This post is part of the series: iPhone Social Networking Apps
Here are articles about different social networking applications for the iPhone available at the iTunes' App Store.