Complete Guide to Jailbreak your iPhone: Tools, Advantages & Disadvantages of an iPhone Jailbreak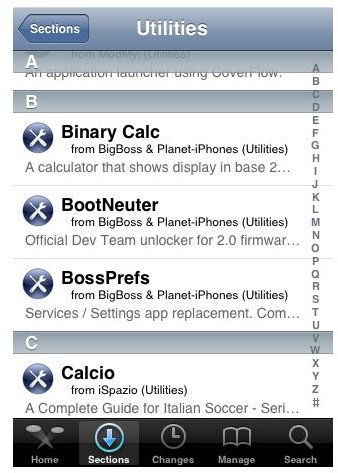 What is Jailbreaking?
Apple doesn't allow iPhone users access to the entire filesystem. By jailbreaking your Apple iPhone, you can gain access to your complete filesystem. This allows you to run any type of code that you want, and install any application that you want.
Without jailbreaking you cannot unlock your iPhone. Unlocking your phone enables you to use it on any network that you desire. iPhones in the US are chained to either Verizon or AT&T's network. Jailbreaking allows you to bypass that restriction and use your iPhone with any cellular network, among many other advantages…
Advantages of a Jailbroken Device

Another advantage of jailbreaking is that it allows you to install applications from third party application stores like Cydia. On an unaltered iPhone, you can only install applications from the Apple iPhone App Store. Now, some applications aren't allowed on the App Store due to certain restrictions. Those apps generally make their way to Cydia which you can use to download and install them on a jailbroken device.
Before iOS 4 was released, jailbreaking was the only way to enable multi-tasking on your iPhone. Jailbreaking also allows you to customize your application icons and enable Internet tethering. It also allows you to sort your apps with categories and folders. But now, most of those features are also provided by the iPhone 4 OS (iOS 4). The only major advantages that now remain are access to the unofficial Cydia App store and unrestricted Internet tethering.
Jailbreaking your iPhone is safe for the most part. The software jailbreaks can be easily reverted without harming your iPhone. Around 10% of all iPhones are jailbroken.
History of Jailbreaking Tools
There are many tools available online which you can use to jailbreak your iPhone for free. Some of them are whitesn0w, redsn0w, quickPwn, Pwnage Tool, blackra1n etc. Currently jailbreaking tools are available for all the iPhones as well as for the iPod Touch.
The QuickPwn tool by the iPhone Dev Team can be used to jailbreak iPhone OS 2.0 to 2.2.1 on Windows, Mac and Linux. You can also use redsn0w to do it. The PwnageTool is available for all versions from 2.0 onwards - 2.0, 2.1.1, 2.2.1, 3.0, 3.0.1, 3.1.2 and 3.1.3. Even the latest version has been released - PwnageTool 4.01 for iOS 4.0 on the iPhone 3G, iPhone 3GS and iPod Touch. One disadvantage of the PwnageTool is that it can be used only on a Mac.
There is another tool called blackra1n which was released by George Hotz. It can be used to jailbreak the iPhone OS versions 3.1.x. A version of PwnageTool for Windows, sn0wbreeze was released by the team iH8sn0w too.
How to Get your iPhone Out of Jail Free
If you currently have an iPhone, you most probably have the OS version 3,0.x, 3.1.1, 3.1.2 or 3.1.3. I will show you a way to jailbreak each of these OS versions. If you have upgraded your OS via iTunes in the last day or two, to an iOS 4 version, please see a link at the bottom of this article for further information.
Jailbreak OS 3.1.1 and 3.1.2 using blackra1n
The blackra1n tool is available for both Windows and Mac. It can be used to jailbreak your iPhone if the OS version is 3.1.1 or 3.1.2.
Just go to blackra1n using link in the references section and download the blackra1n tool.
Open it and connect the iPhone to your computer. Click on the "make it ra1n" button.

This will place your device into recovery mode and start the running blackra1n. Your device will reboot soon. After the reboot, you will see a blackra1n icon on your iPhone menu. Your iPhone is now jailbroken. You will see the option to install the Cydia, Rock or Icy app store on your iPhone. After installing it, just click on uninstall blackra1n to remove that icon.
Jailbreak OS 3.1.2 or 3.1.3 using Spirit
The Spirit tool can be used to jailbreak iPhones running OS version 3.1.2 and 3.1.3.
Just download Spirit using the download link in the references section and extract the tool from the archive.
Run the tool after connecting your iPhone to the computer. After the iPhone is shown connected in the Spirit tool, just click on the Jailbreak button. After the jailbreak is complete, quit the Spirit application.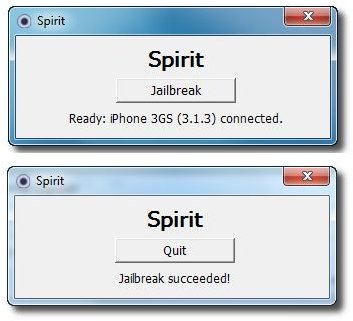 The process is similar for both Windows and Mac users.
To Jailbreak or Not To Jailbreak?
There are of course some disadvantages when jailbreaking your iPhone, as much as there are advantages. To a certain extent jailbreaking is not such a big deal as it used to be, in that for most of us it may not be entirely necessary. Apple has released the official SDK (software development kit), so you are able to install 3rd party applications on your phone without the need for jailbreaking by using this method. The iPhone is already criticized for not allowing the use of a microSD to up your disk space, and jailbreaking will further eat into this already precious space; I should also point out that the SDK does this too though.
There is a certain risk that your phone might become unusable or "bricked", i.e. your iPhone becomes as useful as a brick. However, you can restore the firmware through iTunes so it shouldn't be too much of a problem. There are also some risks in opening your phone up to 3rd party applications that may not be entirely trustworthy.
If you are still keen to continue with an iPhone jailbreak though, then the above steps will set you on the right path. Or to Jailbreak iPhone 4.0 OS or iOS 4+, you can use either the Pwnage Tool or redsn0w.
References
This post is part of the series: iPhone Jailbreaking Guide
A guide to various methods of jailbreaking all the different iPhone models.