Top Three iPhone Apps for Blogs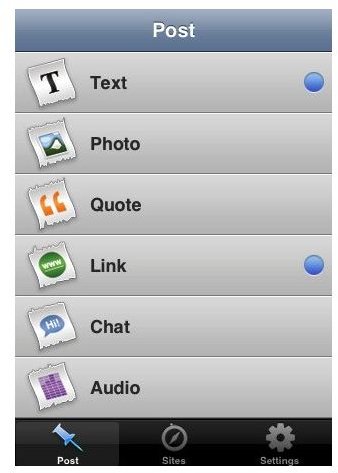 An Odd Blog Job
Blogging is part of the phenomenon that established web 2.0 and remains one of the main sources of information for consumers of the 21st century. Whether this is through personal blogs that act like a self indulgent diary for all to read, or professional ones that pay you for your opinion, blogging requires a strange kind of attention and constant interaction that writers of the past never really had to deal with. The smartphone technology that the iPhone was built on seems to be perfect for this design as it is constantly keeping you connected with specialized functions, and there is an app for pretty much anything. Here is a look at the top iPhone apps for bloggers to keep up and take off.
Tumblr
Anyone who keeps up with the social networking craze understands what Tumblr is immediately. Tumblr acts as an open blog where creators can keep entries regularly and then follow each other, similar to social networking sites like Twitter. With the Tumblr iPhone app this service has been conformed to the iPhone's specific technological features so as to make browsing and updating easy for this limited device. The interface of the Tumblr iPhone app is focused around a location for Dashboard, Post, and Settings, which is a nice simplification down to just the core aspects of Tumblr. In Post you can easily bring up specific items like links, photos, or even text into your Tumblr page. The Tumblr iPhone app is not going to be great for full blog posts, but it is perfect for quick updates and catching up with iPhone blogs.
Wordpress 2.0
Wordpress has allowed the blog format to be standard on most start up sites, and they were also quick to develop a free iPhone app so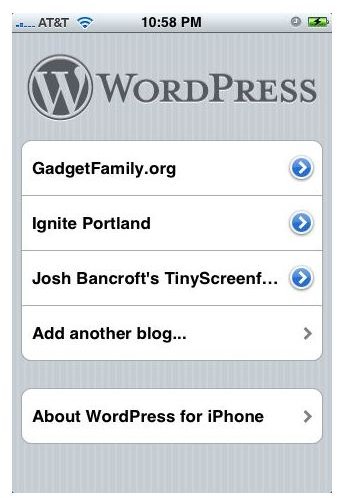 as to port this blog obsession straight over to the iPhone. As iPhone apps for blogs go Wordpress 2.0 is now the dominant iPhone app for bloggers. It allows you to switch through different page types, such as posts and comments, very easily. What Wordpress 2.0 really allows you to do is to manage your blog with easy tools through this mobile design. You can jump in and edit different blog posts. Like the Tumblr iPhone app, Wordpress 2.0 really lets you come in and use most of the features in Wordpress on your iPhone. You are not going to want to do large posts of course, unless you happen to be using Wordpress from the iPad.
iBlogger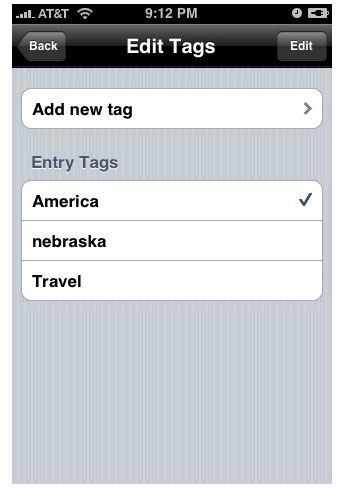 iBlogger gives you a less specific form of blog access from your iPhone. Instead of being specific to one service, like the Wordpress iPhone app is, iBlogger will let you connect with several different ones like TypePad and Movable Type. You have the ability to post a lot of different items with iBlogger like links, tags, pictures, and so on. What this does is really position iBlogger as a way to constantly update small items into blog posts that will add depth rather than actually create full posts. Again, if iBlogger is used on the iPad then you may find that your ability to complete full text posts will be freed up. This is a great blogging app for your iPhone.