iPhone vs Android Match Up: iOS 4 vs Android 2.2 Froyo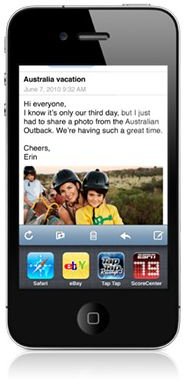 Apple iOS 4 Features
While I was scanning the iOS 4 features from the Apple official site, I couldn't help but be amazed at how good Apple is in presenting its latest hardware and software products. Just the main page of the iOS 4 is enough to convince you that there are really exciting features in store for iPhone users once the iOS 4 goes out.
iOS 4 has 12 major features - multi-tasking, folders, better email management, ibooks, playlists, 5x digital zoom, tap to focus video, faces and places in photo, home screen wallpaper, gift apps, spellchecking and wireless keyboard support. Let's drill down to the details and discuss what each of these features has to offer to iPhone users.
Multi-tasking is a most wanted feature with almost all iPhone users since time immemorial. This was heightened when Google Android phones started coming out featuring, well multi-tasking capability. This could have probably contributed to Apple's decision to finally include this feature in iOS 4. So, pretty soon you'll be able to run third-party apps and switch between them easily and instantly without draining too much of your iPhone's battery juice.
The new iOS 4 also offers the ability to use folders, second to multi-tasking this is also another most wanted iPhone feature. In fact, the lack of this feature causes many iPhone users to jailbreak their units, because it opens up the ability to arrange apps into folders named by various categories. In iOS 4, this is now a reality.
The next new feature of the iOS 4 is better email management. And by that we mean having the ability to see messages from all your email accounts in one inbox. It will also let you organize messages by threads, open attachments in third-party apps and more.
iPhone OS 4 will also support iBooks. If you're an iPad owner, you must be using this app since day one. It's Apple's answer to the Amazon Kindle Store. It's an ebook reader and an ebookstore rolled into one app.
The new iPhone OS will also let you create music playlists, get closer to your subjects by 5x when taking pictures, tap to focus when capturing video, view photos by faces and places, change the background wallpaper of your iPhone home screen, send apps as gifts to your friends and relatives who also own an iPhone, check spelling when writing emails or notes, and pair a keyboard to your iPhone wirelessly via Bluetooth.
Overall, these 12 new features of the iPhone OS 4 are more than enough to make it the most anticipated software update to be carried out by Apple for the iPhone.
Google Android 2.2 Froyo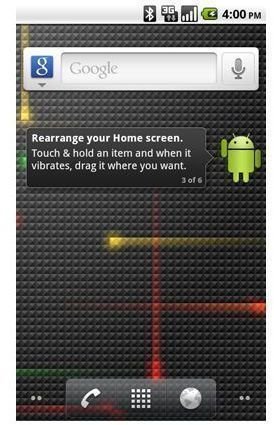 Meanwhile for the latest version of their OS, Android 2.2 or Froyo, Google are bringing in new features for the Android home screen, exchange support, camera gallery, portable hotspot, multiple keyboard languages and improved performance. Let's take a closer look at what each of these features bring to the Android smartphones which will support Android 2.2.
Android 2.2 adds a tips widget to the phone home screen. This tips widget is designed to help new Android phone users set up their phone's home screen with shortcuts and widgets as well as teaching them how to use the multiple home screens. In addition, dedicated shortcuts have been added to the phone, applications launcher, and browser.
The next feature of Froyo has something to do with Exchange support. Specifically, the new Android OS brings in improved security with the addition of numeric pin or alpha-numeric password options for unlocking Android phones. Exchange administrators would be able to enforce password policy across devices as well as remotely reset the device to factory defaults when the need to secure data arises. In addition, setting up and synching your Exchange account to your Android device is now easier through the auto-discovery feature. Global address lists look-up is also now available in the phone's email app.
Android phones which will run on Android 2.2 will also have improved camera and gallery features. You can now peek into picture stacks using the zoom gesture. Controlling zoom, flash, white balance, geo-tagging, focus and exposure can now be easily accessed through camera on-screen buttons. You will also have an easier time setting video size/quality for MMS and YouTube. And finally, you can now shoot videos at night or in low-light conditions, thanks to the LED Flash which will be enabled by Android 2.2.
Another exciting new feature of Android 2.2 is the enabling of portable Wi-Fi hotspots which you can share with up to 8 devices. However, only selected Android phones are supported including the Nexus One.
If you're a multi-lingual Android phone user, Android 2.2 will let you add multiple languages to the keyboard and switch between multiple Latin-based input languages just by swiping across your phone's space bar.
Finally, and perhaps the most important new user feature to be brought in by Froyo is improved performance for Android phones. Using the V8 engine, Froyo enhances browser performance enabling faster loading of JavaScript-heavy pages. Memory reclaim is also improved by up to 20x, resulting in faster app switching and smoother performance on devices with limited memory.
Which is the Better Smartphone OS?
If you'll consider the quantity of new features that both the new mobile OS offerings are bringing to their supported devices, it would seem that iOS 4 is offering more than what Froyo is offering. But, we must also consider that most of the features that will be included in the iOS4 can already be done by most Android phones running Android 2.1. So, whether these OS updates will make their respective phones better is not a point of discussion.
If more is better, then the iOS 4 is the better OS once it becomes available. Another point to consider is that the new features of iOS 4 are about to make the iPhone, a much improved mobile phone device. Will Android 2.2 makes Android phones better? To an extent yes, but they won't make as much difference as the iOS 4 can make to the iPhone.