Documents to Go vs. QuickOffice iPhone Apps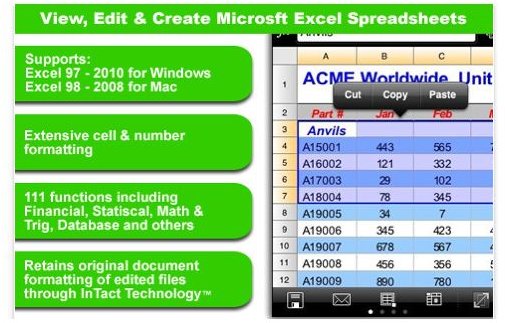 Documents to Go - Features and Functionality
Documents to Go is available in two versions from the iTunes App Store - the regular app which will cost you $7.99 and the premium app which will cost you $11.99. The major difference between the two is that you can edit Powerpoint files in the premium app. Other features are basically the same in both versions and these features include the following:
edit, create and view Word files and Excel spreadsheets
view PDF, Powerpoint and iWork and other files
send and receive files as attachments to Gmail message
When editing, creating and viewing Word files, the app employs InTact Technology which retains the original formatting of the edited files. The app also lets you view documents including graphics, tables, comments, footnotes/endnotes and text boxes in high-fidelity. You can also use extensive character formatting and paragraph alignment, autobullets/numbers, word count and more.
When editing Excel spreadsheets, the app lets you freeze rows and columns, format cells, rename/delete/resize sheets, insert/delete/resize/hide/unhide rows and columns and other Excel functionality and features.
When viewing PDF, the app lets you choose various formats - thumbnail, fit to screen, fit to width, actual size and full screen views.
To better appreciate the functionality and great features of this app, you might want to download and install its desktop companion. This would allow you to sync files on your computer to your iPhone Documents to Go app.
QuickOffice Connect Mobile Suite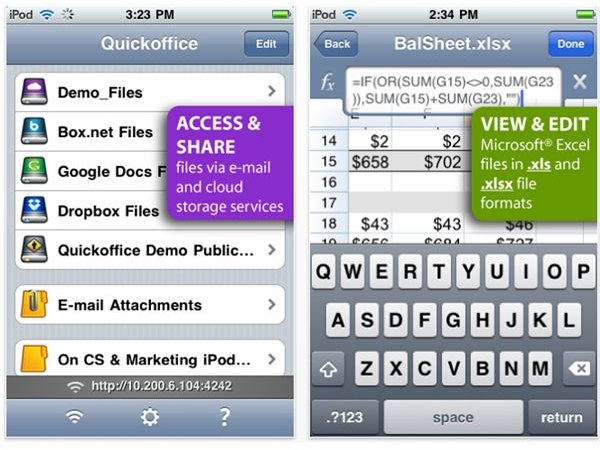 Similar to Documents to Go, QuickOffice Connect also lets you create, open and edit Microsoft Office files - doc, docs, xls and xlsx and view all other files including PPT, PDF, HTML, PNG, JPG, GIF and more. The app also supports various cloud storage services such as Box.net, MobileMe, Dropbox, and Google Docs. By supporting these services, you can transfer files from your iPhone to your cloud storage accounts via Wi-Fi. And of course, the app also lets you share files via email.
Other features of QuickOffice Connect Mobile Suite include:
fast and responsive app performance
easy access to multiple remote storage providers
robust and rich features for power users
very easy to use interface
100% data integrity
advanced Notepad Editor
(Price: $9.99) (Download link)
Which is the Best Office Apps for iPhone?
After enumerating and describing the two iPhone office apps' features and functionality, which do you think is the best office app for iPhone? Unfortunately there is not clear-cut answer to our Documents to Go vs. QuickOffice iPhone battle. Both iPhone office apps offer a full range of great features. Some of you might say that QuickOffice is better because you don't need to install desktop software to maximize its features. But then, it's too minor a reason to declare it as a better app than Documents to Go.
In terms of file support, both apps offer the same features. Although, you can have more features if you upgrade Documents to Go to the premium version where you can create and edit Powerpoint presentations. Is it enough to declare Documents to Go as the better app? Still a no.
The bottom line is, either of these iPhone office apps can be better than the other. It all depends on how you as a user can maximize their features to better manage creation and editing of your documents. Here's a link for more top business iPhone apps.