Tips and Tricks for Social Networking With Bump on the iPhone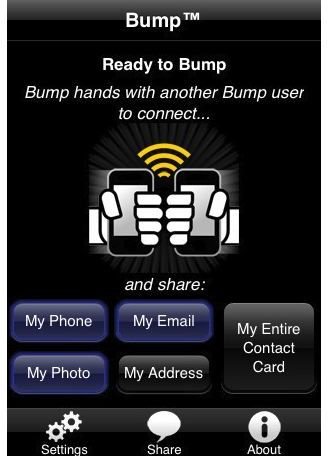 Bump It
Social networking was perfectly designed for the iPhone, but many of the specific social networking services were designed with the technology of a home computer in mind. Though the social networking apps port over well to mobile devices, they are still transfering a social networking set up that was put together around a different type of communication model. With Bump for the iPhone, the social networking tool has been crafted around the technology of the iPhone specifically. In Bump you are asked to create a profile of sorts and then use the Bump software to literally "bump" over that information to another iPhone user that has Bump. Here is a look at a few tips to help your work with Bump on your iPhone.
Complete Your Profile
There will automatically be a base amount of information that will be applied to your Bump profile, but you want to make it as complete as possible. Make sure that your name, phone number, address, and all other basic information is all correct in your Bump profile. You can also easily add the ability to use a Facebook friend request as part of what is bumped over. You are restricted to four pictures and four contacts you can bump over, so pick those well. You may want to just restrict it to a single picture, so that they have one to associate with your contact in their iPhone, and restrict all other contacts from coming over. You can select your contact and edit it easily at all times and add all the things that you would in your normal contact, which is where the format came from. If you are using Bump for business contacts in the form of social networking then you will want to include your email, company, url, and any name specifics.
Know Your Restrictions
You must know ahead of time what you do not want to accidentally go to someone else's iPhone, such as certain pictures and sensitive contacts. It still would be fairly difficult to accidentally send these things over, but anything is possible. Double check what you are sending over on a regular basis and if there is private material in these areas make sure to just restrict them all together.
The Bump Itself
The "bump" in question happens after both parties have opened up Bump on their iPhone. They then push their iPhone's together, which makes them vibrate and the contact profiles are sent over. You can then take and save their info, which is a few seconds faster than just asking for it. This can be tricky to do and you may end up having to do it several times. To get the Bump done effectively try to bring up the iPhone close to the other one before you even open Bump. Once it is open try to do the bump in one fluid motion. The Bump application tries to make the connection with any motion, so try to keep it as straight and to the point as you can. It should go without saying that this should be a very gentle bump, so do not go slamming your iPhones together!
This post is part of the series: iPhone Social Networking Apps
Here are articles about different social networking applications for the iPhone available at the iTunes' App Store.