The iPhone and Internet Radio: Best Apps

Pandora (5 out of 5)
The Pandora radio app is an extension of the Music Genome Project and boy is it sweet! Now, unless you've never been on the Internet then the word Pandora might create impressions of a box with untold destructive chaos within. The Music Genome project is an endeavour to identify characteristics that make you love or like a particular song and hate certain others. My money is on the guys at Pandora, because they seem to have figured out a way to do exactly that. Imagine a radio station that plays only the songs that you like and you may like, that's Pandora.
The Pandora iPhone app is just a sweet implementation of their web based music service on your wonderful mobile device.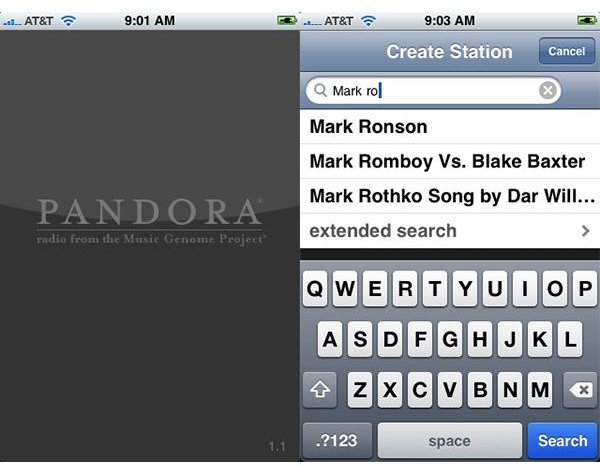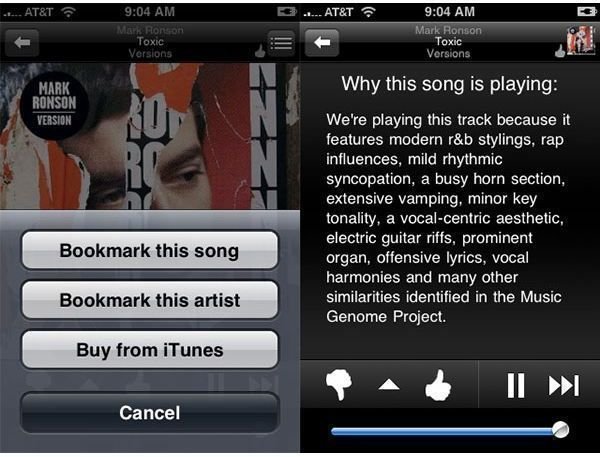 You can start by typing in a song/artist/composer you like and create a radio station tailored to play similar songs. Once you start listening to the songs the app learns your taste and the upcoming songs tend to be ones that you might like. At times the selection may be off, you can always dislike a song meaning that it will never appear on your radio again. The app offers simple controls to like and dislike a song, tag songs & artists and even buy a song you love through the iTunes store. Pandora is an excellent, if not the first, choice in the list of best iPhone Internet radio apps. The iPhone and Internet radio is a music lover's dream come true and Pandora should be the jewel in every iPhone music lovers collection of apps.
LastFM (4 out of 5)
When Pandora came out initially I was thrilled by the promise it held and couldn't believe that it was available for free to everybody in the world. Unfortunately the Music industry also seems to have woken up to this reality and decided to pour some cold water on the idea. Currently for music lovers like myself listening to Pandora is impossible since it's no longer available outside the US. LastFM is a service that appeals to these users the most since it's a Pandora-like music recommendation engine with two significant changes. LastFM is available to everybody in the world and it also incorporates a social networking angle.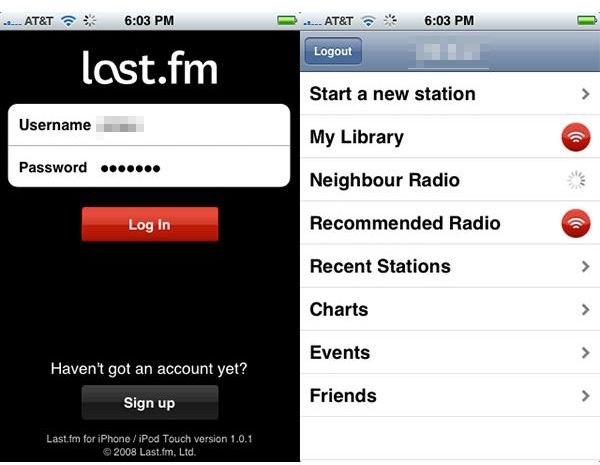 The LastFM app for the iPhone allows its users to listen to tracks and rate them as like or dislike and just like Pandora they tailor the upcoming song based on the listener's likes and dislikes. On the iPhone app you can choose to play tracks by entering a song, artist, album or tag and then create a radio station to play similar songs. The app can also just start playing music without any user input since it tracks listener's likes and dislikes. The app interface is simple, well designed and also brings in the social networking features like recommending songs to friends, sharing your concert calendar etc. As a music service LastFM is an excellent alternative to Pandora though their music prediction and recommendation engine has not yet completely caught up with Pandora's.
AOL Radio (4 out of 5)

If you're a fan of the conventional style radio or just don't like all the music recommendations stuff then you're sure to enjoy the AOL radio app for the iPhone. AOL radio brings you a preselected but quite comprehensive set of radio stations on your iPhone. Radio stations are classified into genres like rock, pop, jazz etc. and contain a very wide range of stations. There is also an option to select radio stations based on your current location. Once you like certain stations, they can be made as favourites and can be called upon with quick menu. In case you like a song very much it does offer the option of guiding you to the song on music stores like iTunes and AOL music. The AOL Radio iPhone app is a vanilla offering backed by a good, but limited, selection of radio stations. The most important advantage of the AOL radio app is the offering of talk radio as well which even big time apps like Pandora and LastFM don't do.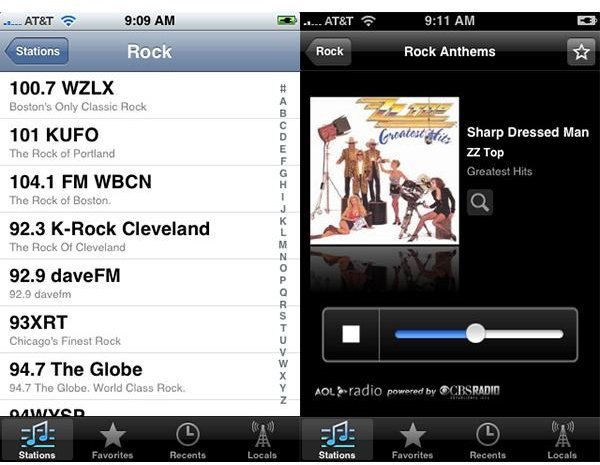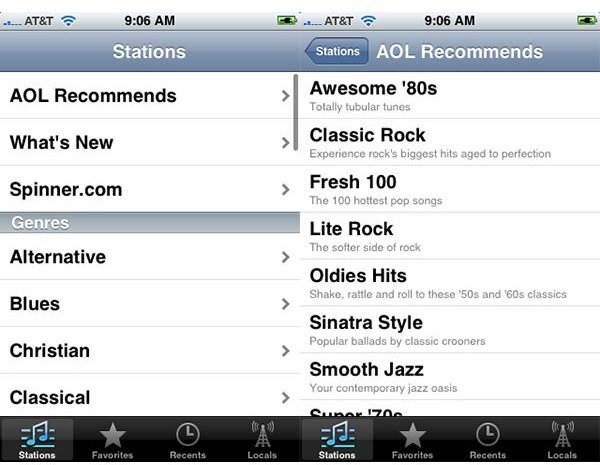 allRadio (3 out of 5)

The most appealing fact of listening to Internet radio is the freedom of choice. From Bach & Beethoven to Bollywood and beyond, the choices that Internet radio offers are limitless. Previously discussed apps limit this choice to some extent and if you want to be free and try out every single radio station out there on your iPhone then allRadio is the way to go. I have been an allRadio user for sometime now and am impressed by their updates. Remember that most dorm room radio stations out there may or may not be online from time to time and that cannot be blamed on the app, however this does hinder the experience of Internet radio on the iPhone. Otherwise allRadio is a fabulous app that brings in a very wide collection of radio stations available on the Internet to your iPhone.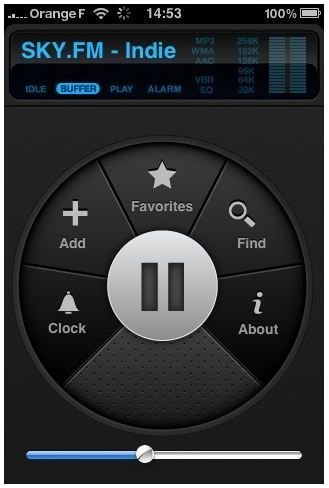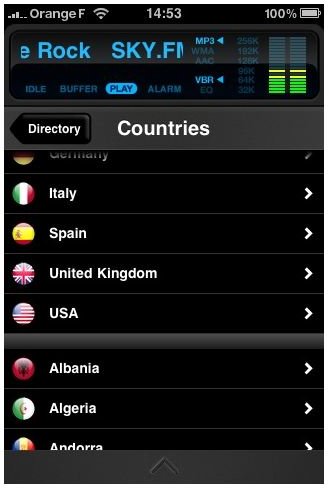 The current version of allRadio has a souped up interface and makes hunting down online radio stations easy. It comes with a collection of 8000 Internet radio stations from all over the world and around 2000 stations from the US. If you are a lover of foreign radio stations and little known or obscure online streaming shoutcast radio stations then allRadio can bring all that to the iPhone. Of course the quality of the stream and other factors depend on the radio station but access on the iPhone is not a problem with allRadio. The interface is swanky and is a little bit on the geeky side of things, though you can get used to it pretty quickly. Radio stations can be selected based on country, genre or directly from the radio station directory. Recently added alarm clock capabilities allow listeners to fall asleep and wake up to their favourite radio stations on their iPhone.