Best iPhone Games: Top 50 iPhone Apps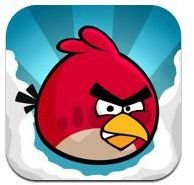 This list features several of the best iPhone apps, spread throughout a variety of different areas. Chances are good that you use all kinds of apps, not just games, not just planners, etc… Thus, we have divided our best iPhone apps list into 5 main categories, to give you a good selection of top apps to choose from.
Top 10 iPhone Games
Many of the best selling apps in the appstore are games. You don't have to only use your iPhone for practical purposes. Check out some of the following games, which have all been reviewed by customers as being top notch, entertaining, and fun to play.
Angry Birds - $0.99
Looking at customer reviews, Angry Birds is most definitely one of the best iPhone games. This game has received over 500 perfect 5 star ratings in the appstore.
With Angry Birds, you are a team of 5 angry birds that are out for revenge against the pigs. No, not the local police department. Actual pig animals that have stolen your eggs. Your only chance is to stop the pigs, before they make an omlet out of your hatchlings.
The birds in this game are not traditional birds, in that they don't have wings. Rather, they are very round in shape. This means that they don't fly, so the main objective is to slingshot the birds into pig territory, and reclaim what is yours. Each of the 5 angry birds has a special talent, which you will learn more about in the game.
In the famous fairy tale of the 3 Little Pigs, the big bad wolf huffed, and he puffed, and he blew the house down. In the famous game Angry Birds, the pigs again find their houses as a target. But the birds are not as polite as the wolf, and they use extreme force to tear the house down.
This game's near perfect rating makes it a best, must have iPhone game. Check out our full Angry Birds Review and our Angry Birds Tip & Tricks.
Doodle Jump - $0.99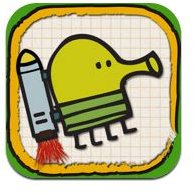 Checking on customer reviews, Doodle Jump is another best iPhone app with over 1000 perfect 5 star ratings in the appstore.
Although Doodle Jump's graphics won't blow you away, this game is surprisingly fun, addictive, and just plain awesome. With Doodle Jump, you are Doodle the Doodler, an aardvark/space alien looking creature that journeys around a graph paper background. Not to worry, as this game has nothing to do with math. Notably, there are a variety of different gizmos and gadgets in your arsenal. Doodle Jump is a best iPhone game, filled with items such as UFOs, jet packs, propeller hats, and much more.
Check out our full Doodle Jump Review and our Doodle Jump Tips & Tricks.
Skee-Ball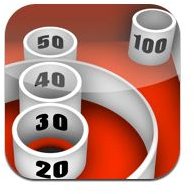 According to customer reviews, Skee-ball is a best iPhone game with over 8,000 perfect 5 star ratings in the appstore.
You have probably played a real skee-ball game at your local arcade. Skee-Ball is a digital twist on the classic ball rolling game. Although a very simple concept, it appears that Skee-Ball is a fun game to play even on the iPhone. Notably, you can even win tickets with this best iPhone app, and cash them in at the prize counter, just like you would at an actual arcade.
Be sure to continue on to page 2, where we will continue our guide to the best iPhone apps.
Tap Jungle - Free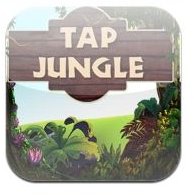 Over 3000 people in the appstore would recommend Tap Jungle as a must have, top iPhone game; and with a price tag of zero, there's not much to lose by adding this game to your collection.
The main objective of the top iPhone game Tap Jungle is to plant and harvest a wide variety of different plants and exotic trees. Upon doing so, you can collect coins and other prizes for your work. From there, you can use the coins to buy animals, which will eventually turn into a jungle. Although a simple concept, Tap Jungle is fun to play and offers a high level of creativity for a game.
Cooking Dash Lite - Free, Cooking Dash Full - $0.99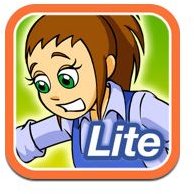 Over 40,000 people in the appstore have played at least one version of Cooking Dash, and the latest version offers many improvements and updates over previous versions. For a free iPhone game, Cooking Dash has also received some very good ratings.
With Cooking Dash, you are Flo, the proud owner of Flo's Diner. After a cook quits the Diner to seek out better opportunities on a cooking TV show, Flo must improve her cooking skills in order to keep up with the demand of Diner Town's many hungry customers. Help Flo and her grandmother keep pace with the demands of the customers, while serving burgers, chicken, and other popular foods. The difficulty and challenge of this game is, Flo owns 5 different diners in Diner Town.
Check out our Cooking Dash review to find out more.
Fruit Ninja - $0.99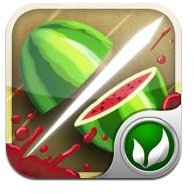 Over 1400 people in the appstore have rated Fruit Ninja as a top iPhone game.
With Fruit Ninja, you use the iPhone's touchscreen to swipe and slash fruit. However, there are bombs and other obstacles that you don't want to slash, thrown into the mix. Slash precisely and work on your cutting skills with Fruit Ninja. Although this game has one of the most simple concepts out there, it has received countless positive reviews.
Check out our full Fruit Ninja Review.
Flight Control - $0.99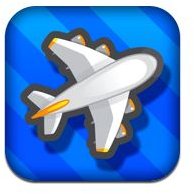 Over 35,000 appstore users would recommend Flight Control as a top iPhone game. With ratings like this, who knew landing a plane could be so fun.
Flight Control is a game of air traffic control. By playing an air traffic controller role, you are responsible for making sure that all incoming flights have a clear runway to land on. However, the game is not always so easy, as things such as wind speed and direction determine how you will land planes.
Check out our Flight Control review to find out more.
Be sure to continue on to page 3, where we will conclude our list of the top iPhone apps and games.
Bejeweled 2 - $2.99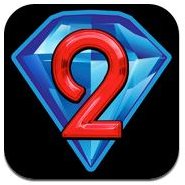 Bejeweled 2 has been ranked as a best iPhone game by over 3,500 users in the appstore. At $2.99, it is a bit more expensive than most games, but the vast amount of levels and challenge that this game offers make the price well worth it.
Bejeweled 2 is a simple puzzle game, in which you must align and rearrange the gems in order to make sequences. Once completed, the gems will be removed from the board and other gems will drop into place. Notably Bejeweled 2 offers four distinct gameplay modes, including Classic, Action, Endless, and Blitz. If you have never played Bejeweled, but like games like Tetris, this may be the game for you.
Check out our Bejeweled 2 review to learn more.
Bounce Bullet Pro - $0.99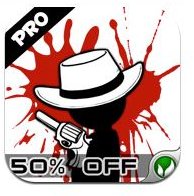 Bounce Bullet Pro has been ranked as one of the best iPhone games, with over 80 positive appstore reviews. Although this game is newer, it has become a top iPhone game rather quickly.
If you can kill two birds with one stone, you can surely kill several enemies with one bullet. At least that's the concept behind the top iPhone game Bounce Bullet Pro. The game is simple enough to play, just align the gun in the right direction and fire. From there, the bullet will take out as many enemies as possible, while bouncing around blocks, obstacles and more.
For a less violent approach with the same concept, you may want to check out another of the best iPhone games - Bloons.
Plants vs. Zombies -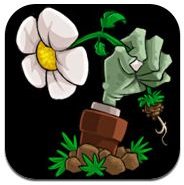 The fun game Plants vs. Zombies is one of the highest rated iPhone apps to date, grossing over 14,000 perfect reviews in the appstore.
The objective of Plants vs. Zombies is much as the title suggests, you are fighting zombies off by using plants as a major form of defense. As zombies try and invade your home, the only plausible weapon that seems to do any damage is plants. Thus, you'll need to plant a wide variety of zombie killing plants throughout the field, as each of the 26 different types of zombies have different strengths and immunities. Use your seeds wisely, or the zombies will quickly take over. To add even more challenge to the game, Plants vs. Zombies incorporates several obstacles such as sunlight and water.
Check out our Plants vs. Zombies review to find out more.
Best iPhone Apps: Games Conclusion
That concludes our list of the best iPhone apps and games. Whichever of the iPhone models you have you should now be able to quickly download 10 of the best and most fun games for the iPhone. Be sure to continue on to the other articles in our series, for other top 10 lists of iPhone apps, other than games.
This post is part of the series: Top 50 Best iPhone Apps on The Market
Looking for the must have, 50 best iPhone apps? This series covers the top iPhone apps of all varieties. 5 top 10 lists of the best in iPhone app games, utilities, and more will provide you with an all-in-one guide of iPhone apps to add to your collection. What are the best iPhone apps? Learn more.