Should You Buy Refurbished iPhones From AT&T?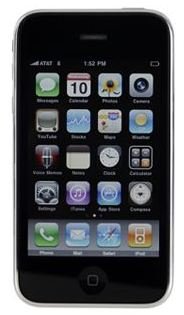 The Rebuilt iPhones
Check out AT&T's official website, under their section, Why Buy Refurbished Cell Phones, you'll find it very informative and actually enticing!
The AT&T web page tells me the refurbished iPhones AT&T are offering are "just like new," and include features like:
Reconditioned to original factory standards
Instant online discounts – no mail in rebates
Eco-conscious choice (I guess because I'm recycling a cell phone)
90-Day warranty
30-Day no risk return policy
AT&T also included this statement, "Refurbished Phones are pre-owned cell phones and devices that have been returned during the 30-day trial period. Each Refurbished Phone/Device is independently tested and reflashed with the latest software to meet new factory standards. As a result you can get the latest and greatest technology for a fraction of the price."
From there I did a little more exploring via "choose a phone now."
Further Exploring
The refurbished iPhones AT&T offered that I came across consisted of two: the Apple iPhone 3GS and the Apple iPhone 3G. The refurbished prices listed below the images were $149 to $199 for either a 16GB or a 32GB for the 3GS; and $49 to $99 for the 8GB or 16GB on the 3G.
I was happy to see the free activation and shipping details but still, I wasn't sold, especially after I hit the "learn more" tab. What I did learn was that even though it said I could get free activation, the "learn more," told me I was required to pay for a "new" activation on a refurbished iPhone.
The range in prices from $99 to $199 meant buying extras like monthly data service, a two-year contract, my very own individual plan, messaging, road and navigation assistance and voice dialing. There were many more things I could also add on like parental controls and maps for even more money.
Next I hit on the "other monthly charges," which appears in very small print at the bottom of the screen. That opened one window that told me I would be paying an extra $1.25 per month plus all sorts of fees and surcharges and if I wanted to know more I could click open yet another window. Those additional charges all had to do with where I lived based on my zip code.
I really couldn't find much more data on the website for the refurbished iPhones AT&T is offering unless I added one to my shopping cart or called a representative, so I sought out another source.
What Others Are Saying
I found many websites such as Doug Toombs, who claimed these refurbished AT&T iPhone were not as good as they seemed.
According to Mr. Toombs, who quotes an Apple employee on the refurbished phones, refurbished means, "Settings > General >Reset > Erase All Content and Settings on an iPhone."
Mr. Toombs says the refurbished iPhone he purchased from AT&T for his fiancée was "activated," and only had firmware of 1.0.2; some he claims got firmware of 1.0.1. I could feel for Mr. Toombs, but if he read the fine print, he would have realized that these refurbished iPhones from AT&T were the ones people returned after the standard 30-day-I-don't-want-it-anymore period, so the firmware on the phone really was what was on it originally; at least that was my take on it.
Other website complaints claimed that AT&T said the refurbished phones, like their new iPhones, came with a one year guarantee, however, it clearly lists on the website that there is only a 90-day guarantee.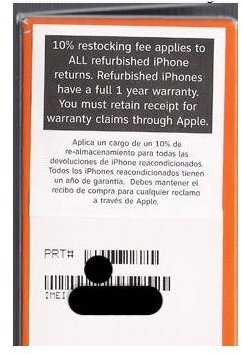 Still, on Howard Forums, as seen in the screenshot to the left, Apple is offering a full one-year warranty on the refurbished phones as long as you have the receipt. You can click on the image to see a larger view.
Should You Buy One?
Rick Broida of CNET says the new Apple iPhone 4G will be out by June 7th and on buying a refurbished iphone from AT&T, why buy them at all when you can take a trek to Wal-Mart and buy a new 3GS/16GB for $97 plus tax? Broida does point out these new ones are only available at Wal-Mart and are not offered online.
As far as the new Apple iPhone 4G, Broida says, "Personally, I'm not all that excited by what I've seen from the leaks of the next iPhone. It looks surprisingly ugly for an Apple product, and its expected specifications–a higher-resolution screen and a front-facing camera–don't excite me much. I may change my tune come June 7, but for the moment, I expect I'll be hanging on to my 3GS."
It may be up to practicality, common sense, what you can afford, or if you simply don't care if the refurbished iPhone AT&T offered was returned, erased and then shipped off to you. Whatever the case, they are available. For me, I'll wait for the 4G or maybe buy a Motorola Droid; if I can afford one.