Remembering Prescriptions with your iPhone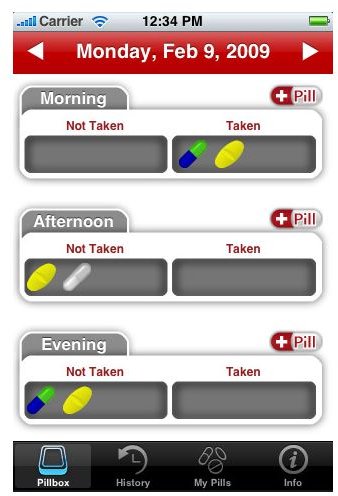 Using your iPhone to track Prescriptions
The iPhone has become the center of our communications, be it emailing photos to friends, posting that twitter update or just checking out cool photographs from the web. If you are looking for a more "down to earth" use of the iPhone, other than just making a call, how about using it as a reminder or notebook for recording your medication? We've always had to keep track of medications that we take or for family and pets, so why not use a device that's almost always with you and allows easy tracking of prescription medication. Let's take a look at a couple of iPhone prescription applications.
iPills
iPills is a free app which will help you track the medication that you are taking. The app will allow you to enter the pills that you're taking, track consumption habits and record the data for furture reference. The interface is pretty basic, though good enough for a free app. The app accepts data from the user such as name of the drug, a lookalike image (for quick reference) from its standard shapes and colors, dosage info and a time schedule for the consumption. Once these details have been entered you can take your pill and enter the action into its list - which is sort of a to-do list interface and gradually you end up accumulating data. Now you have a virtual pillbox which will let you look up if you've missed your medication or the duration of consumption and so on. The only limiting feature of the app seems to be the customization of the pill timings which aren't very flexible. Though, Ilium software the company behind the iPills app says that it is testing the demand for such an app and potentially if demand is high enough they might come out with a pro version with better features and interface, let's wait and see. If you are on the look out for an easy iphone prescription application iPills seems to be a good start!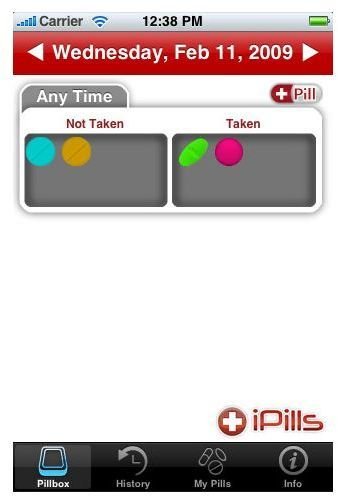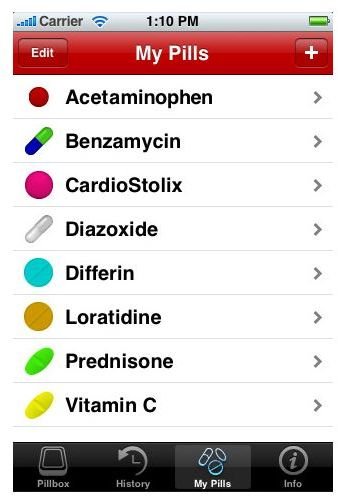 RxmindMe
RxmindMe adds an interesting touch to what would otherwise be just another Prescription app on the iPhone. The idea of tracking medication one takes on the iPhone is interesting yet there is no other compelling feature that makes these applications worthwhile. RxmindMe makes a difference in iPhone prescription applications by its feature set which definitely makes it out stand out. It offers active reminders! Well, forgetting your medication may not be be a good idea, and having an app to just track your medication intake is of little help if you forget about it. RxmindMe has push notifications which require network connectivity (not a problem on the iPhone) and can remind you even if the app isn't running or you're playing a game, on a call or just surfing the Internet. The app also provides a basic interface for entering pills and drug details as well as dosage and other information. The app will maintain a record of the entered items and together with the powerful reminder features is a worthy app for $3.99. You can always try the app before buying it so you can have a taste of the capabilities of RxmindMe.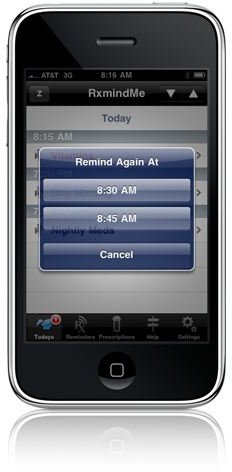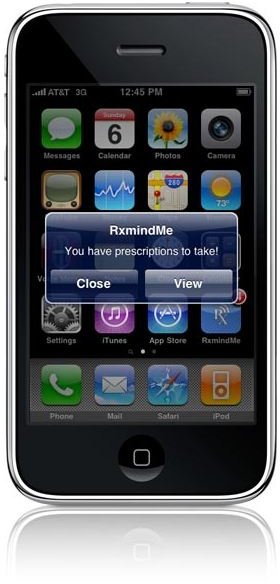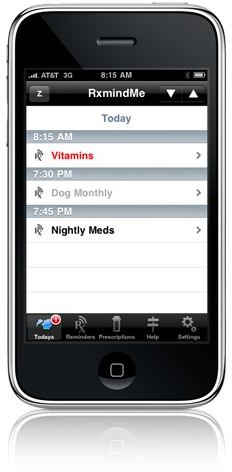 Medicine Cabinet
If you are the on the look out for an app that can hold all of your prescription info and similar information for your nearest and dearest, then Medicine Cabinet is the app for you. Medicine cabinet will allow you to create and maintain prescription records for multiple individuals or pets. As required for any prescription management app, Medicine cabinet allows you to enter prescription info, physician information, pills, dosage and duration of treatment. Unlike iPills & RxmindMe, Medicine Cabinet is not tailored for single user prescription management or reminders, though it can do both. Consider Medicine cabinet to be a resource or a notebook where you manage the prescription info of several members of a family. It's a more comprehensive database-like approach to prescription management instead of just another quick prescription look up app or reminder app.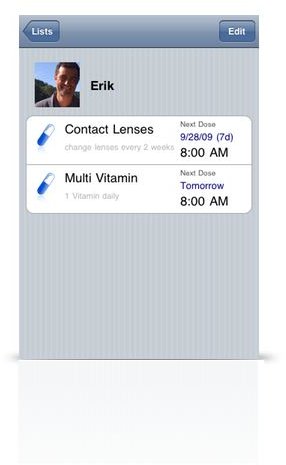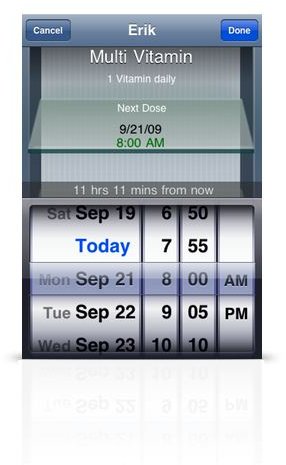 iRx Helper
Want to manage the prescription information of the whole family? Want to know when your pet's pills are running out? iRxHelper has got you covered. Coming up as a close competitor to Medicine cabinet, iRxHelper can do everything - from just maintaining prescription info of several individuals to reminding you to get new medications when the existing ones run out. Prescription data can be enriched with the notes feature. It also offers reminders for taking your medication and reminders that you need to buy more of that almost empty pack of vitamin tablets. iRxHelper can do just about everything that one can imagine about prescription management. Though the reminder features are not as extensive as RxmindMe, the app compensates well by offering another bunch of features.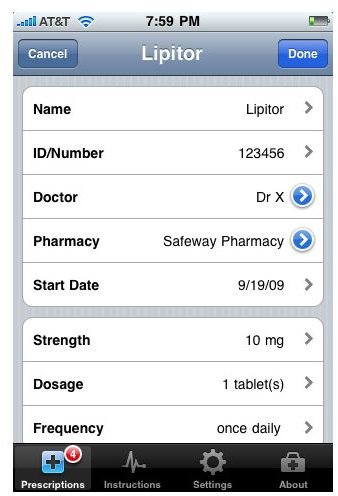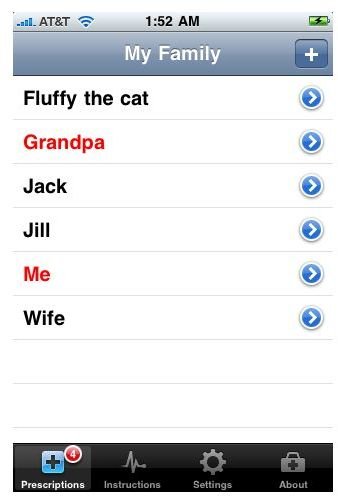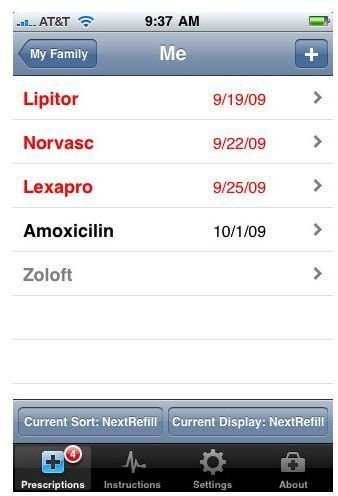 iPhone Prescription Applications
These practical apps could prove to be invaluable, especially for forgetful people. So why not take the hassle out of prescription management and download an iPhone prescription app today? If you have another suggestion for a great iPhone prescription application then please post a comment and let us know about it.
If you're on the lookout for more general medical apps then check out the Top 5 Medical iPhone Apps.