Find The Best iPhone Dock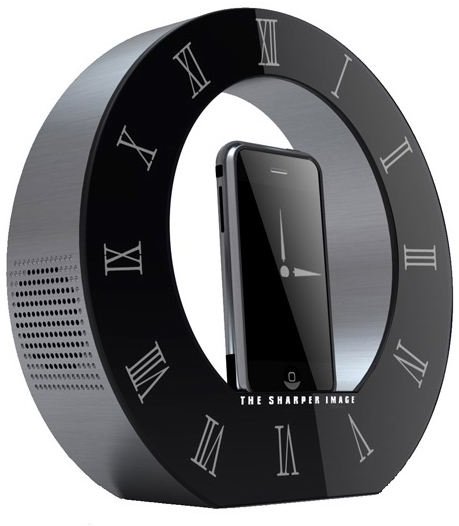 Docks, Docks & More Docks
There are literally hundreds of iPhone docks, with new ones coming to the market everyday. As with all iPhone accessories, iPhone music docks have become a craze. With so many iPhone docks on the market, including those from small startup companies through to releases from audio giants, it may be hard to choose. The best iPhone docks blend beautiful design with superior functionality, to create a product that stands apart from the rest.
Sharper Image's iPhone Dock & Clock
_
Sharper Image's entry into the iPhone Dock market is not only an elegant one, but an incredibly functional one. The idea of introducing a front-facing clock into an iPhone dock is nothing new, in fact just about every iPhone dock does it. However, Sharper Image has done a gorgeous job of creating a beautiful classic clock, utilizing the iPhone as the center-piece. This beautiful dock by Sharper Image features powerful speaks on both sides to enable music playback, while creating an elegant front-facing clock. The outer rim of the clock features the Roman numerals in printed white, over a glossy black finish. The iPhone serves as the hour and minute hands of this iDock Clock. The iPhone effect is accomplished with a small, freeware program which is downloaded via the AppStore (iTunes).
Sharp DK-AP8P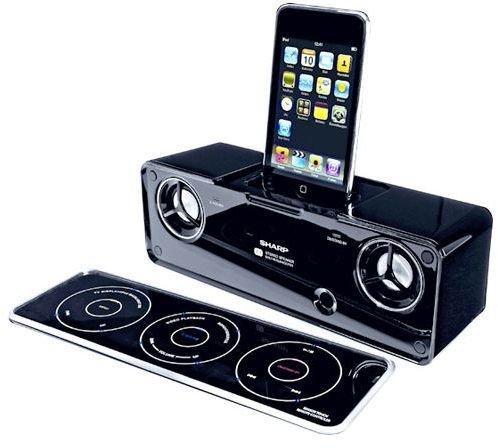 The DK-AP8P is a revamped iPhone dock offered by Sharp. The premise behind the Sharp DK-AP8P is to blend functionality with organic iPhone design. This is accomplished by bringing the classic iPod wheel back. The magnetic front cover detaches to provide a portable control with three touch responsive wheels similar to those famous iPod wheels found on earlier generation iPods. The design of the DK-AP8P is intelligent, reaching out to Apple fans with the classic feel of the iPod. The DK-AP8P features a 2.1 channel speaker which offers ESound, a technology which aims to increase the quality of playback for compressed digital audio. The DK-AP8P is rated for six hours of operation when utilizing batteries, the DK-AP8P also comes with an AC Adapter and soft carrying case. The DK-AP8P is being marketed as a high-quality, portable iPhone music dock.
Hohrizontal 51 Shelf Dock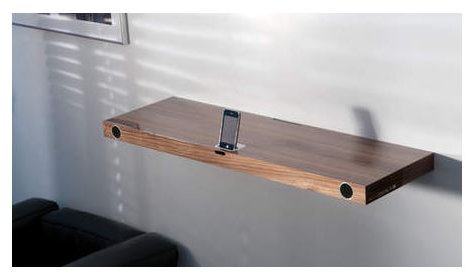 The Hohrizontal 51 Shelf Dock by Finite Elemente looks like a shelf, functions like a dock, but which is it really? A good question with no solid answer because it's neither of the two; it's both. The Hohrizontal 51 changes the classic 2-D dock design by wrapping a dock and speakers into a functional shelf. The Hohrizontal 51 attaches to a wall with twelve mounts, similar to a regular shelf; capable of supporting up to 25kgs. The iPhone dock and two well placed speakers are integrated directly into the Hohrizontal 51. This German designed iPhone Shelf boasts two, twenty-five watt speakers and can also accept audio input via line-in or USB (in addition to the iPhone dock connector).
Griffin AirCurve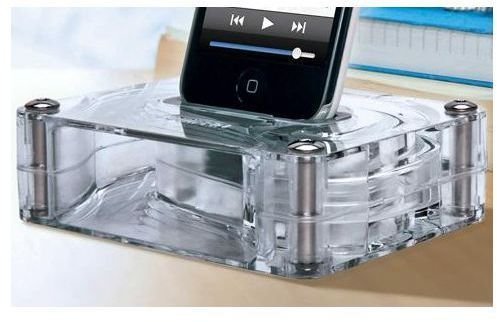 Who says an iPhone dock needs to contain speakers? While it certainly has become common place, the Griffin AirCurve is quite far from common. This elegant iPhone dock sports a translucent polycarbonate body which accounts for its beautiful appearance. The Griffin AirCurve doesn't have any speakers, no need for batteries nor AC adapters. The Griffin AirCurve servers as a stand for the iPhone and utilizes a well designed internal "coil horn", which amplifies sound coming out of the iPhone speakers by about 10 decibels and projects it outward. The resulting sound doesn't compare with what a decent speaker would produce, however, it is much louder than the internal speakers by themselves, and without the need for any power source. The Griffin AirCurve can utilize a pass-through dock connector cable to charge or sync the iPhone while listening to music. The AirCurve isn't exactly a traditional speaker dock, but it has an elegant appeal and does exactly what it claims quite nicely.
ReNu iPhone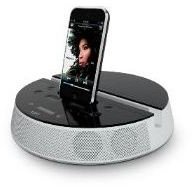 Green technologies have become all the rage and ReNu intends to bring green to the iPhone. For all intents and purposes the ReNu iPhone is a dock, featuring a full set of speakers. Music playback is possible utilizing the internal speakers with either solar power or regular USB power. The ReNu iPhone dock is capable of charging the iPhone using the power of the sun. This highly portable dock can bring the enjoyment of music and convenience of an iPhone charger anywhere that USB power or the sun is available. This is a creatively functional alternative to traditional iPhone docks. The ReNu iPhone dock is rated for around eight hours of music playback on a single charge. The ReNu is capable of reporting information regarding power usage and charging to a computer or the iPhone via a free, downloadable application.
More iPhone Docks
If you don't fancy any of these then you can always check out Top Five Docking Stations for iPhone for a few more ideas. There are loads of iPhone dock options out there and new releases every day so you're bound to find something that suits you. If you already have an iPhone dock you love then post a comment and let us know about it.