iPhone Tasks That Sync With Macintosh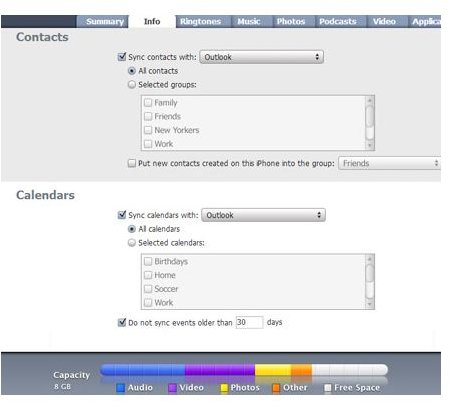 Centralized on the Mac
Apple cannot be specific as to what type of computing platform you can sync your iPhone, iPad or iPod Touch to because they do not want to limit their market for mobile devices and iTunes, but the Mac seems perfectly geared toward the iPhone as they are both developed by Apple's consumer line. The basic premise of the iPhone's interaction with a computer is simply that the computer acts as a base for iTunes to rest on and then iTunes communicates with other applications that can be connected. This is slightly different when using your iPhone and Mac together as you have specific functions that can be used in conjunction with the iPhone or iPod Touch. Here is a look at some of the unique iPhone tasks that can sync with a Macintosh.
Safari
Safari, which is a Mac invention and answer to Microsoft's Internet Explorer, comes standard on both the Mac and on the iPhone. The use of
Safari on your Mac and iPhone can easily be combined, especially through the transfer of Safari bookmarks. Plug in your iPhone and select it from Devices in the left hand panel. When you bring in the iPhone into the main display panel select the Info tabs. Go down to Other and check the box for Sync Safari Bookmarks. You will find that this is not an exclusive iPhone task that can sync with a Macintosh, but it is an iPhone task that is built to sync with a Macintosh right off the bat.
iCal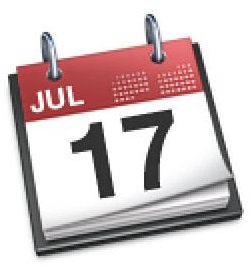 The same Info tab will give you the option to connect your iPhone with more Mac features. If you are using iCal calendars you can connect all of your scheduling to your iPhone, which is a perfect way to update your scheduling on a consistent basis so you can just sync it to your iPhone. Go to Sync iCal Calendars and choose between All Calendars and Selected Calendars. All Calendars is preferred, but if this is a special situation like a company phone then you may want to select just Work calendars. Here you can also select how old you want to keep your iCal Calendars, but they are set for 30 days. The iPhone is the perfect integration of personal planning features and should be one of the first places you go when using iPhone tasks that sync with a Macintosh.
Home Sharing
With Home Sharing you have the ability to use a single iTunes account for all of your Macs in a given house, creating a single account location for all iPhone's to do this you simply select Home Sharing from the Info tab and then enter your iTunes information and password. You do this for a collective iTunes and App Store connection. This is an interesting feature that allows for a family to connect their iPhone usage, and makes it more manageable for a family to have a plan for all members who are utilizing iPhones. This also creates a perfect situation for multiple Macs in a single house on a single iTunes account and ensures that you continue to have access to the iTunes' App Store when using your iPhone and your Mac together.
iPhoto
iPhoto is a nice photo application that comes standard with your Mac computer. With iPhoto you can create a nice interaction when using your iPhone and your Mac together. First, when your iPhone is plugged in to your computer select it in the Device listing in iTunes and go to the Photo tab.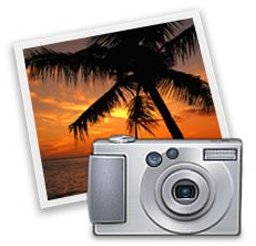 Here you can choose the option to sync photos from iPhoto, as well as specific folders on your Mac's hard drive. You can then choose to sync "All photos, albums, and faces" or "Selected albums, events, and faces." You can also select to include videos as well, but this may be something that you just want to leave to the Movies and TV Shows tabs. What this essentially allows you to do is to create a common situation between the iPhone and iPhoto in the same way that the iPhone has with the iTunes library. If you just plug your iPhone into your computer and then select iPhoto you will also have access to the photos that you have in the Photo section of your iPhone. This will allow you to select the photos from your iPhone that you want and then upload them onto your Mac.