Top Five iPhone Photo Album Apps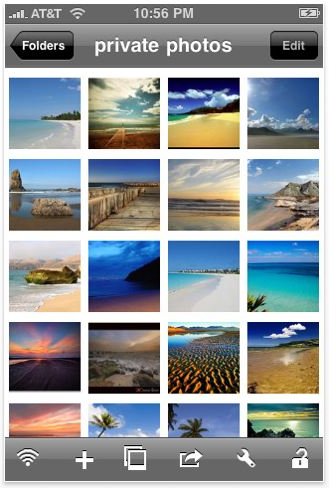 PhotoFolders - Private Photo Albums (4 out of 5)
Here's a pretty useful iPhone photo album app that lets you protect and hide your private photos without telling your friends and contacts whom you share your photos with that you actually have private photo albums. This app lets you password protect some of your albums in one photo gallery or directory to lock and hide them from other people. Other features of this app include - drag and drop files and folders to and from your PC or Mac, direct upload of files using a web browser, email files as attachments, built-in help guide, slideshow mode and more. (Price: $0.99) iTunes link.
Photo-Sort (4 out of 5)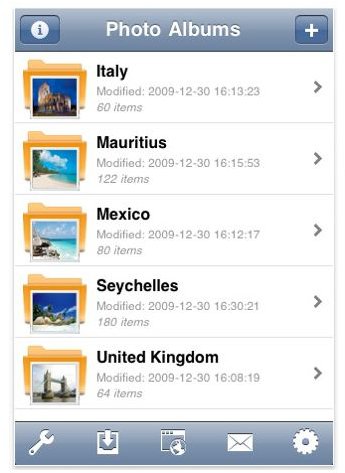 As the name suggests Photo-sort lets you organize your photos directly on your iPhone. The app even lets you name your photo albums on your iPhone. Photo-sort lets you create folders and sub-folders, modify the compression rate of imported photos, cut/copy/paste/delete folders and photos, rename folders and photos, export folders/photos to your computer, email photos and more. This app is indeed a simple and yet powerful photo organization and management app. It's a good candidate for the best iPhone photo album app. (Price: $0.99) iTunes link.
GeoPhoto Albums (5 out of 5)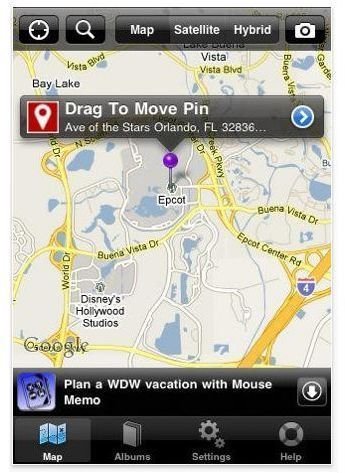 What's cool about this app is that not only does it let you manage and organize your iPhone photos, but it also allows you to geotag these photos using a familiar and intuitive user-interface. The app saves the GPS location, date and time when the photo was taken. This app also lets you - organize your photos into albums, browse photos on a map using swipe gestures and pinch-to-zoom, upload photos and albums to Flickr and display them on your map, share photos through e-mail including links to the location in the maps app, import photos from your iPhone camera roll and export photos to your camera roll and sync it back to your computer. This is a great iPhone photo album app especially when you consider it is completely free to download and install. (Free) iTunes link.
TravelPad - Travel Photo Album (4 out of 5)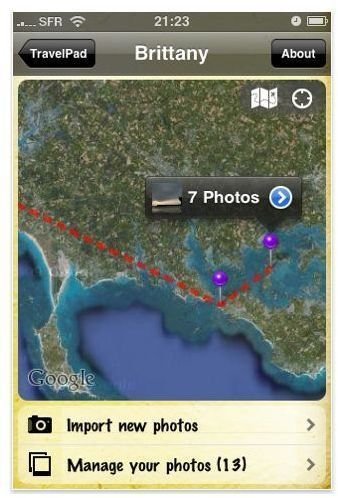 Similar to GeoPhoto Albums app, TravelPad also uses the GPS feature of your iPhone to locate where a particular photo was taken. It helps you remember where a particular holiday photo was taken. The app magically finds the name of the cities and countries where your photos were taken, including the date it was taken without you supplying any information. It also lets you view the place where you took the photo on the map. Even cooler is the fact that it can trace the route you followed while you were travelling. For your photo albums, the app lets you import new photos from your photo library and annotate each of the photos, after which you can show them to your friends and family via a cool slideshow feature. (Price: $1.99) iTunes link.
Photo Organizer Pro (3 out of 5)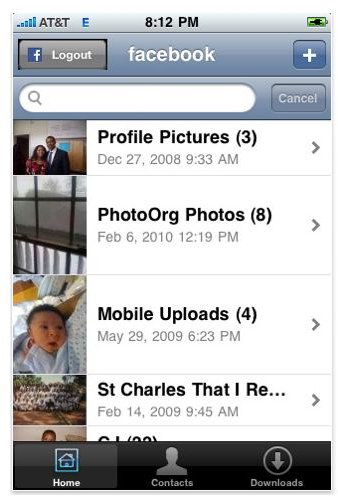 If you're fond of uploading your iPhone photos to your Facebook photo gallery, this app will help you organize your albums. The app lets you add photos to a specific Facebook album as it adapts the category of photo albums in your iPhone camera roll. So you need to categorize your iPhone photos before you upload them to your Facebook account. The app lets you download multiple pictures from Facebook, upload multiple pictures to Facebook, browse your Facebook albums, browse your friend's Facebook albums, email multiple Facebook photo directly from Facebook and more. In other words, this app lets you better control your photos. (Price: $0.99) iTunes link.