The Best iPhone Battery Monitoring Apps - iPhone Battery App Reviews to Extend Battery Life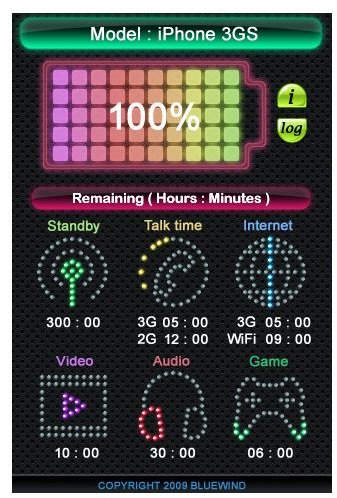 iPhone Battery Life
A good battery monitoring app will help take some of the mystery out of how much juice you have left in your iPhone or iPod Touch. These iPhone battery apps will give you a pretty accurate estimation of how much time you have left to play games, watch movies, and so on. Because certain applications use more battery power than others, it's good to know how much time you need between recharges. Here you'll find an iPhone battery app review for each of the apps I think are best.
Battery LED
My favorite iPhone battery app is called Battery LED. It is available in both free and pro (99 cents) versions, with the only real difference being that the Pro version doesn't have small banner ads running across the bottom of the screen. This app has a very colorful interface that will not only show you how much total battery power you have left, but will also show how much power you have to do individual tasks like gaming, browsing the internet, and so on. I have read some reviews where people with third generation iPods said the battery readings were inaccurate, but I can't verify that. This battery app works with iPad, too!
Battpowr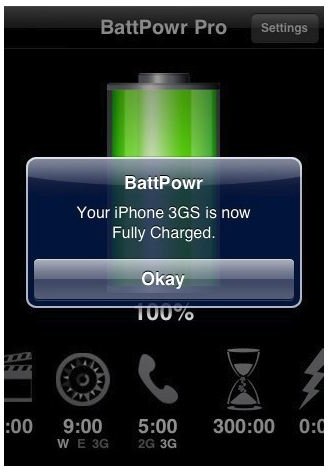 Battpowr is another solid iPhone battery app that is also available in free and pro versions. The pro version sells for $1.99 and offers some extra features like wallpaper support, charge alarms, and more. For basic battery monitoring, the free version will suit you just fine. If you have an iPad, there's also a special version called Battpowr HD that features an enhanced interface for the bigger screen. While the free version has a pretty basic looking interface, that may be all some people want. It's worth checking out.
Battery Magic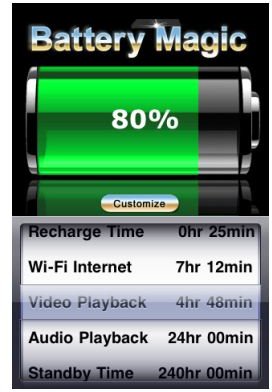 Another very popular iPhone battery monitoring app is Battery Magic. Like the others, it also comes in free and pro versions. The interface for this one is a little different in that you get a slot machine like scroll wheel to sort through the amount of time you have left to use certain functions of your iPhone or iPod Touch. It offers a few extra features in terms of customization, but if all you want is the functionality then the free version is great. Battery Magic Pro ($1.99) offers a lot of extras to make your iPhone or iPod Touch look cool while it recharges.
Battery Free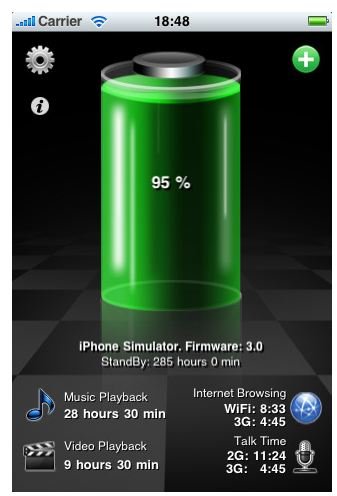 Battery Free is another great iPhone battery monitoring app and as the name implies, it's free. This app features a very clean interface that's easy on the eyes and simple to use. It's one of the most popular battery monitors on iTunes with over 27,000 ratings and should definitely be considered since it is free and is regarded as being very accurate.
Extending iPhone Battery Life
Your iPhone and iPod Touch use an internal lithium ion battery, and if you treat it properly you can get a pretty long life out of your battery. Never let the device run completely out of power before you recharge it, and try to avoid leaving it plugged in for too long. Your battery has a limited number of charge cycles before performance starts to degrade, so you'll get more out of it if you go easy. Definitely avoid leaving it in hot cars during the summer, as this will break down the battery cells even faster. For more information, check out this great article on how to best maintain your iPhone's battery life.