Top Tweeting Apps - Let's look at the Best iPhone Twitter Apps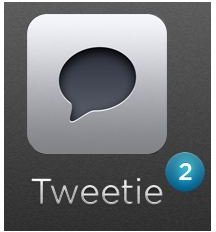 Best iPhone Twitter Apps
Twitter apps for the iPhone are a dime a dozen, so I'll not try to list all of them. Instead we'll go for the top apps based on features, usability and performance. There is always the chance that you'll find the app of your choice among these top Twitter apps. Remember that some of these apps are free and some are not, of course not all paid apps are better than the free ones but certainly some stand out on both sides of the camp.
iPhone Twitter App Tweetie 2
If there is one Twitter app on the iPhone platform that everybody loves it has got to be Tweetie. A pleasing interface and the fact it is easy to pickup and use are just some of the factors responsible for the popularity that Tweetie enjoys. Granted some apps like Tweetdeck offer much more in terms of features but when it comes to simplicity and power Tweetie beats every other iPhone Twitter app hands down. Tweetie supports multiple accounts, a comfortable tweet tab which allows you to look up tweets and perform actions such as favorite them, reply or even use the built in location sharing capabilities to add a geolocation to your tweet. All the regular features like quick lookup of profile information, checking recent tweets, trending topics, direct messaging, search and blocking select users make Tweetie a dream. Features like selecting the number of tweets to load during startup and keyboard orientation features make Tweetie simply a necessity for any iPhone Twitter user. At the time of writing this column Tweetie for the iPhone was bought by Twitter and has now become the Official Twitter client. So I guess I'll just stop there and you go ahead, pickup the app for free from the iTunes App Store. A hands down winner in the Best Twitter iPhone app list.
Twitterrific brings Twitter on the iPhone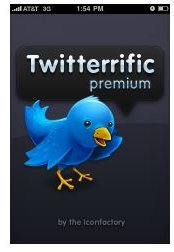 Twitterrific is one of the next best popular Twitter apps. It has always attracted people thanks to its interface and design sense. The app also provides most Twitter functionalities and it works perfectly on the iPhone and is available on the Mac desktop as well. Now that Twitter has bought Tweetie and made it the official Twitter client for the iPhone, Twitterrific has got serious competition as the official Twitter client will soon be available for free! Of course Twitterrific also has a free version of their iPhone app, but it's ad supported - yet it does work like a charm! So what makes Twitterrific so nice? Well the colors that the app throws over your tweets are to die for. Twitterrific sports most features that a power Twitter user would require like Twitter contacts management - following, unfollowing and blocking users is simpler than ever, ability to translate tweets is a nice touch, adding images and video is easy as ever, and cool themes can make your client that bit more personal. Some great features that could have been included would be location based tweet lookup i.e. tweets nearby etc. that would easily earn a place for Twitterrific in the Best iPhone Twitter app list.
Echofon pro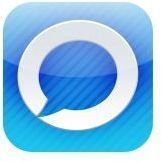 A comparatively recent entrant to the Twitter iPhone/ipod touch app space, Echofon Pro has quickly gained a strong set of followers because of its simplicity and zen appeal.The other significant advantage with Echofon is the push message notification, sync capability between the desktop and iPhone version, which means you can start reading your tweets on your iPhone and pick them up at the same place on your desktop without having to read the same tweets again. You might think that this feature isn't really a big deal but for power Twitter users who follow hundreds or god help us..thousands! then Echofon's sync is really useful. All regular Twitter functions, and some nifty ones, like looking up tweets based on location are included, making it fun to use. Echofon is available in a free, as well as a paid Pro version.
Twitterlator Pro
If you can think of any feature that could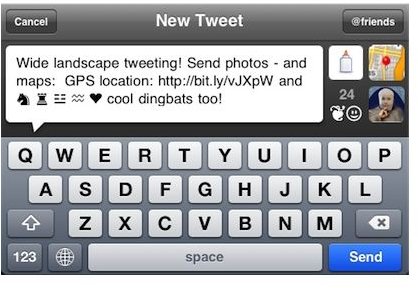 possibly be added to a Twitter client for the iPhone, chances are Twittelator Pro has it! This is the "big daddy" of all Twitter clients and it is an incredible tool for super Twitter users. Everything you could ever think of doing with a Twitter client can be done with Twittelator Pro, checking stocks, Twitter trends, search, direct messages, image upload, geolocation, Twitter lists, themes and much more than I can possibly cover here. The app's usability is in no way affected by the features galore, though it would definitely intimidate a newbie to Twitter. Twitterlator Pro easily secures a spot in the best Twitter iphone apps list. Here is the one app to rule all Twitter apps! Power tweeters go get it!
Tweeter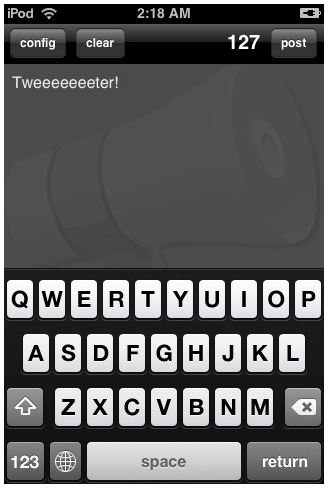 You know sometimes, you just want your voice heard and nothing more..so you tweet and your followers get it - that's all there is to Tweeter. A very zen"ish" app that will allow a user to just post tweets from their iPhone and comes with no other features! Actually I kind of feel that is refreshing, for once an app that just lets you tweet out but does not allow you to get carried away by tweets from people you follow. So if you just want a quick tweet tool or want to consciously control your Twitter habit yet, do not want to disappoint your followers, become a Tweeter - a simplistic tool in the best Twitter iPhone app category.