iPhone Price Check Apps" A List of the Top Five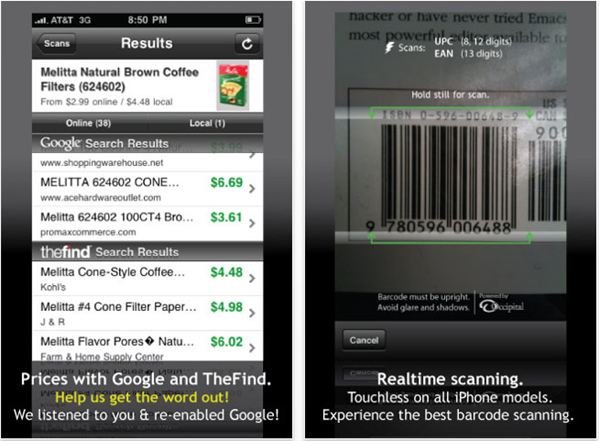 Red Laser (4 out of 5)
This one of the most popular iPhone price check app available in the Apps Store. It's a pretty barcode scanner app that searches for low online and local (new) prices from hundreds of thousands of retailers and even includes Find Product Search and Google Product Search for both the US and the UK. Using state-of-the-art barcode recognition, this app can read virtually any product barcode. Features include Scans UPC, EAN, UPC-E, EAN-8, emailing a list of products, searches any website using a custom URL, and automatic searches that include USD, EURO and GBP currencies. Another plus is that it can even locate books in nearby libraries. (Price: $1.99) iTunes link.
Underscore Price Check Pro (4 out of 5)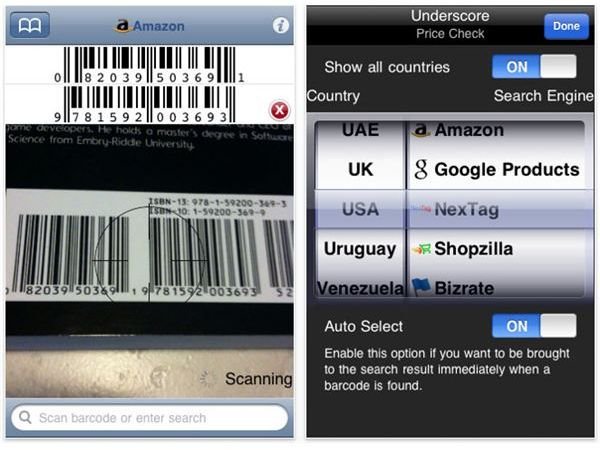 What can I say? This real-time barcode scanner app has all the features that you can possibly ask for an iPhone price check app. This barcode scanner and price comparison tool scans barcodes immediately and offers price quotes from various e-retailers such as Amazon, Google Products, Pricegrabber, and more. Now like I said, this is a feature-rich app and some of the features include samples of music through iTunes, best price guarantee, the ability to quickly switch between different search engines, can scan if upside down, and scans in both portrait or landscape mode. (Price: $0.99) iTunes link.
Save Benjis (5 out of 5)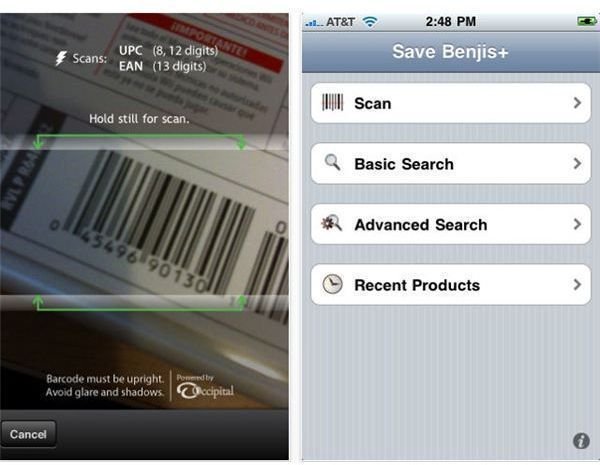 Another app that turns your iPhone into a barcode scanner, Save the Benjis, allows you to scan barcodes and immediately get hundreds of prices from Internet stores within seconds. What's good about this app is that it allows you to purchase an item from the app or, if you want to buy it later, you can send the information to your email. The app supports barcode types such as 8 & 12 digit UPC Bar Codes and 13 digit EAN barcodes. In addition, the app also lets you search by product name, product number, manufacturer, author, director, publisher, software platform, and more. (Price: $1.99) iTunes link.
Barcode Scanner (4 out of 5)
This app offers three scan modes. Full-auto scan lets you hover over the iPhone's camera in front of the barcode and the app will automatically scan it. Semi-auto scans barcodes every 2-4 seconds, and features a manual-only scan when you press the scan button. Features include scanned barcodes history, view "Buy Now" screen for product in-app, support for USD, GBP and EUR currencies, multi-vendor searching, and supports Yahoo Shopping, Wal-mart, Best Buy, BlockBuster, eBay search, and Google Product Search. (Price: $0.99) iTunes link.
Price Check (4 out of 5)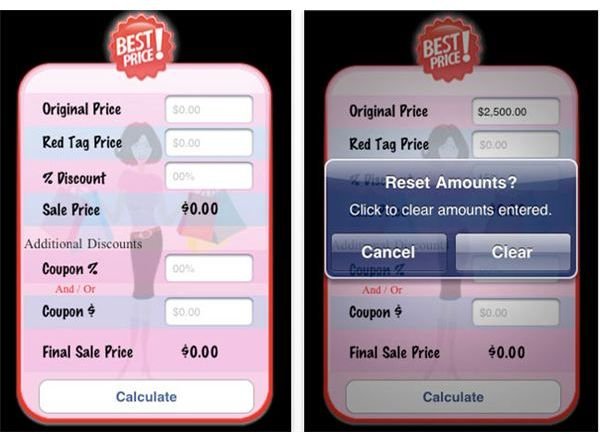 Here's a pretty simple iPhone price check app. Basically, it provides you with the "bottom line" in terms of pricing. It's a pretty intelligent app that gives you the actual savings you'll incur just by simply telling the app the original price and sale price of an item you want to buy. If you've got additional savings coupons, Price Check can still calculate your true savings. A cool feature of this app is the shake or clear feature when you're ready to check another item. (Price: $0.99) iTunes link.