Jailbreaking App and Stores Overview and Review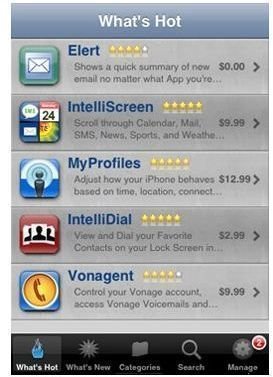 Rising Potential
We've covered every aspect of the Jailbreaking stores thus far - whether or not they're sustainable, a list of the best paid apps, and even the ROCK development team's new store-front. What we have yet to cover is the pricing structure and the relative usefulness of the apps and the stores themselves. Let's take a look at how the Cydia and ROCK stores both fare in terms of usability.
Pricing Structure
Currently apps in the ROCK and Cydia stores are priced anywhere from $0.99 all the way up to $11.99. Of course, this is a little skewed because the priciest apps are the ones that people usually want the most, such as the iBlacklist app or the Intelliscreen app. This leaves the cheapest apps to be the ones that barely sell and are quasi-worthless, such as a $0.99 app that just flashes LEDs across your screen.
The only exception to this rule are those $0.99 apps that are actually themes and those are priced pretty high as well since most of the themes available on Cydia are free and some even rival the paid themes on the ROCK store. Overall, the pricing on the ROCK and Cydia stores need a severe readjustment before they can break into the mainstream appeal of the regular App Store.
Rock
I am not a fan of ROCK's development model and the fact that they do not allow you to add any repository you want. However, the usability of the store is another matter all together - the interface is sleek, effective and incredibly easy to use. Downloads happen seamlessly over the top of the interface and the ease of finding the apps is considerably higher than Cydia or Icy.
Cydia
Cydia's development strategy is considerably better than that of ROCK by promoting open-source development without dumbing down the interface and assuming that app users don't know what repositories they want to install and why. The app is absolutely medieval in terms of user friendliness. In a Web 2.0 world, having to wait up to 2 minutes for an app to download new changes and updates is absolutely ridiculous. Not to mention that if a single repo is corrupt in the system, the whole app shuts down. Overall, we're long overdue for an upgrade to the app
Icy
Icy walks a fine line between Cydia's medieval interface and ROCK's new-wave appeal. The updating in Icy works particularly well and you can even choose what repositories to refresh, meaning that corrupt repositories aren't a problem. The installation of new apps also works seamlessly and without the terminal-like interface that's a large part of the problem for Cydia. The install for Icy is small, and the memory footprint is even smaller.
Conclusion
Out of all the three interfaces, the best is definitely Icy for when you don't need to get any heavy-duty repository access. When it's just a light look at the new jailbreak applications, Icy is definitely the app that you need. Also, for purchases, Icy is useless as it doesn't readily access the same two stores available in Cydia and ROCK.