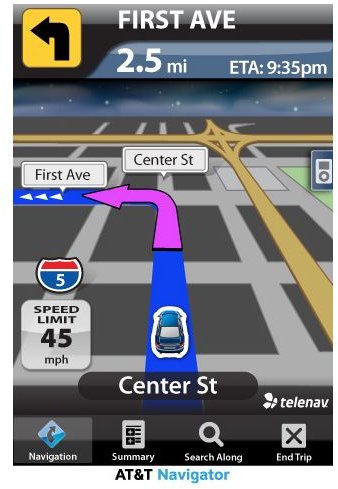 iPhone: Trailblazing The GPS Usefulness in Cell Phones
The iPhone 3G and 3GS each have a GPS chip inside them allowing them to give accurate directions to different places. This has become popular as of late for many models of smart phones. Before you go running off to download another GPS application, remember that AT&T offers a Google maps application that comes ready on the phone. It generates routes and follows your current position, but it doesn't do anything if you go off the route. It also does not provide turn-by-turn voice prompts or consider traffic.
Other than Google and their Google Maps, several different companies have also taken advantage of the GPS chip and have made special apps either based off of their own software for different platforms or from scratch. There are free GPS applications for the iPhone, but the majority of them will cost money. It is cheaper to use the iPhone as a GPS device than purchasing a whole new device. GPS has gotten super-convenient to have at all times because it is your cell phone, too. The iPhone and GPS make a powerful combination.
AT&T's Very Own GPS App
If you don't want to rely on a third party application and the Google maps application isn't enough for you, AT&T offers their own app called Navigator. It is free to download, but if you use it, there is a $9.99 monthly subscription fee (or $69.99 per year). This fee is separate from the $30 unlimited data fee. The application features text-to-speech turn-by-turn directions, and the application will cache mapping data as you use it. This means that if you are in an area with no service, you may or may not be able, depending on what's already in the cache, to continue to use the application to find your way.
Another feature it has is the ability to go to an address from the users contact list. Most addresses must be entered in manually, unless you have them in your contacts list. It does let you control your media player from within the application though. The app will also have live traffic as long as there is a data connection. That seems to be a common feature among many GPS applications on the iPhone. Unlike all the other applications though, you must continue to pay for this app. You cannot simply buy it once and pay a one-time fee. It's a subscription - you will pay for it as long as you use it.
TomTom's Official iPhone App
TomTom, one of the most popular GPS brands, have released a version of their software for the iPhone. It happens to be one of the most popular iPhone GPS apps in the app store. The app is pricey, though. At $99, it easily tops the other GPS apps in price. The company also makes a custom stand for the iPhone to sit on the dashboard and hold the iPhone so you don't have to. This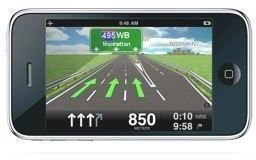 application has many features, one of which is the ability to control your iPod directly from inside the app so you can listen to music as you navigate. If the iPhone is turned sideways, it has what is called "advanced lane guidance." This shows a virtual map of the road as you drive along it. Another feature the app has is emergency contacts. The emergency contacts feature allows you to make easy contact with and gives directions to emergency facilities like police, fire stations, and hospitals. When deciding on what GPS app to purchase, you'll have to weigh the features you get for the price with this app.
XGPS The Jailbroken GPS Solution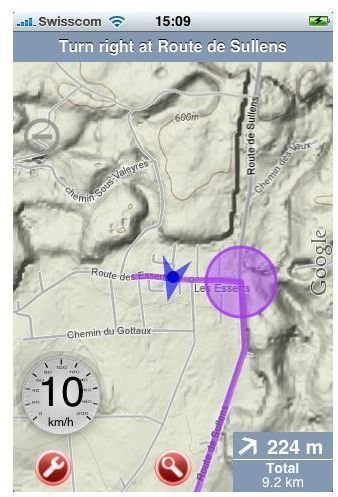 Available for free, if you jailbreak your iPhone, is an application called XGPS. Since it is free, it doesn't offer as many features as paid applications do, but it certainly is a nifty app for being free. Like the map application pre-installed on the iPhone, it uses Google maps as its source for navigation. You can also put maps that you download from the computer onto this GPS for free, using a manager for the app. The manager can be downloaded here. The free application also features offline map mode, so if you are out of service, you can still view maps. Like most other GPS applications, it features turn by turn instructions and a voice (synthesized voice), for vocal instructions (only in English). Even without some of the more expensive features, this app is certainly one to get if you don't mind jailbreaking your iPhone.
MotionX, a Cheaper GPS App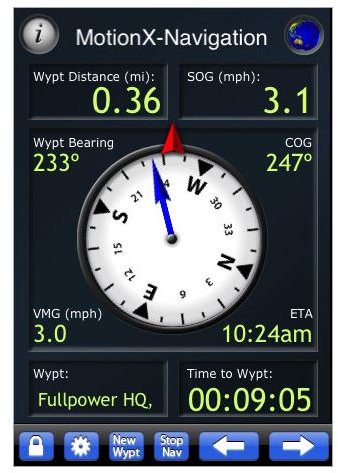 Priced at $2.99 is the GPS app MotionX GPS. Reviewers thought it was one of the best iPhone GPS apps created. The app store review said, "Give it a high five." One of the neat aspects of MotionX GPS is that it offers a high contrast skin option for viewing the app during the day. While the other GPS apps were made with the automobile audience in mind, the creators of this app focused more on people who wanted to participate in outdoor activities such as running or biking. The app includes a built-in stop watch, so you can time how long it takes you reach a destination. This can be especially useful if you are exercising to increase your speed in crossing great distances. Like XGPS, this application also supports adding in maps from the computer with a file import option. If you want to give the application a try before you buy it, there's a lite version in the app store with limited features. The user-guide for this application can be downloaded here. If you don't want to jailbreak your phone or spend a lot of money, this app certainly is worth at least trying with the lite version.
Navigon, Another Profession GPS Company's App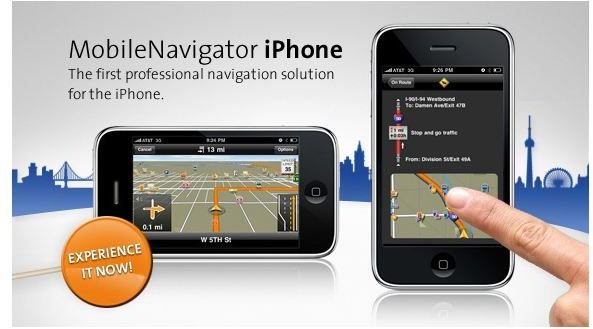 Like TomTom, Navigon is a company that makes GPS devices professionally. They too have thrown an application into the ring of the iPhone app store. Their app is expensive, but not as expensive as TomTom. In fact, the USA-Canada map sells for $69.99. Navigon brags that its app has a very simple interface. Easy to use and good for beginners to the iPhone, the app lends itself to be friendly to the less "tech savy" crowd. A cool thing about this app is that it can find addresses you have saved in your contact list. You can automatically find your contact's homes from within the application. It can also share your current location via the iPhone's built in email feature, letting someone else know exactly where you are. Similar to the TomTom though, you'll have to weigh what features you get for the high price.