The Best iPhone Cases that can take a Beating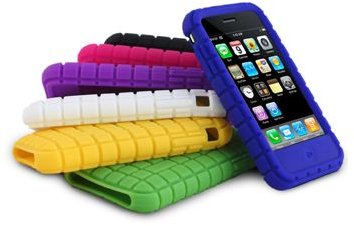 Best iPhone Cases
You already know that iPhones are great, but they sure are slippery. With their slick metal casing and glass face, they want to jump right out of your hands. It's even worse if you're playing a game and you get a little moisture on your fingers. Despite their sleek look, the iPhone practically requires that you buy some kind of case to both protect it and make the device easier to hold. Here's a look at some of the best and toughest ones you can buy. These things can take a beating so your iPhone doesn't have to.
Speck Pixel Skin
One of my favorite cases is the Pixel Skin from Speck. This company makes a line of Pixel Skin cases for all the current model iPods as well. What I like so much about this case is how easy it is to hold. This makes it great for gaming or any use where you might hold the iPhone in your palm for a while. It is called a Pixel Skin because its design uses a lot of large raised squares that function sort of like rubber cleats to protect your phone. Those cleats are also great for propping up your phone to watch a movie.
The only real downside to the Pixel Skin is that it doesn't include any kind of screen protector. The case is so thick that it puts nice ridges around the edge of the screen, but still something could directly hit the glass if you were to drop this in your purse or shove the iPhone into your pocket. Even so, the iPhone screen is still pretty tough. You can buy this case for less than $15 on Amazon, and it comes in a variety of colors.
Otterbox Defender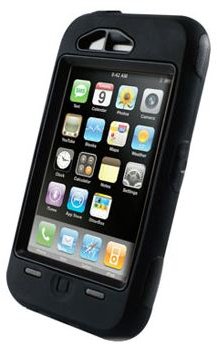 Another really tough case for the iPhone is the Defender from Otterbox. This company makes some of the best Blackberry cases, too. It envelopes the iPhone in a thick silicon skin that has great shock absorption and also feels nice in your hand, so it doubles as a good non-slip surface. In addition to the silicon, it uses a heavy duty polycarbonate casing to help stabilize the phone and give it added durability. A belt clip is also included should you decide to be one of those people walking around with your phone hanging off your hip.
The Otterbox Defender also includes a screen protector for your iPhone, which is something that Speck's Pixel Skin does not have. It uses a clear plastic sheet that fits perfectly to the screen without any creases or bubbles, so it won't interfere with the phone's touch-screen operation. The protector does feel a little different to the touch, but you quickly get used to it. With it in place, the screen will be protected from scratches and other debris as well as cut down on all the usual finger smudges from regular use. This case currently retails on Amazon.com for about $32 although the retail price is $49.99.
Contour Design Hardskin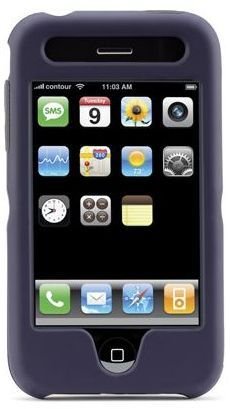 If a silicon rubber sleeve for your iPhone isn't your idea of protection, then you could opt for a hard shell case and get the Contour Design Hardskin. This popular case retails for about $30, and it comes in two pieces that snap together around the iPhone for excellent protection. The outer coating of the case has a soft rubber feel to it, but underneath it is hard plastic so it feels a little more durable in your hand. It's all up to personal preference depending on how rough you are on your phone.
Personally, I think a thick silicon case would do more to prevent damage than a hard shell case, but I don't go around dropping my phone very often. It all depends on the user and what their usage environment is like. If your kids like to play with your phone, you might want to get a case like this because it's not as easy to remove as a rubber sleeve.