Must Have iPhone Accessories to Help Protect Against Scratches, Cracks, and Dents
Using a Hard Case
The iPhone is something that with it's size and slick screen can easily slip out of your hands thus falling to the hard ground. Getting a hard shell case for it is nothing but a necessity. As soon as there is a crack in the iPhone it will completely void your warranty. Here are cases that will serve a protective purpose and keep your iPhone in good shape. For about $30 you can purchase the Incase protective cover for the iPhone. It has a nice grip outside but enough strength to protect from those drops (causes cracks and breaks) that are bound to happen. The Contour also has a grip case that is similar in price to the Incase cover and will do a great job protecting it as well.
Secure it in an Universal Dock

Don't just plunk your iPhone down on the kitchen table where it can be easily knocked on the floor (or have water or food spilled on it), instead make sure it's in a secure location. The easiest method to keep your iPhone from harm's way (and to make sure you don't lose it) is to invest in a dock, and keep it plugged in and kept in a secure location.
The Apple universal dock is one of my favorite accessories to use with my iPhone. It may seem simple but it sure is nice to have a stand up dock for your iPhone. This dock works with not only iPhones but with the iPod too. With a slot for a power cord you can charge your iPhone as well as have it safely sitting up right in a secure dock. It's a little pricey as it runs about $59.
Protecting the Screen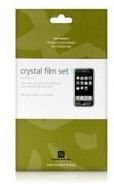 One of the biggest gripes that people had when the original iPhone was released and even today is the fingerprint issue on your touch screen. If it is not cleaned often then fingerprints can begin to take over the screen. A cure to that and to keep your screen in mint condition is to purchase this crystal film. It lays across the screen and will prevent fingerprints on your screen. It is easy to put on to the phone as well as remove it, leaving no marks on the screen. This is a must have if you're worried about fingerprints because though it may still develop on the shield, you can replace the film to maintain a spotless screen underneath. You can purchase two of these films for $14.95.
These accessories listed are just a few of the enormous variations. There are half a dozen different kinds of cases for the iPhone that serve similar purposes. They all run from about $20-$35 depending on the strength. Film for the screen is not something that will prevent the screen from breaking but it does protect from possible scratches and fingerprints. The dock accompanied with the remote gives a very stable stand for your iPhone to sit upright on. All of these are affordable and worth the buy. They will help preserve your iPhone's physical life by guarding against drops and other mishaps.
This article has been placed in our archives.