iPhone Guides: A Comparison of iPhone Headsets Over $100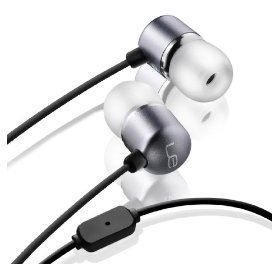 A Look at More iPhone Headsets
I recently did a comparison of iPhone Headsets Priced Under $100. While those earbuds all offered a lot at a reasonable price, I found their sound quality and build to be a little lacking. In the second part of this series, I want to share my experiences with three pair of slightly more expensive headsets.
Even though these three headsets are all priced over $100, there are not outrageously expensive. The price for the headsets I am comparing range between $120 and $180.
Ultimate Ears SuperFi 4vi (5 out of 5)
Of all the iPhone headsets I have tried, the Ultimate Ears SuperFi 4vi are one of my favorites. The Ultimate Ears have the inline mic with button for call and music control. They also include a hard plastic carrying case and three sizes of silicone tips.
I was not sure what to expect when I purchased the Ultimate Ears so I was pleasantly surprise with the fit and sound quality. I have read that the more expensive models offer more fit options and better sound quality but for my ears, these work just fine.
I think the only real downside to the Ultimate Ears SuperFi 4vi are that they have been discontinued. They are currently available at Amazon for $120 and may still be available at your local Apple Store for the suggested retail price of $149.95. From checking the Apple Online Store, it appears these have been replaced by the Ultimate Ears SuperFi 5vi, which cost $189.95. I have not tried the SuperFi 5vi so I cannot recommend them. However, from my experiences with the SuperFi 4vi, another pair of Ultimate Ears headsets are definitely in my future.
Bose Mobile In-Ear Headset (3 out of 5)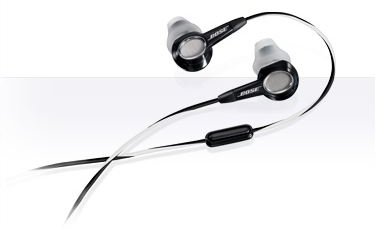 Bose products are known for exception sound quality and their Mobile In-Ear Headset are no exception. The Bose headsets have an inline mic with button for taking calls and music control. They also ship with a variety of accessories including three sizes of silicone tips, a case, a lanyard and 2.5mm adapters. As mentioned previously, the sound quality of the Bose Mobile In-Ear Headset are great.
So why only an average rating? Well, the problem I had with the Bose headsets were the odd shaped tips. Even thought three sizes are available, the way the tips are shaped simply did not allow me to get a good fit. As long as I stayed perfectly still, the earbuds would stay in my ear and I could enjoy their excellent sound quality. However, any movement and the earbuds would fall out.
Given the problem I had and the fact I had to return these earbuds, I cannot recommend the Bose Mobile In-Ear Headset. However, if you have a chance to try them and the earbuds fit your ears, they may be worth the $129.95 price tag.
Etymotic hf2 (4 out of 5)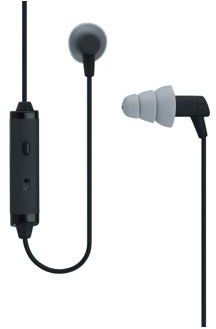 The Etymotic hf2 are the most expensive earbuds I have purchased for my iPhone. While I was hesitant due to the high price and the odd silicone tip design, I was not disappointed with the build or sound quality. The hf2 earbuds have an inline mic for call and music control. They also include a carrying pouch, assorted eartips, and a filter replacement tool with two filters. I have yet to change the filters but the option to do so adds to the value of the Etymotic hf2 earbuds.
I must admit the flanged silicone tips take some getting use to but they are great for sound isolation making them ideal for plane rides. The sound isolation helps contribute to the excellent sound quality. As with the Bose headsets, purchasing the hf2 earbuds may depend on your preference for the fit of the eartips.
If you would like to give these are try, they are currently available at Amazon for $125. At that price, I think they are a steal if you are able to get use to the flanged eartips.
Image Credit
Image of Ultimate Ears SuperFi 4vi taken from Amazon website.
Image of Bose Mobile In-Ear Headset taken from Bose website.
Image of Etymotic hf2 taken from Etymotic website.
This post is part of the series: iPhone Headsets Comparison
A comparison of popular iPhone headsets priced under and over $100.