The Best Cydia Applications of 2011 - ARCHIVED COPY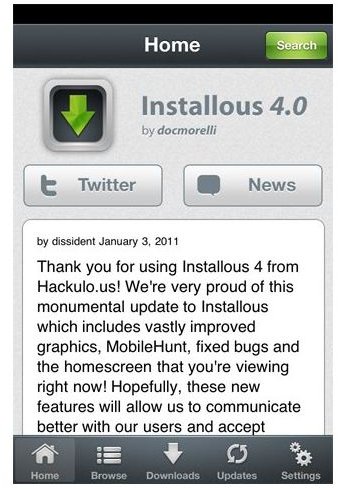 Editor's Note: This article was updated in 2011 and reflects the editor's opinions and choices at that time. It may no longer have current information and has been placed in our archive.
The Best of the Best
We covered your favorite Cydia applications in 2009, then we made some changes for 2010, but finally, in 2011, we refresh everything. New pictures, new descriptions, and new Cydia apps for your perusing pleasure. In 2011, iOS is scheduled to hit the iPad 2, iPhone 5, and next-gen iPod Touch, and for that we have you covered on what jailbreak apps to use. Now's the perfect time to jailbreak with the new GreenPois0n RL5 Beta, so get that iOS 4.2.1 device jailbroken and read on, we've got the Cydia apps you've been craving.
For returning fans, we've removed four apps from our list because of redundancy with the iOS4 update - no longer do you need "Categories" to create folders or "Cycorder" to record video, and the old "Firewall iP" app has been replaced with a more useful Grooveshark app, the same was done to the "SwirlyMMS" app.
Installous
Installous is a one-of-a-kind app for iPhone and iPad, it provides unparalleled opportunity to download old apps and apps that the real app store wouldn't allow. New for 2011 is a better search engine built into the app that doesn't rely on the old, slow Appulo.us repository of apps (as a matter of fact, Appulo shut its doors not too long ago). On the iPad particularly, multitasking with the Installous app works incredibly well to search, download and find the IPA files that you know and love. The new Installous works off of a surprisingly fast engine on either iPhone or iPad and manages to bring a cohesive "App Store"-like experience to your hacked apps. Installous is definitely one of the best Cydia apps available.
Note: The install process remains the same, you need to add the hackulo.us repository to Cydia. Simply go into Cydia, navigate over to Manage, then click on Sources, and click Edit in the top right hand corner, then Add on the top left corner, once you've clicked add, type in "Cydia.hackulo.us" into the http repository screen. Then tap on Add Source and it'll give you a message about piracy. Click OK on the message and download Installous through this new repo!
Grooveshark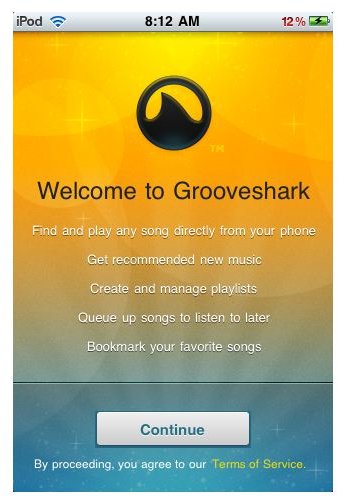 Grooveshark, need I say more? One of the most popular music streaming sites online brings its wares to the iPhone exclusively through jailbreaking. For those who need a primer on Grooveshark, the online service that's totally free for desktop users brings iTunes-like music search to the cloud. Users upload songs to the web server and then you can search through them for practically any song imaginable, even obscure ones.
When it comes to the mobile service though, it really boils down to how you feel about the $9 monthly fee for using the app. Because of the 3G connection, it's possible to stream any and all songs to the iPhone while you're out on the road. This could mean that you could queue up all the songs you'd normally keep on your iPhone/iPod from the cloud directly to your phone. The subscription is a high price to pay for many, but try it out, see if it works for you, I enjoyed it quite a bit and keep a subscription going for queuing up songs at parties and during long car rides. NOTE: To Install the Grooveshark app, just search in the normal Cydia Repository for "Grooveshark".
XBMC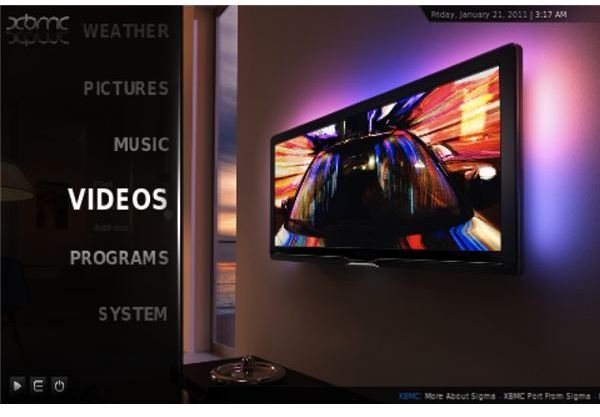 After many long years of waiting and anticipation, XBMC finally brought their amazing Media Center app to the iPhone and iPad, and it works quite well. Rather than bringing a skimpy mobile version of XBMC, their dev team decided to bring the full experience to the iOS devices. The app loads in a reasonable amount of time and has all the add-ons and skins found in the original.
On the front end, the app looks great and plays videos like VLC media player would on your iOS device. It's nice to be able to enable scrapers and information for all your movies and TV shows right there on your iPhone/Pad. TV Shows, Movies, Photos, and Music all streaming to your iDevice also work well and attach to your existing network infrastructure.
The install process is rather simple, just follow the instructions posted at: https://wiki.xbmc.org/index.php?title=Install_XBMC_on_iPhone/iPad and you'll be ready to go.
iRealSMS 3.0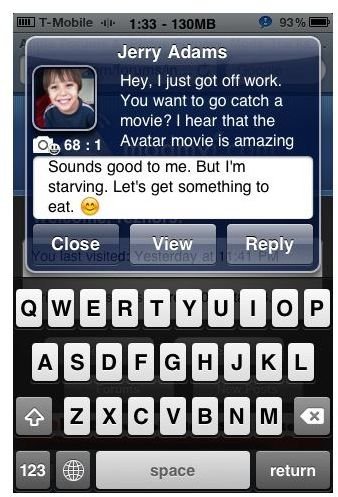 Unlike SwirlyMMS from last years' top ten Cydia apps list, iRealSMS comes with a hefty price tag of around $12, but is worth it when you consider the amount of features iRealSMS brings to the table. Android features come to the iPhone with this update, in particular pictures for contacts on your phone and QuickReply.
Quickly replying to text messages is something that you don't realize you need until you have the app in place and working. No longer will pop-ups intrude your apps only to have you switch back to the texting app in order to respond. But much more than that, iReal provides much needed SMS privacy settings, searching, forwarding, and folders for your texts.
If QuickReply is all you need, however, there is a much cheaper (~$3) app in the store that has solely this feature. This way, you get the best feature of iRealSMS without needing to pay full price for it.
iFile/OpenSSH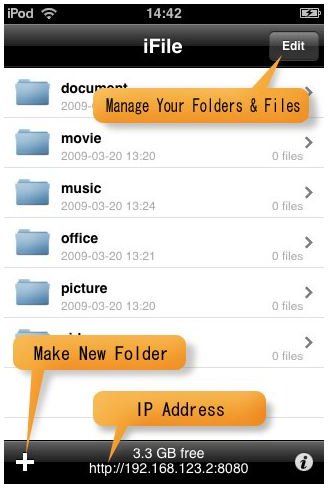 OpenSSH is a must have extension for your jailbroken iPhone/iPad that's totally free. It allows you to open an SSH connection to your phone in order to play around with the internal file structure and remove/add files. This allows you to move IPA files around, transfer photos and shuffle any files around through your PC.
If PC connections aren't your cup of tea, iFile for the iPhone/iPad manages to provide the equivalent of Android Root Explorer for the iPhone. If you want to check through your file structure right there on your phone, it's possible to do so with this Cydia app.
Wi-Fi Sync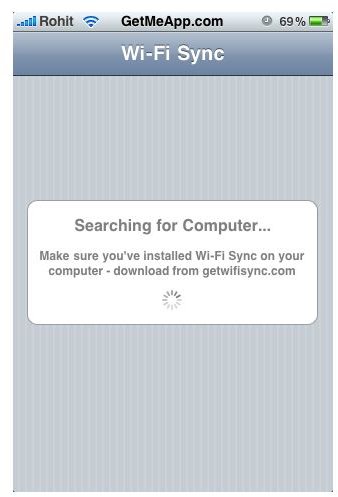 Maybe iOS 5 will bring Wi-Fi Syncing to the iPhone and iPad, but until then, this app provides a perfectly reasonable alternative. All it requires is that both your iPhone and PC with iTunes installed be on the same network together. Once you have the app downloaded and the required program running on your PC (with either Mac OSX or Windows 7), the software interfaces with your iPhone a single time and pairs it with your PC - much the way a Bluetooth device would be paired with its counterpart.
Once both devices are paired and ready, the software on the PC tricks your computer into thinking your iPhone is hooked up to it via USB. Then it proceeds to sync wirelessly through your network. The retail price for the app is $9.99, which may seem a bit steep, but considering that many of the iPhone users I've met don't ever hook up their iPhones to their PCs, but rather to chargers, this idea of wirelessly syncing your files, photos, videos, and music is something quite extraordinary, that Apple might want to look into in their next iOS update. Total Transparency: I ran the app using my new iPhone 4 and it ran quite well and fast - your mileage may vary when it comes to earlier iOS devices.
Cylay 4.2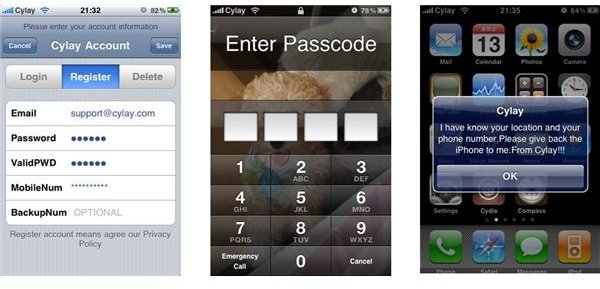 Cylay 4.2 brings together form and function for a powerhouse of an app that is a must-have for older generations of iPhone devices. Where "Find My iPhone" has taken the place of this app on newer gen iPhones (3GS and 4), there is still no acceptable alternative for this functionality on the older iPhones.
Cylay functions as essentially an all-in-one security app to ensure your phone is safe and in your possession at all times. Cylay doesn't really bring new features to the table, but it is an incredible Cydia app that no one should be walking around without. FInding your phone on their intuitive new website makes retrieving your device easier than ever.
SBSettings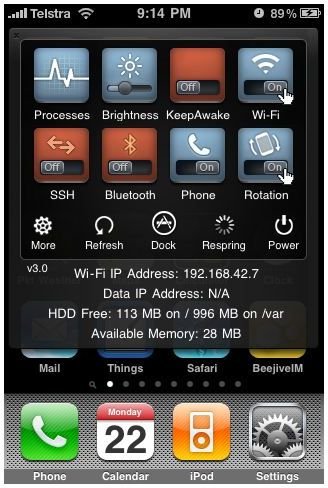 SBSettings is an essential (and totally free) application. Right after you jailbreak, after OpenSSH, this should be the second app you download off Cydia. SBSettings overlays a menu that contains the basic functions of the system "options" menus. This overlay menu is easily accessed by swiping the bar at the top of the screen with the time and contains things like Brightness, 3G, Wi-Fi, and other switches to turn things on and off.
Bar none, this app is the most useful thing inside Cydia for your daily use of the phone. Especially being able to control brightness inside ANY application will show you that your jailbreak was not in vain.
MCleaner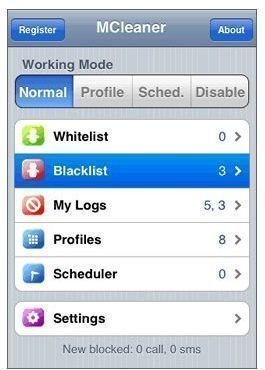 MCleaner is basically the iBlacklist app for the iPhone, but a bit more sophisticated. Unfortunately, unlike last year when a vast majority of the Cydia apps on the store were free, MCleaner too is not free. However, you can give it a 15 day trial and see if it is for you. What it basically does is MCleaner creates blacklists and whitelists of callers that you can decide upon. Then, you can even choose how the phone will ignore a blacklisted caller for instance.
Several other security features make this an incredible app as well, even though it is a bit on the pricey side ($11.99). You can fake data instead of showing the network you typed in a wrong password, SMS previews on the lockscreen can be disabled as well, and even SMS can be filtered to prevent annoying people from contacting you.
3G Unrestrictor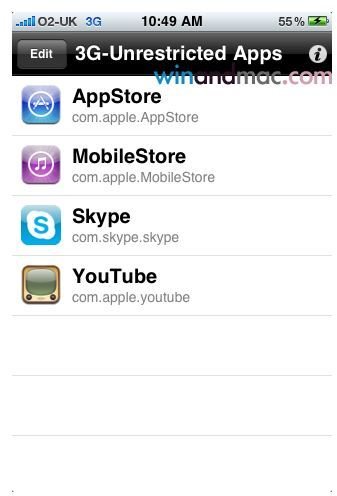 Other paid Cydia apps are cool to have if you need them, but 3G Unrestrictor is a relatively cheap ($3) app that is vital if you're ever going to take your iPhone into the "Unlimited" plan you actually purchased it for. In 2009, I advised you to get VOIPover3G, that app has been discontinued and has been replaced by a bevy of 3G restriction-lifting apps. 3G Unrestrictor continues to be the cheapest and best of the best.
What this app does is it enables you to access the 3G network for things the iPhone would normally block by tricking it into thinking that it is operating over Wi-Fi. This means that you can make Skype calls out on the middle of the highway, or watch videos over Slingbox while waiting in the doctor's office that doesn't have Wi-Fi. Personally, lifting the 10 Mb limits on the App Store and iTunes respectively is awesome – because now larger podcast downloads are just clicks away.
Jailbreaking
If you're tempted by these Cydia applications but haven't jailbroken your iPhone yet then check out our Complete Guide to Jailbreaking your iPhone and also Why Would I Want to Jailbreak my iPhone?
Also, check out our guide to the best free Cydia Apps out there!
References
Photo References
This article has been placed in our archives.