How to Do Internet Tethering on iPhone 3.0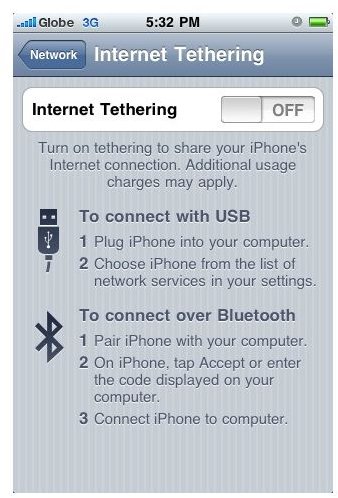 Turning on the iPhone Internet Tethering Option
Upon updating my iPhone 3G's OS to 3.0, I immediately checked the settings to see if tethering is allowed and not restricted by mobile carrier. If you don't normally tinker with your iPhone's settings you won't easily find this option since it is buried beneath a sub-option. I'm talking here of the General option in the iPhone settings. If you tap on the Network option, you will immediately spot the option that says "Internet tethering ". By default it is set to ``off''. So the normal thing to do of course is to change it to ``on'' mode. To do this, you simply tap on the said option and another screen will come out where you can change the settings to "on". Reading the screen you'd know that there are two ways in which you can do Internet Tethering using your iPhone - via USB and via Bluetooth.
iPhone 3.0 Internet Tethering via USB
If you've done Internet tethering before using other mobile phones, well fortunately doing this on the iPhone is easier. You don't have to install any special software nor configure anything. All you need to do is to plug in your iPhone to your computer using the USB cable. As soon as your iPhone is recognized by your computer, watch out for a prompt at the top part of your iPhone screen saying - Internet Tethering. This message would have a green background similar to what you see when you are in a middle of a call and you went back to your iPhone's home screen. Once your computer has communicated with your iPhone, you can now start browsing the web via 3G connectivity using your iPhone as a modem. Simple, right?
iPhone 3.0 Internet Tethering via Bluetooth
Similar to how you do Internet Tethering via Bluetooth using other mobile phones, you must first pair up your iPhone and your computer. Make sure that your iPhone's Bluetooth is turned ``on''. The moment you that both your iPhone and computer recognize each other you will need to accept or enter the code being displayed on your computer to your iPhone. Once this is done, you can now start browsing the web using your computer connected to the Internet via your iPhone as a modem. Still simple?
Some Notes on iPhone Tethering
For those under AT&T's iPhone data plan, Internet Tethering is still possible according to some reports and test circulating on the web. This however is done via some complicated procedures. So, if you can't wait for AT&T to enable this feature you can try this other method.
Internet Tethering involves mobile data costs. In addition since the iPhone is running on 3G connectivity, don't expect too much speed when you are connected online. It's not as fast your Wi-Fi or broadband connectivity. Nonetheless, it still is a good feature to use especially if you are in a place where Wi-Fi is not available.
Image credit:
Screenshot of iPhone 3G Network Settings Options from the author's iPhone 3G.