iPhone Application Face-off: SportsTap versus MLB.com At Bat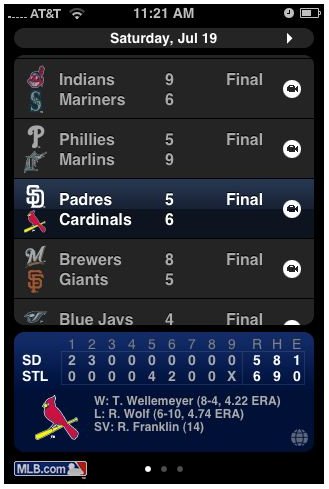 The Face-Off
Everyone has their own way of getting up to date sports scores and stats. For Apple iPhone and iPod Touch users, there are two very good applications that you can download to get scores from. Those two applications are SportsTap and MLB.com At Bat which offer live real-time stats and scores.
Just a note, SportsTap does offer other scores for other sports but this article will focus mainly on each application's ability to offer baseball scores and stats.
Now probably the greatest difference between the two applications is the fact that SportsTap is free and MLB.com At Bat costs $4.99 to download. There is an obvious reason for this. MLB.com At Bat is officially licensed by Major League Baseball, so all of its content is authenticated through the MLB. With that said, we're going to compare a few areas to see how the two applications match up and hopefully allow us to help you decide which application is the best to carry out your stat tracking for the rest of the Major League Baseball season.
Stat Tracking
Obviously, the most important aspect of a real-time scoreboard is the ability to track the scores and stats as they happen. Suprisingly, SportsTap destroys MLB.com At Bat in this area. SportsTap offers not only an electronic scoreboard, but it also offers a complete boxscore. It has player stats throughout the game for players on both teams. When the game has come to an end you can go back and actually read every single play that happen during the game. For some reason, MLB.com At Bat felt that was not so important in their launch version. They only offer the current pitcher, scoreboard and a mini diamond showing who's on base. It's pretty much the bare basics of a baseball scoreboard.
Winner: SportsTap
Price
This is a pretty easy matchup here. MLB.com At Bat offers their services in iTunes for a single price of $4.99 and that gives you it's options for the rest of the season and through the playoffs. With the start of next season, the entire season will probably cost you $9.99. SportsTap wins here since it is completely free for the entire seasonal. 
Winner: SportsTap
Extra Features
In terms of something extra, MLB.com At Bat strives above and beyond SportsTap. Though it struggles in giving a wide array of stats, it succeeds in allowing video highlights from every single Major League Market. If you have a wifi connection then these highlights are crystal clear. This is where the MLB license really hits hard. SportsTap is not able to post highlights due to copyright laws so it really offers very little extra features outside of stat tracking.
Winner: MLB.Com At Bat
Final Verdict
Though both applications are solid, the point of these applications is to provide score tracking. MLB.com At Bat may have video highlights but its lack of in-depth stat tracking really hurts it. You would think having the MLB license they could really hit a homerun, but they based a lot of their price on the video highlights feature. For $4.99 I think it's a fair price, but those wanting a complete stat tracking application will easily see that SportsTap is superior, and it's free! So the overall winner is going to have to be SportsTap, with it's in-depth stat tracking and the ability to read every play that happens in the game. So now you know what you need go enjoy the rest of the MLB season and get ready for the playoffs in October!
Screenshots