5 More Applications Worth Jailbreaking For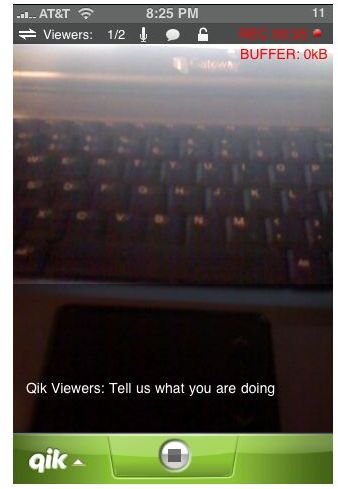 Qik
Qik is probably one of the first and coolest apps to take advantage of both the iPhone's video capabilities and data network at once. Qik allows you to record live, streaming video anywhere you have a data connection, whether on the AT&T network or Wi-Fi. At the click of a single button, Qik begins recording both video and sound from your iPhone and sends this data to Qik.com, where your video can be immediately watched. Watch out, however, all of your videos are public by default, so your intimate video may be being viewed by thousands on the front page.
Qik is free to use and requires no registration, but it is beneficial to register an account. A registered account allows you to keep track of and delete your videos, as well as tweaking other settings related to privacy.
SBSettings
Don't be frightened by the name. This application is both cool and efficient, and it adds a lot to the usability of the iPhone. SBSettings gives your phone an easy-to-access instant dashboard of all of the most important toggles on the iPhone. The features are in great supply in this app, including the ability to toggle 3G, Bluetooth, brightness, EDGE, airplane mode, and Wi-Fi. There are also many add-on toggles such as SSH or autocorrect. The dashboard also displays instant information on the iPhone's name, Wi-Fi and Data IP addresses, and disk space. This app also boasts other capabilities such as an application dock, and the ability to hide and reveal applications. This application also has other features not listed here.
Perhaps the best feature is themeability. SBSettings is themable through winterboard, so there are already many themes to choose from. In the screenshot shown to the left, I'm using the BlackGUI theme.
vlc4iphone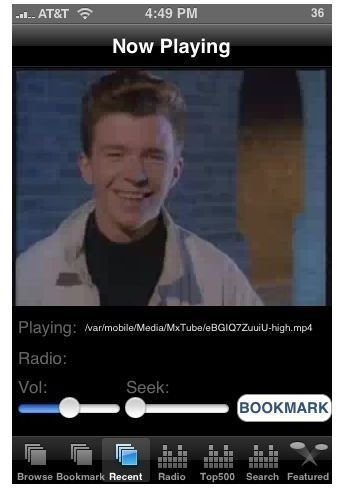 VLC has been a great media player for many years, and it has recently been expanded to the iPhone platform. vlc4iphone has many of the same features as VLC for the PC, including the support of a wide variety of media formats. vlc4iphone allows for streaming media, and even includes a searchable directory of popular Internet radio streams.
vlc4iphone allows you to lock your phone and listen to your music from your pocket, but unfortunately you are unable to use other applications while listening to music through vlc4iphone.
vlc4iphone is small and fast, and a great new addition to the iPhone.
Katra's Weather HD and iSpazio DockFlow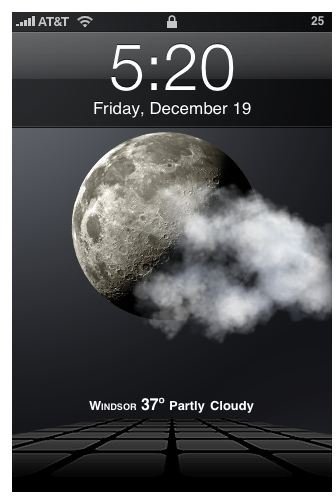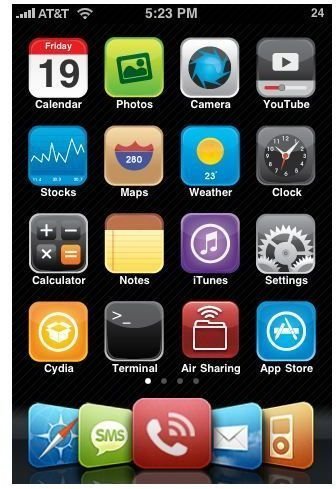 While this isn't an application in itself, these two packages mark my favorite additions to the winterboard theming application.
In Katra's Weather HD, you will probably need to SSH into your iPhone and specify your town or zip code. However, after this initial setup, you won't need to configure anything else. Katra's Weather HD displays your specified town's current weather information and temperature, as well as a stunning visualization of the current weather. These graphics and information are displayed on your lockscreen, and can be seen every time that you unlock your phone.
ISpazio's DockFlow is another winterboard theme package that will allow you to change your simple, 4 icon dock into a beautifully styled 5 icon piece of eyecandy. DockFlow is limited, in the way that you can only have the 5 applications already chosen in the dock, but this is well worth it.
Veency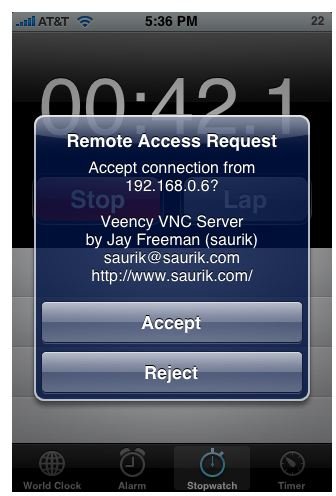 Veency is a VNC server for the iPhone. According to the package description:
"If your device has ever been just out of reach, this package is for you: you'll never need to touch your iPhone or iTouch again! Instead, sit back and enjoy the comfort of remotely logging into your phone via VNC. You can view the screen, touch controls, and even push the lock and menu buttons all the ways from you comfort of your desk- or laptop."
Veency is very simple to use, and only requires a simple VNC client such as UltraVNC or TightVNC on your computer. Veency doesn't support passworded entry or the ability to turn off the server, however, this is promised in future versions. To allow a VNC connection to your phone, you simply have to accept a simple prompt that will come up when someone tries to connect.
VNC is not a very fast protocol, but it is stable and can be useful for typing long text messages or taking pictures remotely on your iPhone.
References
"Top 10 Cydia Apps for 2011", Dan B. Feb 18, 2011
"Qik for Android Review: Live Video Streaming App", Arnold Zafra Nov. 29, 2010
Images Credit: Images provided by author.