"I Do" Want the Best Wedding Apps for My iPhone: Top Five Revealed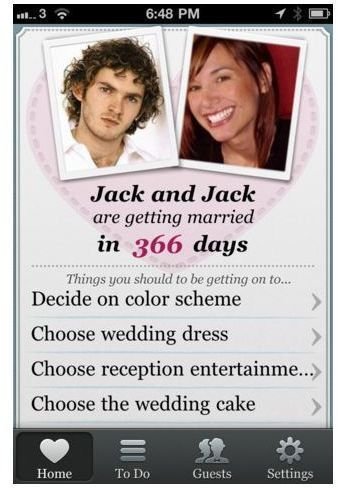 It's fairly disheartening to view the array of wedding app offerings on iTunes that are either a rip-off, very low quality, don't work, or sometimes all three! If your wedding is such a special day then do you really want to settle for a less than perfect app to help you with it all? I've made sure that all of our top five offerings are top notch apps that don't cost the earth, while still offering real quality and the functions you are really looking for. Even if you only download one of these apps, it's sure to make a real difference on the big day and definitely keep your stress levels down in the days leading up to it.
Wedding Sherpa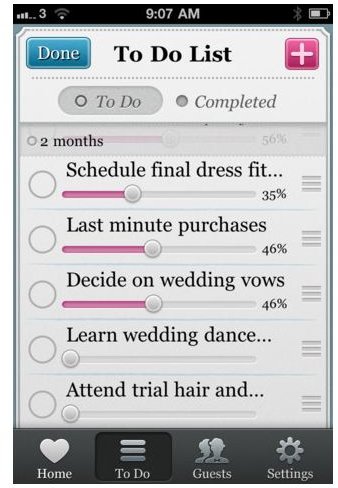 Organizing a wedding is a big undertaking. Most of us don't have the luxury of a personal wedding planner to help us with it all, but planning such an event really does take some knowhow and expertise. You can help yourself enormously by keeping lists of everything you need to do and updating it as you go and that's where Wedding Sherpa comes in. In fact that is selling this app short, as it really can help to organize pretty much every area of your wedding.
Keep track of the budget, manage your guest list (you can use Facebook to help too), make notes, and most importantly keep track of that ever growing to-do list to make sure nothing is overlooked. There's also a really cute countdown feature – it's scary how quickly the days go once you start planning.
The feature I really like is the progress bar that shows you at a glance, and by a percentage, how far you are along at completing your particular tasks. The best part of all? It's completely free!
iBridalGown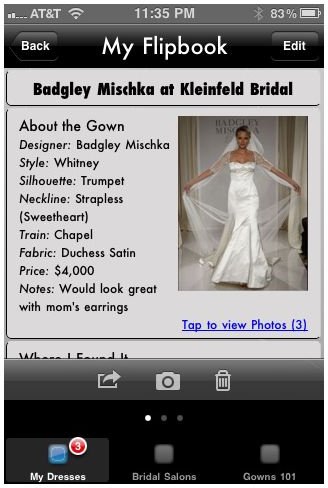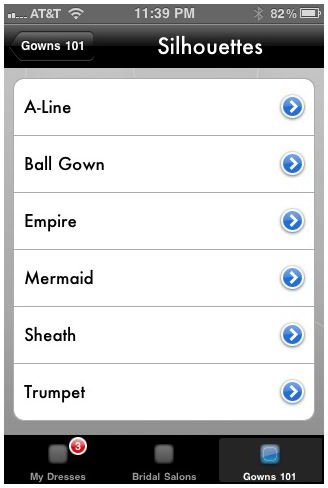 OK, so this app is definitely just one for the brides-to-be out there, but let's be honest, the all-important dress is one of the best parts of getting married – when else do you get to feel like a princess! Trying on all those dresses isn't always as enjoyable as the movies would have you believe, and doing your research before you step into the boutique can really pay dividends in saving time, causing less stress, and getting your hands on the most perfect dress.
The silhouettes section is particularly useful for narrowing your search down to particular gown types, and you can make a shortlist of your favorites and even add notes to them – trust me you'll look at so many you might need reminding on the reasoning behind your decision. For the truly indecisive there is also the option of email and Facebook sharing your choices so you can get an opinion from those you trust. You can then use your flipbook when you go shopping to show to the gown-folk which options you are considering.
The one drawback is that although the app has the added functionality of finding local suppliers this only works in the US, and as this app costs $3.99 if you live elsewhere the rest of the app probably won't prove worthwhile at this price.
iWedding Deluxe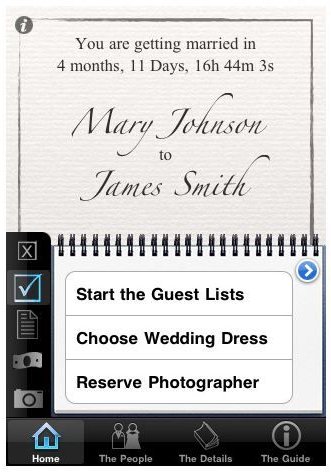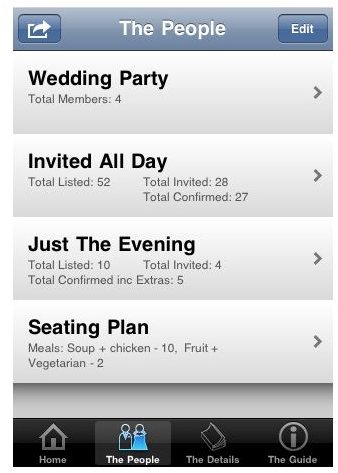 The iWedding Deluxe app is exactly what wedding apps should be – and it looks really good too. It has everything in it that you need in order to plan the perfect day and makes the whole thing seem much less daunting. It can operate as a simple to-do list jotter, but can also be used as a guest list organizer. Your guest list can be split into reception and evening guests and show you who has yet to reply, what your numbers are, and even how many of each meal you need. So really you do have everything stored all in one app which really streamlines the whole process.
Tap on a particular section of the wedding and you'll be taken straight to all the pertinent information. So for example, if you wanted to know where you were at as regards evening planning, just tap "Evening section" and then make your choice. Really everything has been thought of. Real thought has gone into this app and the interface is nice to look at and smooth to use.
The top item of note in this app is that it tells you what you need to do, rather than you having to remember to list out everything. As there are usually things you'll forget this is really worthwhile.
Our Wedding Note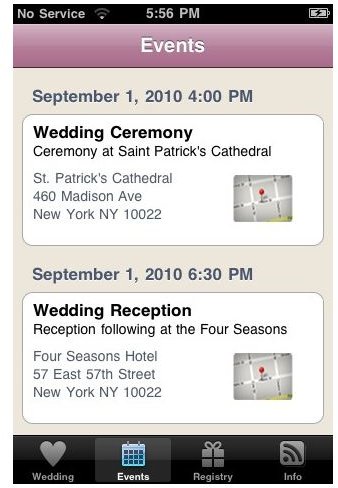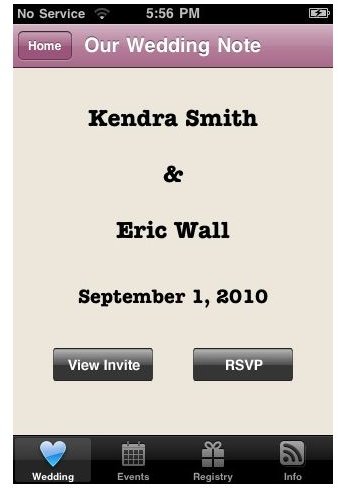 This app is based on such a simple idea, but it will prove really useful not only to you but also to your guests. Weddings need to be planned pretty far in advance so it stands to reason that your guests may mislay their invitation or need to ask you questions about it nearer the time. The Our Wedding Note app makes this all really easy.
You can share all the necessary wedding day information with your guests and there is even the added 21st century function of replying to your invitation by email. Even if you are a conventional couple you have to admit that getting a reply by email is better than getting no reply at all.
Your guests can check on when and where the ceremony and reception are taking place, get directions, view gift lists, and even view updates via an RSS feed if you are so minded.
You first need to sign up and register your wedding on the website, but it's a really quick and easy process, then you and your guests are all set.
Bridal Hair Styles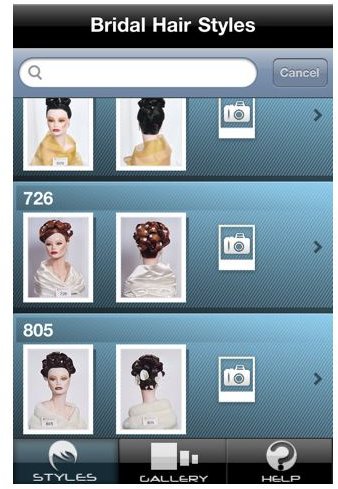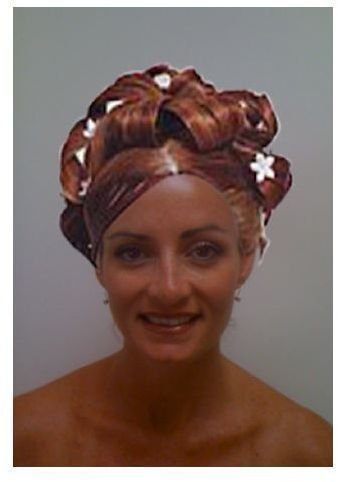 Wedding hair can be a bit of a minefield, as you want something a bit different, but don't have the time or money to visit the hairdresser every week to try out new 'dos. This app is truly designed with wedding hair in mind, allowing you to view yourself in many different styles.
Hairdressers also love something a bit more visual to go on when creating a style, so if you take along your iPhone to the salon, and show them the kind of thing you are thinking of, you are much more likely to get a look that you want – no one wants a bad hair day on their big day!
There's a massive library of styles, and there are also prom and evening styles featured so it could well be a wedding app that you'll end up using again. For my tastes they could do with adding some more laid-back styles as these are super-formal mostly, but it's what the majority of brides are looking for. You can even check out the look from four different angles to be sure it's the kind of style you want.
As mentioned at the beginning, there is no shortage of wedding apps to choose from, but I'm certain that our top five are the best at what they do. If you have any other worthwhile apps to share then please leave a comment below.
References