Top Five Tween Girl Apps That Even Parents Will Love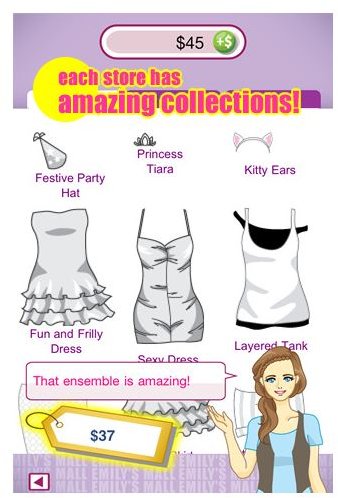 Emily's Dress Up and Shop
This is a great fashion app for tweens that means they won't be spending your hard earned cash – what's not to like already?
You get to shop in different virtual stores to put an outfit together, and the collective price for the outfit is displayed at the top of the screen – great lesson in money too! In fact you can create your own collection in this app and save particular favorites with an outfit code – codes can then be used to exchange outfits with friends. There are thousands of possibilities and of course more get unlocked with the more Emily dollars you earn in the game.
The only thing to be aware of is that this game supports in-app purchases for "Emily Dollars", so if you want to protect your credit card I suggest you turn the in-app purchases option off in your settings.
Although it's very fun, I do think it helps tweens to learn about choosing clothes and to figure out what goes well with what without costing any money.
MASH :)
If you don't remember MASH from your schooldays then allow me to jog your memory – you may also know this game as "consequences". So you start with a girl's name, then add a boy's name, where they met etc. etc., until you reach the conclusion of finding out what's in your future. Well, we used to work it all out on paper back in the day, but of course now even MASH has gone high tech. It's still really fun, and of course being an iPhone app you can bet it has lots of added functions as well.
You can either type in your own response to each answer, or choose from a mega dropdown list and once stories are complete you can share them on Facebook. There are lots of different story types and categories to choose from so it's not a game that gets boring too quickly.
The thing I like about it is that it's not too serious – it's not reality and the game makes that clear from the stories, so you don't have to worry about your little girl in any way. It's just a really fun little app.
Hairstyle Lite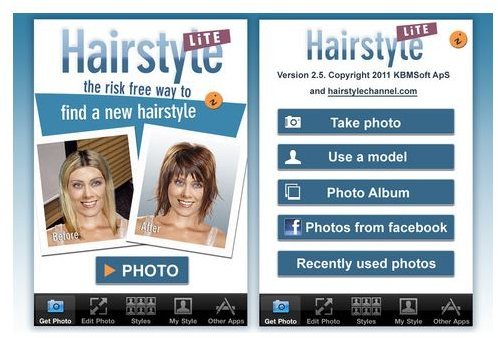 It's so hard knowing what hairstyle will suit you and tween girls haven't had enough experience of hairstyles to know which is best. Hairstyle Lite is a free app that lets you use a photo of yourself, a model, or you can even use your Facebook photo, to see what hairstyle suits your face the best. It certainly beats tweens experimenting by themselves, and will save parents money on expensive 'do mistakes.
The photo editing function is easy to use to make sure you get the best size and angle when superimposing those hairstyles. Once the tween finds one they like, it can be saved into an album within the app to take to the hairdresser – presuming parental agreement has been made of course.
There aren't a lot of styles to choose from in this free app (you'll need to upgrade to the full version), but there's enough to see if it's an app you like before shelling out the bucks.
myHomework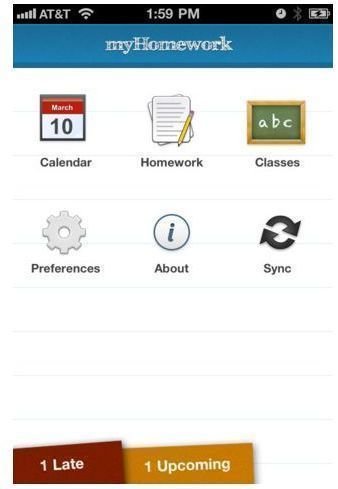 No tween's favorite discussion topic, but at least this myHomework app makes it all a bit more interesting and definitely more organized – great peace of mind for parents too. Tweens get an awful lot of homework and with so much other stuff going on it really is hard to keep up with all those deadlines. This is the best homework app by far as it is easy to use, looks good and makes it super easy to keep track of all your submissions, progress and outstanding homework.
Most of the time you don't even need to go into a special area of the app to check on what's due as you get a really neat little rundown at the bottom. It uses a color coded warning system, so it will tell you in red if anything is late, or amber if anything is approaching anytime soon. In fact you don't even need to be in the app as it will come up on your phone's display if anything is due.
You can check in the calendar to see at a glance what you've got coming up and can enter notes about each one. It really is keeping track of homework made easy.
Justin Bieber Bieberpedia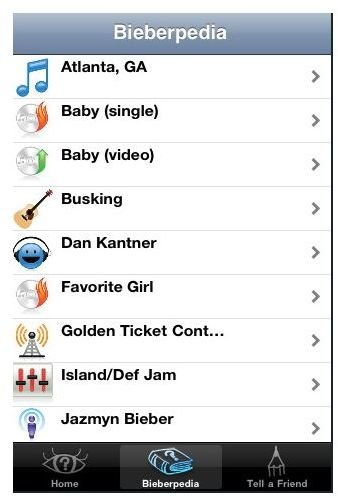 Not all tween girls are a fan of the bouncy haired boy known as Justin Bieber, but a very high majority go weak at the knees just thinking about him. There are a lot of apps in the App Store that try to take advantage of this and honestly many of them are very poor. This Bieberpedia is definitely one of the best as it will only set you back 99 cents and is quite useful and easy to use.
As you would expect you get a whole slew of facts about Justin, and many fans even say that they found something new in the app, so it's definitely not a case of "same old, same old." The menu allows you to choose from a different Bieber topic and you can then scan through to your heart's content.
The graphics are quite appealing too – again many in this category have a distinctly down-market quality about them.
Your tween can also choose to share with a friend, what new fact it is that they've just learned.
Decent apps for this age range are very hard to find, but I think we've certainly got a great selection here. If you know of any others that deserve a mention, please let us know.
References