Jailbreak iOS 5 Firmware with RedSnow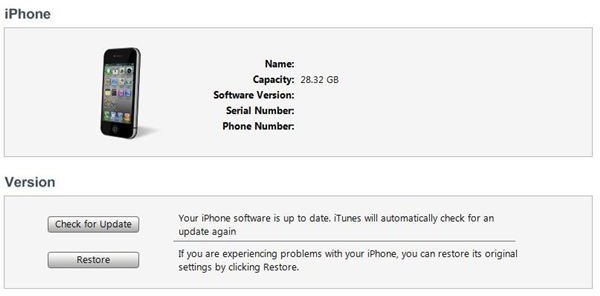 The long awaited iOS 5.0 is finally here and there are plenty of new features to enjoy. The biggest highlight is SIRI, an Artificially Intelligent (AI) system capable of acting as your personal assistant and providing the best experience for iPhone 4S owners. The SIRI feature is exclusive to iPhone 4S owners as of today, but Apple might decide to bring it to iPhone 4 users as well. For detailed information check out the top ten new iOS 5 features.
In this tutorial, you will learn how to update your iPhone 4 to iOS 5.0 and jailbreak it at the same time. The tutorial is for both Mac and Windows users.
This is a tethered jailbreak, where you need to connect your iPhone to a computer and restart it using software.
Before you jailbreak your iPhone 4 on iOS 5.0, it is advisable that you save your iPhone's SHSH blobs.
Note: Jailbreaking to iOS 5 will update your iPhone baseband and you may run out of chances to unlock your iPhone in future. The current iOS 5.0 firmware will update your baseband to 06.15. If your iPhone has an older baseband, you can jailbreak your iPhone without updating the baseband by the following the tutorial here.
Step-by-Step Instructions
Step 1: Before you start with the jailbreak process, download the following software:
RedSnow 0.9.9b7 for Mac/Windows
iPhone 4 iO.S 5.0 Firmware
Latest version of iTunes
*links available in Download Section below
Step 2: Once you have downloaded the above software, start iTunes and connect your iPhone to the computer.
If your iPhone is not already running iOS 5.0, you will be asked to update it. Cancel that message and while holding the Option, press the Restore button (Windows users should press the "Shift" button and then click Restore).
Step 3: You will now be asked to select the firmware file. Select the iOS 5.0 firmware file that you downloaded and continue. iTunes will now restore your iPhone.
Step 4: After iTunes is finished with the restore process, launch RedSnow. Once the RedSnow main screen appears, press the Jailbreak button.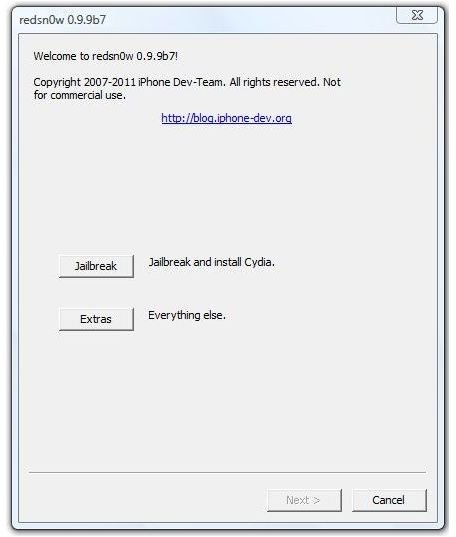 Step 5: Connect your iPhone to your PC and turn it off. Press the Next button to continue. RedSnow will now guide you to put your iPhone in DFU mode.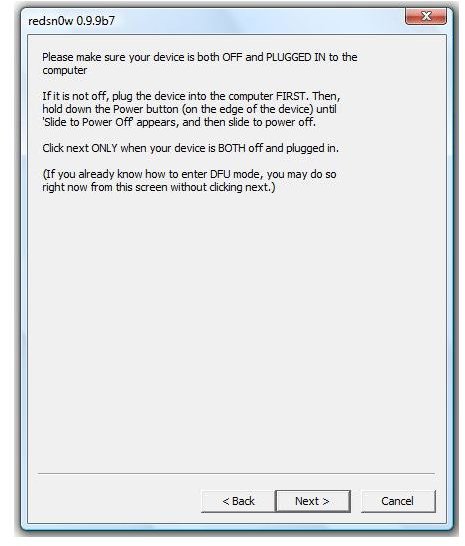 Once you are done with the DFU process, RedSnow will detect your iPhone and prepare jailbreak data for it.

Step 6: On the next screen, you will be presented with a list of options. Select "Install Cydia" and press the next button to continue.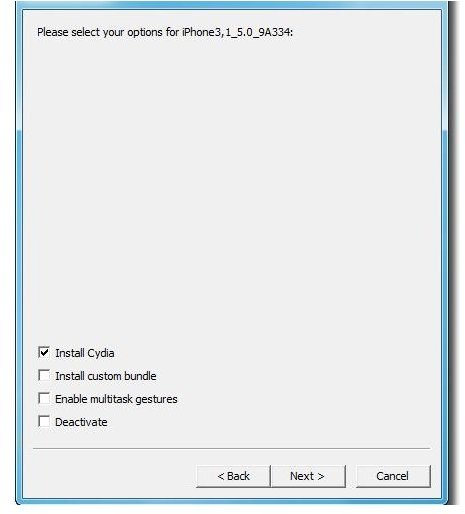 Your iPhone will now reboot to complete the jailbreak process. This may take a while so please be patient. Once the process is complete, RedSnow will notify you and reboot your iPhone. The reboot process may take a while (4-5 minutes). Finally, you have a jailbroken iPhone 4 with iOS 5.0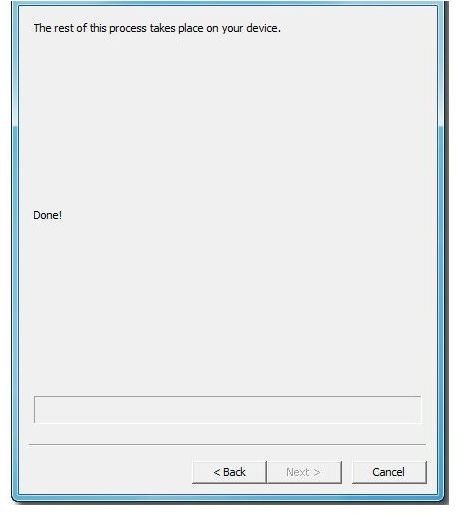 Since, this is a tethered jailbreak; you will have to use RedSnow to boot your iPhone. You can also check my semi-tethered jailbreak guide here. A semi-tethered jailbreak allows you to reboot your iPhone anytime you want, but with limited features like phone, messages and a few other features. This can be really handy, when you need it the most. Once you restart your iPhone using redSnow, you can again use all the features of your iPhone.
Step 1: Make sure your iPhone is connected to the computer. Now, launch RedSnow and press the Extras button to continue.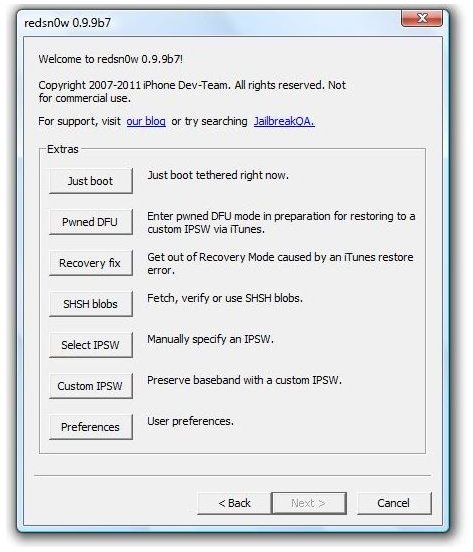 Step 2: From the list in the Extras menu, press the "Just boot" button to boot your iPhone. You should now see the instructions to put your iPhone into DFU mode. Once your iPhone is in DFU mode, redSnow will upload the LimeRa1n exploit on your iPhone and your phone will start in few seconds.
You will have to repeat this process, every time you restart your iPhone.
Downloads Section
RedSnow 0.9.9b7 (MAC) - https://sites.google.com/a/iphone-dev.com/files/home/redsn0w_mac_0.9.9b7.zip?attredirects=0&d=1
RedSnow 0.9.9b7 (Windows) - https://sites.google.com/a/iphone-dev.com/files/home/redsn0w_win_0.9.9b7.zip?attredirects=0&d=1
iPhone 4 (GSM) iO.S 5.0 - https://appldnld.apple.com/iPhone4/041-8358.20111012.FFc34/iPhone3,1_5.0_9A334_Restore.ipsw
iPhone 4 (CDMA) iO.S 5.0 - https://appldnld.apple.com/iPhone4/041-9743.20111012.vjhfp/iPhone3,3_5.0_9A334_Restore.ipsw
References
Images Credit: RedSnow application images provided by RedSnow.
iTunes application images provided by Apple.
Source: Author's own knowledge.