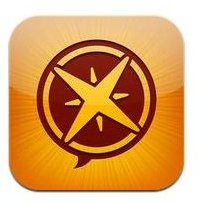 You can forget about reading what music all of your friends are playing, now you can actually listen to what they are playing. Rexly is a company that has developed an app that allows you to listen to your iTunes music and share what you are listening to with your friends. Rexly users can share what they are listening to in real-time through Facebook and Twitter.
It's the newest trend in social networking sites. Spotify was one of the first to provide social networking sites with the ability to share the music they were listening to with others. Then other companies followed suit, and Rexly is one of them. Rexly's goal is provide you with a place to discover and share new music with your friends. Now let's see what this app has to offer.
Features and Functions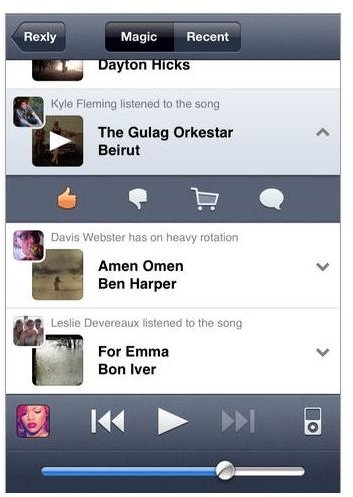 When first launching the app you will notice you need to sign up or log in through Facebook. Once you do that you are prompted to view the privacy policy where you can adjust who views your activity. Then you are ready to begin listening to your music. This app provides access to your playlists, artists, albums, songs and genres. You can use this app as a basic music player like your iPod. But the whole premise of this app is to "share with friends" so let's see how that works.
The Rexly app allows users to follow Facebook friends or Rexly influencers, once you choose who you are following these feeds will show up in your "My Feed" tab. You can also browse "Popular", see who you are following and invite friends in the "People" category, and view your profile in the "Profile" tab.
There are numberous ways you can connect with people to discover what they are listening to. You can follow all of your Facebook and Twitter friends, or just the ones that you trust to make a good suggestion. You can also rely on Rexly community members or users who share your music preferences to tell you which music they think is good. Either way will give you a good sense of what is trending at the moment. If you choose to hide certain content from you feed you can do that too. If you are one of those people who likes everyone to know what you are listening to you have that option as well.
Some spotlight features of this app are that you can listen to a 30 second sample, leave a comment about the song, give it a thumbs up or down, share the song with Facebook or Twitter users, and have the option to buy it on iTunes. With the main feature being sharing, because after all this is a music share app.
A Few Gripes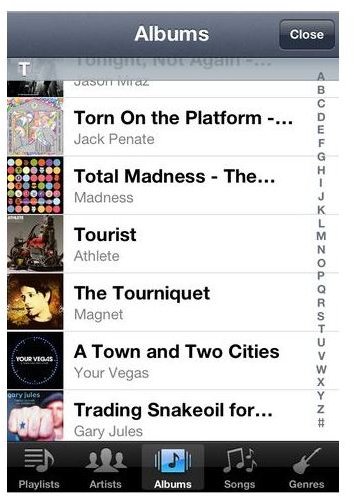 The first hang up I have about this app is that you only have access to hear a 30 second sample of the song. If you are going up against similar apps such as Spotify, where they allow users full access to the song when a friend shares it, then I think it's important to follow suit.
The second drawback I have is that you have limited access to your entire music library at once. If you want to shuffle your entire library without having to make a playlist it will be hard.
Lastly, the only options to share are Facebook and Twitter. Nowadays there are so many social network sites available there should be a variety of options to choose how you want to share your music.
Is it Worth the Download?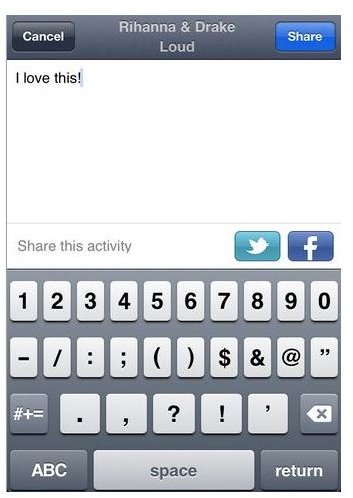 Overall Rexly is the music experience everyone has been waiting for. It functions extremely well, it has a nice polished design and it's a great way to connect with people and find great music. The best feature is that you can control who sees what you are listening to. Now you can listen to that "guilty pleasure" song that only your family knows you like, and not have to feel embarrassed about it.
Bottom line is, it gives users a way to share the music they love with the people who appreciate it the most. I think it has the possibility to even replace the iPod app on the iPhone. Why listen to a basic music player when you can discover new music and share what you learn? I would definitely recommend downloading the Rexly iPhone app.
What do you think of Rexly? Would you recommend using this music share application? Please feel free to leave a comment or suggestion in the comment section below. We would love to hear from you.
Download Rexly on iTunes (FREE)
References
All screenshots remain the sole property of the developer.