The Best Apple iPhone Marine GPS Applications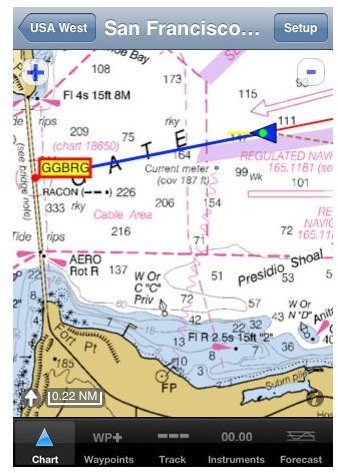 Enjoy smooth sailing in more realistic terms with these smart Apple iPhone marine GPS applications on your phone. Whether it's for work or recreation, these apps will help you to arrive at your intended destinations all over the globe. Plus see how you can keep efficient in recording and measuring certain specifications along the way. Get more details on exactly what you can do with the following marine apps below – take a look!
INavX Marine Navigation
With this fully loaded marine navigation application, users get detailed chart coverage for various
coasts in the United States, including the West Coast, Gulf Coast, East Coast, Great Lakes, Alaska, Hawaii and US Virgin Island. It provides real time chart plotting and printing. It supports waypoint and routing with Google Earth and GPX import/export. It also offers a track log, measuring bearing/distance, GRIB weather forecast, tides/currents, anchor alarm and port search.
INavX is highly configurable allowing you to access other charts through the X-Traverse feature to view either the official CHS Canada Charts, Navionics Gold charts, HotMaps, NV Verlag Charts or Hilton Fishing Charts, plus much more. It is frequently updated and sometimes offers improved color charts to keep users current and always informed.
With iNavX you can use the iPhone's built-in location services, i.e. GPS or Wi-Fi to plot your position in real-time on interactive and sensitive charts that will allow multi-touch scrolling, zooming and chart rotating. INavX can act as a repeater for some popular marine navigation software that supports NMEA data over TCP/IP such as Mac ENC or Coastal Explorer. This includes GPS, AIS receivers and transponders, and Instruments.
FlyToMap GPS
FlyToMaps is another top-notch app with loads of maps and features for your marine GPS needs. It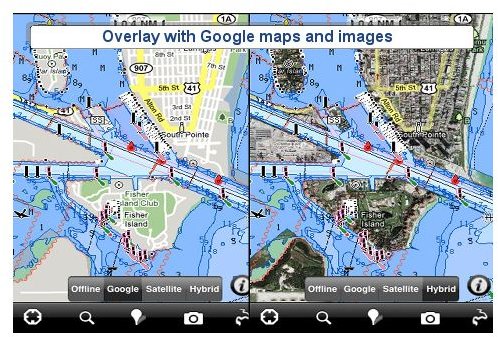 offers all the U.S. nautical charts – i.e. East, West, Great Lakes, Florida, Texas, California and major rivers as well as non-U.S. locations such as Europe, Australia and New Zealand . There are more than 100 US parks and forests, some of which include Acadia, Yellowstone, Yosemite, Grand Canyon, Big Bend, and more. Plus more than 100 major European parks all over Germany, Austria, Italy, France, Spain, U.K., and many more locations.
It is fully interactive – so you can easily pan through charts and maps, and also navigate to see your GPS position anytime. Additionally, you can record GPS tracks, geo-tag photos, view a touristic guide, insert waypoints for real time speed, distance and directions, plug markers for POS, search locations and points, set evaluation contours and much more.
Marine US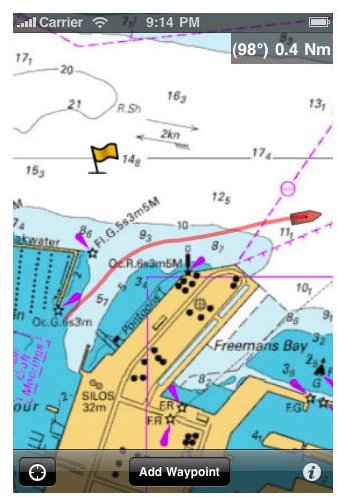 This is a pretty dynamic Apple iPhone marine GPS application to keep you informed and current when at sea. Marine US is designed to give its users access to the full catalogue of nautical raster charts for the U.S. This is obtained from NOAA hydrographic service material – charts and maps. One of the biggest features of this app is the GeoGarage service where all the charts are tied to one server. This takes the stress from having to reload or purchase charts over and over again and also means that the chart data will be continuously updated. It changes, however, when the NOAA releases new updated charts.
With this application you get embedded GPS to display the route of your craft in real-time and access to charts that support multi-touch scrolling and zooming capabilities, thus making its overall use that much easier. Also, you can get waypoint plotting with the course and distance to the boat, plus additional features to insert points of interests, marks and such.
Memory-Map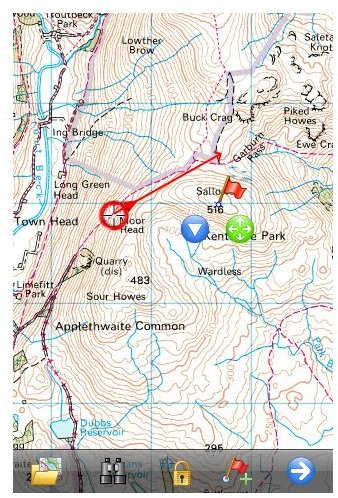 With this application installed see how you can get access to USGS topographic maps for any state of your choice plus all the NOAA raster marine charts for the entire U.S. For better planning and management of your trips, you can prepare maps and overlay data from a PC and also print this information on paper for quick viewing and sharing with others. Once you have collected GPS data, track log or POS, you can transfer this information right back onto your computer for better analyzing and so on.
The maps are high quality to give hassle free viewing without traces of distortion or difficulty. There are features to enable fast scrolling and zooming, import and export GPX files, view wide range maps worldwide, auto-rotate screen, lock preferential orientation, screen lock during use, display speed and direction, support of GPS and compass sensors, record track logs, create marks with active web links – plus much, much more.
Navionics Marine: Best Boating App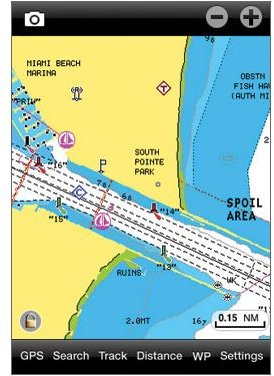 The Navionics Marine app is popularly used for sailing, fishing and it is quite useful for other marine purposes too as it provides detailed nautical maps and points of interests with additional features to view wave height, geo-tag photos and even share GPS data with friends on Facebook and such. Obtaining data is simple and quick, by clicking on various icons and parts of the maps, users can get instant GPS readings and so on.
Maps are available for the U.S coasts, rivers and lakes by region, for example East, West, South and Central locations. Users will find the maps are perfectly labeled to show the exact locations, name of places, waypoints and much more.
References