Unlock iPhone 4 with Original Gevey Ultra F981 Chip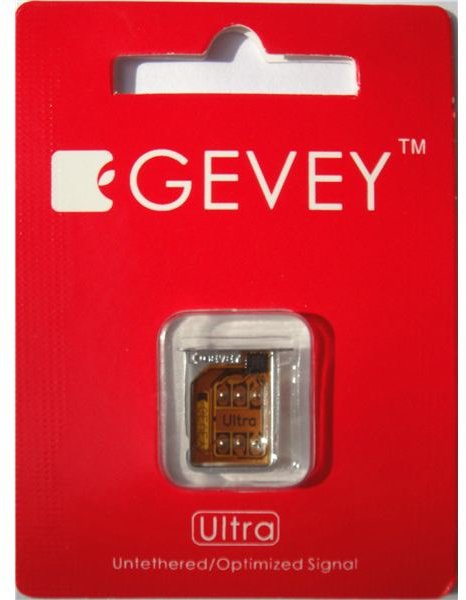 DEV Team has clearly mentioned that they will not be able to provide any unlock solution to iPhone 4 users, until the iPhone 5 is out. This is because of several security checks placed by Apple in older iPhone firmware, which DEV team is unable to bypass on some of the basebands.
Most iPhone users are aware of several Gevey products available in the market, but some of them are hesitant to use such products, maybe due to a lack of knowledge or the unavailability of a proper guide.
If you are new to the Gevey world, I would advise you to go through the article link provided below before reading any further.
Gevey Ultra, as you may know, is the latest product provided by Gevey Team and offers both a manual and an automated process to unlock iPhone 4 unsupported basebands [01.59, 2.10.04, 3.10.01, 4.10.01, 4.10.04]. However, the process itself seems to be quite complicated as it involves jailbreaking your iPhone 4, installing the FuriousMod app from Cydia and then unlocking your iPhone 4.
In this article, I will make you familiar with both the Manual and the Automatic process to unlock iPhone 4 unsupported basebands. Before proceeding further, make sure your iPhone is jailbroken.
To jailbreak your iPhone 4, you may read the following article: Jailbreak iPhone 4.
Gevey Ultra untethered unlock for the following iPhone 4 firmwares: 4.1, 4.2.1, 4.3.0, 4.3.3.
4.3.4 & 4.3.5 are tethered jailbreak versions. I advise you not to move to these firmware versions, or you will lose your jailbreak. Switch to 4.3.3 instead.
**
With Gevey Ultra Package, you get the following:
Gevey Ultra Chip.
Custom Gevey SIM Tray.
Manual Process - Need to Dial 112
Step 1: Gevey Ultra requires you to cut your micro SIM card a bit so that both SIM card and Gevey Ultra can be placed together. Cut the micro SIM card a bit from the top as shown on the back cover of the Gevey Ultra package and place it on the custom tray to make sure that both the Gevey Ultra chip and micro SIM card are firmly placed together.
Step2: Turn off your iPhone 4. Now, firmly push the custom tray along with the Gevey Ultra chip and your micro SIM card into the iPhone 4.
Caution: Don't push the tray forcefully or it may get stuck inside. If you feel the tray is not going inside smoothly, try to rub the SIM card to reduce its thickness and then try again. Or, you may contact the seller.
Step 3: Wait for the welcome screen message to appear and then press Cancel to continue. On your iPhone springboard, tap on the Settings icon and browse to Phone -> SIM Applications -> Instructions.
Now, again a welcome message will appear. Click on Accept to continue and wait for 15 seconds before you notice a signal bar on the top left corner.
Step 4: Dial 112 and disconnect the call immediately after 2 seconds. DO NOT wait for the call to connect. Now, turn on the Airplane mode and wait for about 45 seconds before you see a "NO SIM Card Installed" message. Tap on OK to continue.
Now, turn off the Airplane mode and you should see a "SIM Failure" message. Tap on OK to continue and wait for the signals to appear.
Important Note: It might be possible that you don't get the signals the first time. If this is the case, kindly repeat steps 3-4 about 2-3 times.
Gevey Ultra will not work with older SIM cards, i.e. SIM cards other than a micro SIM card.
Automated Process - No Dial 112
For the automated process to work, you need to first jailbreak your iPhone. If you had already done so you can continue reading further. Those looking to jailbreak their iPhone may read the jailbreak guide here: Jailbreaking iPhone 4.
Step 1: Make sure you have Cydia installed on your iPhone. Tap the Cydia icon to launch the application. Now, tap on Manage icon below and tap on Sources.
Now, tap the Edit icon present on the top right corner of the iPhone screen and finally tap the Add button that appears on the top left corner.
Step 2: Here, you need to add the Cydia source URL from which you will get the option to install FuriousMod Package.
Note: The latest FuriousMod package is having serious problems and doesn't recognize the Gevey Ultra SIM, making it impossible to unlock iPhone with Gevey UItra. Therefore, it is recommended that you switch to a previous version like 1.0.1.
You can use this URL: https://cydia.myrepospace.com/turbosim/
The original Cydia URL has the buggy FuriousMod package that doesn't detect the Gevey Ultra SIM. So, this is the backup URL for the correct FuriousMod package.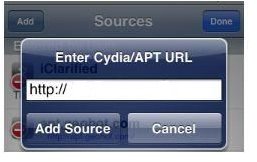 Enter either of the above URLs and tap on the Add Source button. Your URL will now be verified and you will see a list of tasks scrolling on the iPhone screen.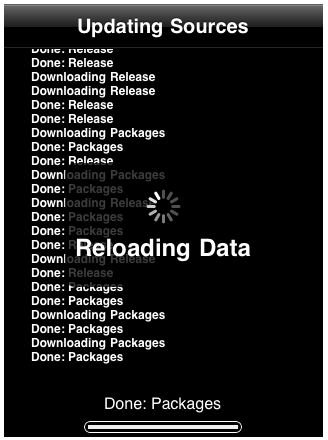 Once the task list is complete, you will see a "Return to Cydia" button. Tap on this button to continue.
Step 3: Now, tap on the FuriousMod.com source that you just added and you will see the FuriousMod SIM Unlock Utility inside. Tap on it to continue.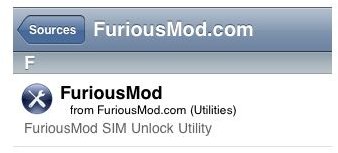 Step 4: Tap on the Install button on the top right corner and on the next screen press on the Confirm button to continue with FuriousMod package installation.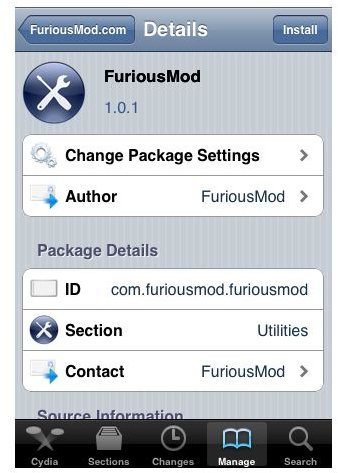 After the package is installed, you will be asked to re-spring your iPhone. Tap on the "Restart SpringBoard" button to re-spring your iPhone.
Finally, turn off your iPhone.
Step 5: Now, is the time to put in the Gevey Ultra SIM together with your SIM card into the custom SIM tray and push it into your iPhone.
Turn on your iPhone.
Step 6: Now, a welcome screen message will appear. Click on Accept to continue and be patient while your iPhone is unlocked
After pressing the Accept button, you will notice a "No SIM Card Installed" message after a few seconds. Wait for some more time and you should notice the signal bars appearing.
Finally, try turning on 3G or Data Roaming to see if everything works fine. Remember, your service provider will charge hefty money for using Internet services, if you are not already subscribed to or you don't have a 3G plan.
Important: If you remove the Gevey Ultra SIM from your iPhone, you will have to reboot your iPhone for automatic unlock.
If you have trouble getting a signal, try repeating step 5 and 6 a couple of times.
Where to buy Gevey Ultra Original?
To buy the Original Gevey Ultra SIM, you may check the following buyer on eBay - hemant.gupta
I had ordered one piece to test and whoa! It works perfectly fine. Shipping was quick and as I was near to the seller's city, the package arrived within one business day. Considering the quality of the item (Original F981 chip), the seller has posted quite a low price for the item, but it seems it to be a promotional price as the seller is also offering a FREE Surprise Gift with every Gevey Ultra package.
I don't want to spoil the surprise here, so, better buy the item and check the surprise gift yourself. All in all, it's worth the money you'll spend.
References
Author's own knowledge.
Images Credit: Images provided by author