Get Creative with iPhone Interior Design Apps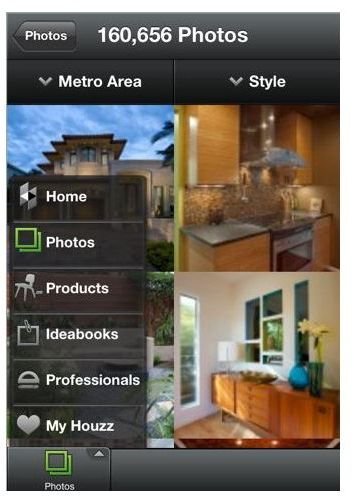 Houzz Interior Design Ideas
This is the most incredible interior design app that I have ever come across. It has over 163,000 photos for great inspiration. I have never seen an app with such an endless source of quality photos as this one. Not only is there an overwhelming quantity of photos, but the quality of the photos is exceptional as well.
The functionality is excellent and it's incredibly simple to navigate. All you do is press the home button and you can search photos, products, ideabooks, professionals and save to your favorites in the "My Houzz" category – it's that simple.
I am not sure what I like more about this app because everything is great. It's organized so elegantly and simply and there is not a category that they have missed. If you're looking for pictures of hardware, they have it. Fabric? What kind, outdoor or upholstery? They have it all. When remodeling my basement I needed ideas and Houzz showed me over 4,000 pictures of basements. I wasn't overwhelmed at all, it gave me an abundance of options to choose from.
A great feature that everyone is raving about is the ideabooks. Users can create a book where they share great ideas for things like, "hotel-style towel racks" or "how to pick the perfect pink." These ideabooks are helping others create their dream homes.
I became an instant fan of this app from the start so I and highly recommend that you give it a try.
Dream Home Free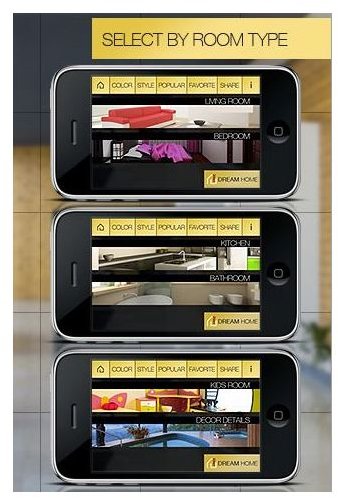 This app is set up a bit differently than the other iPhone interior design apps. Besides having to automatically view it in landscape mode, it prompts you to upgrade to the full version every time you open the app, and it has a limited amount of photos to search through. Although sometimes this can be a good thing, because too many photos can overwhelm some users.
What I did like about this app was the convenience of the three easy folders to search through. You have the option to get inspired by – Selected Room Type, Style and Color. This makes it very simple to find what you are looking for. My favorite feature was the zoom capability. Many similar apps do not have this, so this feature stood out for me. I can't tell you how many times I have seen something I loved in a photo but was unable to see the details clearly. This option allows me to see every detail up close.
I do, however, have a few gripes with this app. First being, I am one of those users that likes the option of a lot of pictures to look through. So, I feel like there should be more photos to inspire me. Second, I wish they would tell you where they got the materials and where you can buy them. Other than that, for a free app you will get a handful of pictures to help you get ideas for your home.
Remodelista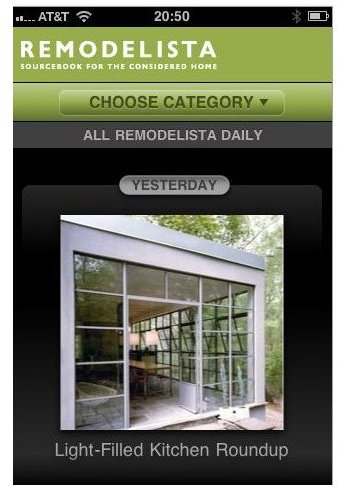 Remodelista Lite is another great app to use when you are trying to get inspired to redecorate your home. It has a sleek elegant interface and is simple to navigate through. When you first launch the app you will see the daily photo. If you click on it you will be able to read information about it and see other related photos. Then you have the option to email it to a friend or give feedback to the app. If you wish to see other categories you can choose from a variety of options in the pull down menu.
My favorite thing about this app is the option to buy what's in the picture. After you choose a category such as, "Steel this Look" it will show you photos, give you information about the photos and it will give you the option to buy each piece in the photo right there. When you click on buy, it will take you directly to where you can order the item. I found this an extremely convenient feature, I wish all apps had this.
If you're looking for an app that will not only give you inspiration, but give you the ability to buy what you see in an instant, then this app is for you.
Best App
All of these iPhone or iPad interior design apps will help inspire you to create your dream home. My favorite is the Houzz app. This app has gone above and beyond in creating the best interior design app possible. The pictures are endless and I can't say enough about the simplicity of it. It is one of the best organized apps I have come across. I would highly recommend trying all of these apps because they are all free and they will give you some great ideas.
References