Discover iPhone Apps That Let You Find People and Businesses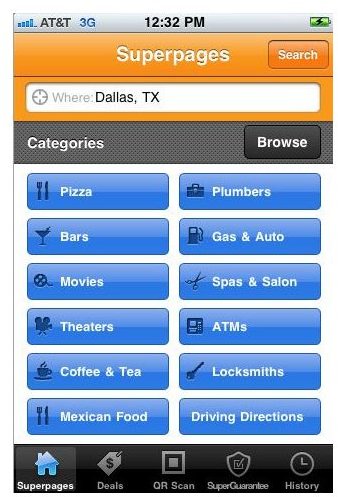 Superpages
We have all seen the big Superpages phone book on our front porch and dreaded where we were going to store it. Now they have a convenient app to replace those bulky books. This app is very similar to the yellow pages phone app but is much better, that is why I chose this one.
When launching the app, you will notice 12 categories to choose from – everything from pizza to locksmiths. You can also click on "browse" to view even more categories. Once you choose your category you will be given a list, and it provides users with additional information such as the address, distance, phone number and even a rating. I love how you can conveniently press the call button and it will automatically dial the phone number for you too.
A few shortcomings were, there were not many "deals" in the deals category. I remember more coupons in that bulky phone book, so this was a bit disappointing to me. There was also no "people search" option, like many of the other similar apps. I did however like the history category. If I wanted to exit the app I could easily find everything I located earlier by clicking on this category. The bottom-line is that this app functioned in an average way, was well organized, and easy to use.
Whitepages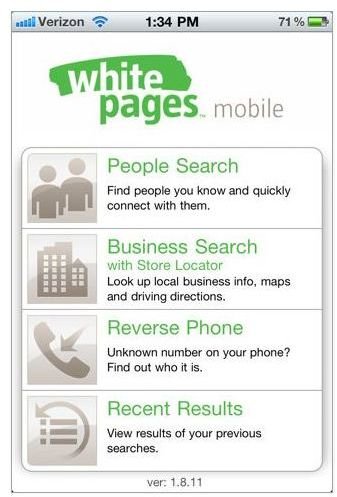 When you open the Whitepages on your iPhone you will notice four categories to choose from: People Search, Business Search, Reverse Phone and Recent Results. The option that I use the most is the reverse phone number lookup. When I receive a call and it comes up unknown on my caller ID then I go straight to the Whitepages app and look it up. Although most of the time it comes up an unknown cell phone number on the app, I like that I have the option to see who it may be if it was a listed number. The only gripe I have is that it costs $1.99 to lookup a person if the listing comes up with a cell number that is not listed. I would prefer that they just show you for free. I would suggest that they have a category that says landline reverse phone lookup and cell phone reverse phone lookup.
One feature that stood out the most was, when searching for people on your phone it gives you the ability to locate the person via map with detailed directions. You can also add the listing to your contacts or share it by text or email. This feature is extremely accurate and it even pinpoints the street on the map.
This is the app that I use all the time. It functions above average, the interface is simple and easy to use and it's accurate. I would definitely recommend downloading this free app.
Local Solution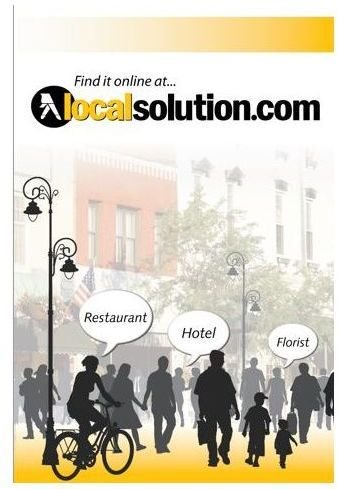 This all-around app allows users to search for people and businesses using voice activation or by the touch of a finger. Some of the best features include, reverse phone lookup, mapping with detailed directions, and the ability to add to your favorites. One of my favorite features is the traffic cams for finding the best route. Unfortunately these are only in select cities and I have not been able to use it in my hometown just yet; hopefully this will come with a new update soon.
I found this app to be very easy to use and extremely accurate. The mapping feature was spot on and it brought up my results fairly quickly. The people search was another great feature; when I entered a name it showed me five possible matches. When I clicked on a name it allowed me to add or update my contacts or add as a favorite. They even pinpointed where the person lived on a Google map and gave me directions on how to get there. When I had to exit the app and went back, it picked up right where I left off.
The only downside was the voice activation could use some work. Other than that, I think Local Solution is a solid app and considering that it's free, it's worth the try.
Conclusion
All of these iPhone apps that let you find people and businesses function well. It really depends on what you're looking for in a search app. If you're looking for an all-round search app that has it all, than Local Solution is the way to go. If you just want to quickly see who that unknown phone call was from, than Whitepages reverse lookup is the way to go. All of these apps are free, so why not give them a try and let me know what you think in the comments section.
References