Top 5 Podcast Apps for iPhone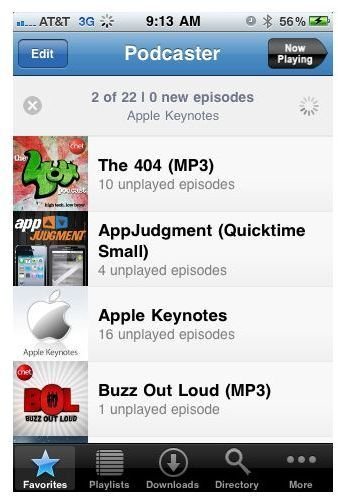 Whether you love sports, technology, science, health or something far more obscure, it is almost certain that someone somewhere is doing a podcast about that subject. That freedom to listen to almost anything you want is what is so appealing about podcasts. Still, while you can almost certainly find and listen to most any podcast, the iPhone the interface experience is far less flexible. Yet just as there are great choices for podcasts there are also great apps to improve the listening experience.
PodCaster (5 out of 5)
The most well-known of all the iPhone podcasting apps is Podcaster. This is a simple app that lets you find, subscribe and update apps very
easily. The biggest advantage of Podcaster is that you don't have to log into iTunes in order to update your podcasts. The organization of the podcasts with this app is also very good; it makes it a lot easier to organize and search through the apps because the interface of Podcaster is designed specifically for podcasts rather than for music. This means it lets you organize by date or podcast network. Both of these things you can't do with iTunes, which is designed as a much broader tool. So, if you're looking for a simple upgrade for listening to podcasts then Podcaster is a great choice.
Downcast (4 out of 5)
Not as well-known as Podcaster, Downcast has gathered a fair amount of positive attention. It has all the features of Podcaster, but many people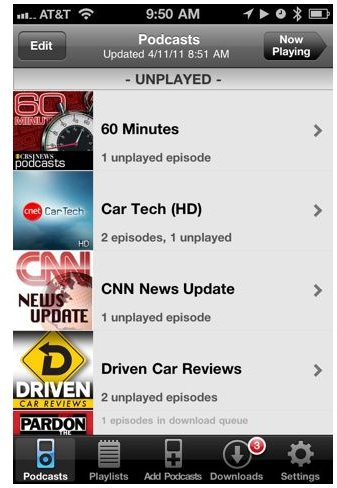 prefer the interface. The differences in the interface are generally minor, but very useful points such as having larger buttons so it is easier to actually push the button you want, rather than skipping ahead, which is a problem that occasionally comes up with Podcaster. It also has gestures which means that you can skip finding the buttons at all. Simply tap the screen twice to start or pause what you are listening too. This is great for listening to podcasts in the car since not having to look for them is great. So, if you've used Podcaster and are frustrated by the interface, but still like the basic features then Downcast is worth trying, even if it is sometimes a bit slower than others.
TWiT Netcast Network App (4 out of 5)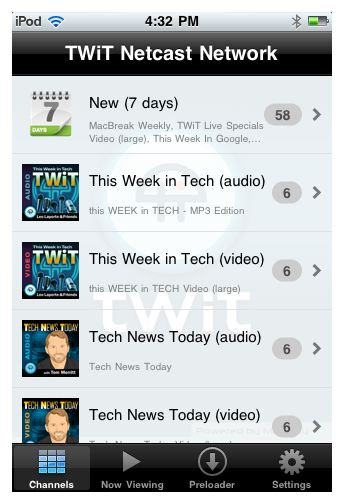 There are a number of excellent podcast networks which help to find groups of podcasts that you will enjoy. Most of these networks are small, with a half a dozen shows on similar subjects. One of the biggest and most impressive of those networks is the TWiT network. Covering mostly technology, this is not only one of the most professional looking and feeling of the podcast networks, but is also one of the most professional apps. Updated daily with new podcasts, this gives you a great place to start if you're interested in the best of Podcasts. With only Podcasts from a single network it is very limited, but it's a great place to start. NOTE: While there is a $0.99 TWiT app which is 'official,' there is no real advantage over this app.
Stitcher (3 out of 5)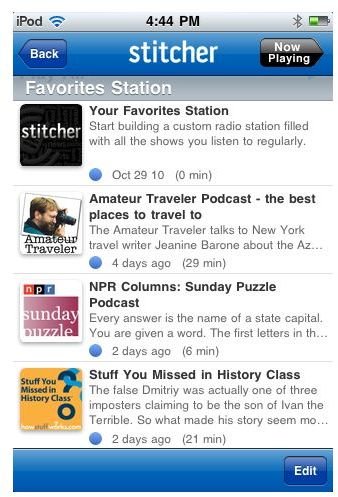 If you find yourself listening to podcasts on long drives, or simply don't like to have to find the next thing to listen to, then Stitcher is for you. The major difference between this app and the others is that it creates a list of podcasts which will all play. This is great for a long car drive or workout when you don't want to stop to focus on the menu. In addition, it has most of the features of any of the other podcast apps so, although this is a bit more specific, for the right person there is great value in it. However, for the average person who doesn't have an issue with occasionally looking at the iPhone screen, this isn't going to be as good an option for you.
Audiopress (4 out of 5)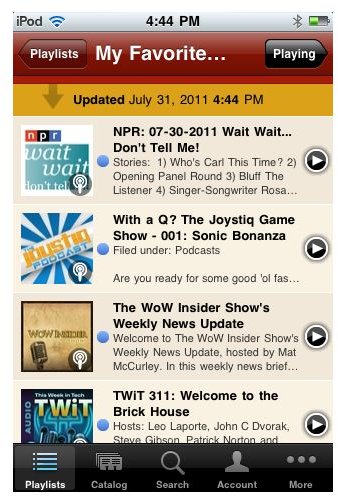 Audiopress, unlike some of the other apps, focuses more on finding podcasts. When you begin Audiopress, you will choose three categories that you are interested in. It will then begin to list shows that are in those categories. Once you have found a podcast that you are interested in, you are able to subscribe to that podcast so you will have them downloaded automatically, share the podcast with someone else or simply pick episodes from a list and listen to them.
There are a couple weaknesses to this. The most important of these is that if you listen to the same podcasts all the time then finding the show you want is a bit cumbersome, making this a far better app for exploring podcasts. The other minor problem is that Audiopress doesn't have the depth of some of the other programs. There are still programs which are listed in iTunes which do not show up in their list. Not a problem if you like broad topics, but if you're looking for a specific podcast there is a chance it won't be listed; to be fair the vast majority of shows are listed, so it isn't enough to really harm its rating. There is also a Pro version which has no ads and a few extra features which cost $1.99, but until you've used the basic version there is no reason to consider the paid one.
References