Best iPhone Calorie Apps: Keep Counting Those Calories the Easy Way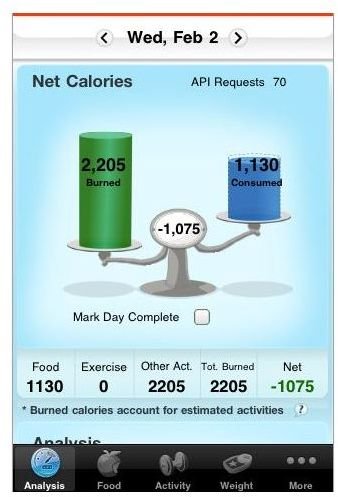 Calorie Counter and Diet Tracker
When launching the Calorie Counter and Diet Tracker app you first have to log in or create an account. My immediate reaction is that I am turned off, because I don't want to fill out a form – I would much rather just start using the app. You have to be careful before you click "agree" to terms, because they have a box already checked that you agree to receive a newsletter, and if you are anything like me, and don't like a lot of junk mail then make sure that you un-check the box before moving on.
Next you will see a very imaginative graphic of a scale that shows you the calories you can consume and have burned for the day. There is also a water log category, which I think is really cool, because as you add how much water you drank, your glass fills up. At the bottom of the screen is a graphic that shows you the amount of carbs, fats, protein, alcohol and other, all on a colored coded table.
In order to see the results of your calorie intake, you first have to input your calories and activity. When you click the food category, you have the option to choose breakfast, lunch, dinner or snack. Once you chose your category you will be brought to a page where you have many choices of how to add your food. You can search, bar code scan, choose from your favorites, meals, add from your custom foods or you can simply just add the calories. All of these categories are accompanied by a clip-art type photo which I liked. The activity category is set up the same way, which makes it very easy to add your activity. If I know how many calories I burned on the treadmill I can just add the number instead of searching for it.
I absolutely love how organized and visual this app is. The functionality is excellent and the graphics are imaginative. My favorite graphic is the scale where it shows your weight. The bottom line is that for a free app – it's well worth the download.
My Fitness Pal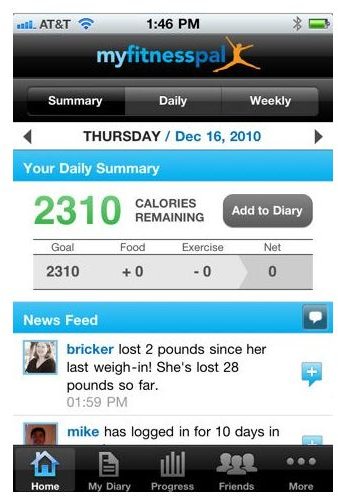 My Fitness Pal is the calorie counting app that I have used the longest. Although it's not as nice visually, as the Calorie Counter & Diet Tracker app, it still does what it's supposed to do – keep track of calories. This app not only keeps track of calories but it also allows you to become part of a community where you can have peer support and help keep you on track with your diet. Another great feature to this app is the ability to sync everything you record with your online account. My favorite feature is the table where it shows you how well you have progressed overtime.
The only thing that I would like to see updated in this app is a broader database of foods and a few more graphs. I seem to gravitate toward apps that visually show me my results. Other than that, this app is simple and easy to use and it's free, so why not give it a try.
Calorie Counter: Diets & Activities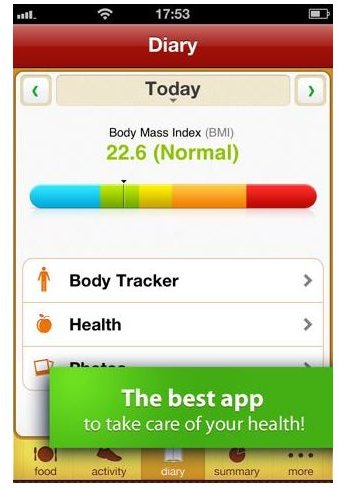 This app is sectioned into categories much like the previous two apps, food, activity, diary, summary and more. The only difference is that in this app you have the option to search for your foods by restaurant and supermarket. If you upgrade to the paid version, then you will receive the option to take a picture of your food and log it later. Now as cool as that sounds, I think instead of paying $3.99 for that option you can just as easily take your own picture and save it on your camera roll for free. Another feature that stood out was the help feature. If you get stuck on a category and do not know how to add your calories or activity they give you a detailed tutorial of how to do it.
A feature that I thought was very unique was the body tracker. This section of the app shows the changes of your body parameters in a colorful graph. I have yet to come across any app that has this feature, so it makes it a little more than just a food diary app.
Overall this app was organized, easy to use and functioned very well. The only thing I would change would be to add the take a picture of your food option to the free version. Other than that, this app was super easy to use and kept track of all of my calories in a seamless manner.
Overall Best Calorie Counter
The winner goes to Calorie Counter & Diet Tracker. I choose this app because it was by far the most visually stimulating and easy to use out of the three. I love an app that is well organized and simple to use and this app had all of those features.
All of these calorie apps for iPhone are simple, easy to use and do what they are supposed to do. They are all a great tool for weight loss and an easy way to keep track of your calories on your phone. Like any calorie counting app, there is always a margin for error when you are recording your own calories. If you are not honest in adding the exact amount of calories than you will not reach your goal. So when trying any of these apps be honest and you will get the results you want!
References
Calorie Counter and Diet Tracker - https://itunes.apple.com/app/calorie-counter-diet-tracker/id367018196?ign-mpt=uo%3D5
My fitness Pal - https://itunes.apple.com/app/calorie-counter-diet-tracker/id341232718?ign-mpt=uo%3D5
Calorie Counter: Diets & Activities - https://itunes.apple.com/app/calorie-counter-diets-activities/id433849825?ign-mpt=uo%3D5