Find a Great Deal With Easy to Use iPhone Apps for Hotels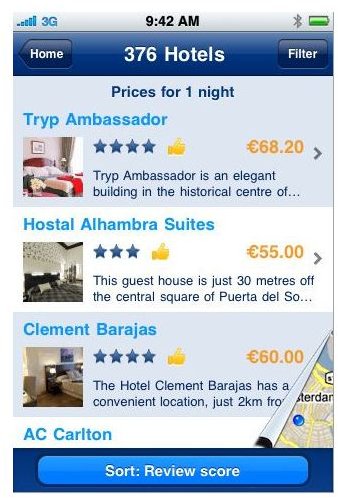 Booking.com
If you have ever used Booking.com from your PC to search and make a hotel reservation, then you will love this app. It's simple and provides a lot of hotel options with a variety of selections. There is nothing this app hasn't thought of. When launching you first choose your destination and you can narrow your search by price, type, review, if pets are allowed, and also select stars. You can narrow the search even further by choosing the "Select facilities" option where it allows you to choose whether you want a fitness room, free parking or just about anything that you can think of when planning your trip. I felt like I was a celebrity telling my manager what I wanted on my contract rider, it's that good.
I loved the fact that you can save your reservation to your photo album and when you leave the app you can select "recent" and pick up where you left off. The only gripe I have with this app (if you can even call it a gripe), is that it has too many options. Sometimes it can become a little overwhelming when having too many options to choose from. Other than that, for a free app that has everything, it has my vote.
Hampton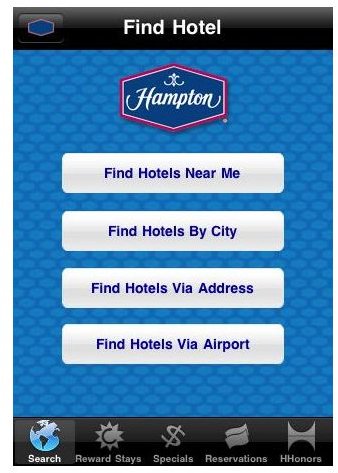 I chose the Hampton app because this is the app that I have had the longest and have used the most. I like it because it is extremely easy to use and has a sleek, simple interface. When you first open it you will see four categories: Find hotel near me, Find hotels by city, Find hotels via address, and Find hotels via airport. At the bottom of the screen they have conveniently featured options so you can also search Reward stays, Specials, View your reservations and HHonors. I like how well this app is organized and how easy it is to use. I have never had a problem with it freezing or not saving a reservation.
The one and only downside to this app is there is not an option to view what the rooms look like in the app. When I book a room I like to see what it looks like first before I book it.
This is a must-have app for a business person who is on the road and likes to build up their reward points. You can search HHonors by providing your user name and password, and check your reward points as well. This is one free app that is definitely worth the download.
Trip Advisor Hotels Flights Restaurants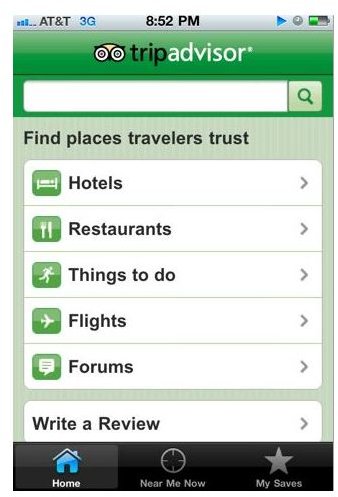 Trip Advisor is not only a great app for finding hotels it's also a great all-round app that allows you to search for much more. You can book a hotel, search for restaurants and things to do, book a flight, read the forums and even write a review. One of the first things I look at when opening an app is how well organized it looks. When launching this app, the first thing you see is a polished, well organized app with a simple interface. It is nicely sectioned into categories with each section having the option to sort by specific items such as rating, price and distance. This is a nice feature because if you are looking for a restaurant near your hotel you can search distance, then you can search rating to see how good it is.
Another great feature that I found, and that I used a lot more than I thought I would, was the map feature. This feature shows you exactly where your hotel is on a map. You can zoom in, right down to the street, which I found very useful when trying to decide which hotel to book. I have to also mention that I could not find a downside to this app. It functions well and offers many options. Anyone looking for a great all-around travel app would find it very useful.
My favorite feature is the "Near Me Now" option where you can search, hotels, restaurants and attractions by using the devices GPS. This is the option that I use the most and find it very convenient. For the budget price of free, this app does not disappoint – I would highly recommend downloading it.
The Winning App Goes To…
Trip Advisor. Although I like them all, Trip Advisor sold me right from the get go with the way they organized their app. There was just the right amount of features and options to choose from, which is why it gets my vote as the best hotel booking app for iPhone.
Booking.com comes in a close second for the fact their app is bright, organized, easy to use and you can see the pictures of the hotel rooms before you make a purchase. I would recommend trying all three of them out for the simple fact that they are all free! All of these iPhone apps for hotels are worth your download. Give them a try and let me know what you think of them in the comments.
References
Booking.com - https://itunes.apple.com/us/app/booking-com-hotel-reservations/id367003839?mt=8
Hampton - https://itunes.apple.com/us/app/hampton/id338391658?mt=8
Trip Advisor Hotels Flights Restaurants - https://itunes.apple.com/us/app/tripadvisor-hotels-flights/id284876795?mt=8
All screenshots remain the sole property to the respected developers.