Sick and Wrong iPhone Apps Worth Downloading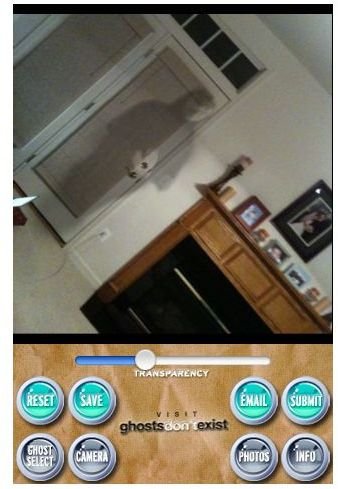 Ghost Capture
With the Ghost Capture app you can manipulate any picture to make it seem as if a ghost is in the photo. Choose from an array of ghosts that include faceless torsos to Civil War soldiers and adjust the photo to your liking by changing the size of the ghost, rotation and transparency levels. Save your creation and email to family and friends to spook them out with this "Ghost Capture" app. Click the download link below or search for Ghost Capture in the Apple App Store.
Ghost Radar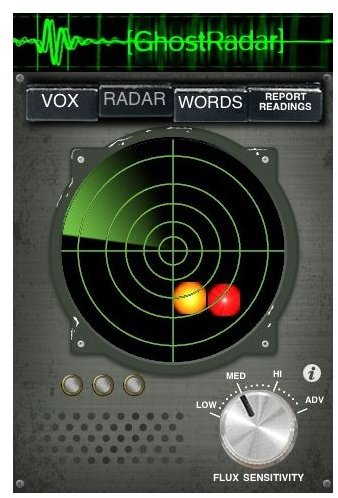 Obsessed with the paranormal? Ghost Radar for the iPhone detects and alerts you of paranormal activity by using sensors located on the iPhone to measure electromagnetic fields, vibrations and even abnormal sounds. Scare the life out of your little sister with this sick and wrong iPhone app as it is unlike any other ghost detector and alerts you when unique patterns have been detected. Some features include energy translation into words, energy translation into numeric values and even graphics for your own record. You can also record your experiences with Ghost Radar and run the app in the background so you don't miss any ghosts that may be lurking around you! Spooked? Click the link in the references section or search for "Ghost Radar" in the Apple App Store.
If you're interested you can find plenty more iPhone ghost hunting apps in the App Store.
iFart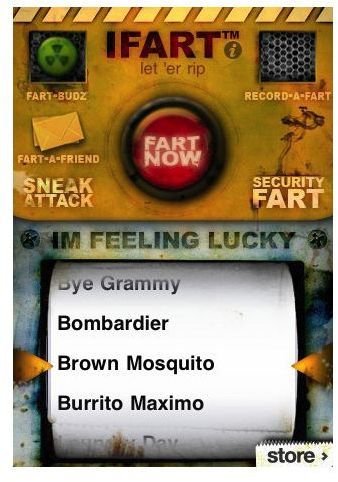 Voted as the world's most popular digital fart machine, this app lives up to the name. Not only has it been featured on the Daily Show but it also has its own social network! This nasty iPhone app allows you to alarm innocent bystanders with an array of disgusting fart noises to choose from by timing when you'd like the app to "pass gas" and by choosing the type of fart you'd like to hear. Can you say, "Gross?" Click the link below to download the iFart app or search for it in the App Store.
iVoodoo Doll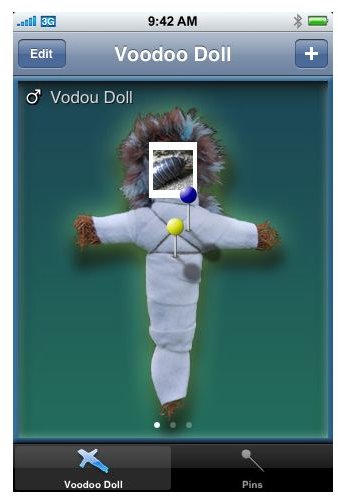 Have a tyrant as a boss? Then this app is for you! The name, iVooDoo Doll explains itself and supports up to five dolls with the ability to choose either a male or female doll. Give your Voodoo Doll a name and a face by selecting a photo from your photo library or taking a photo with your iPhone camera.
Key features include an array of pins for positive energy, negative energy, wealth, power, success, love and even spirituality. So, whether you'd like to give yourself good luck or your evil boss bad luck, the option is yours with iVoodoo Doll. Search for it in the App Store or click the link below in the references section.
MirrorME+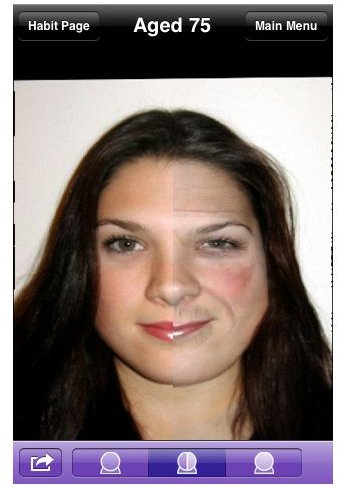 MirorME+ uses imaging technology to show what you would look like 10-20 years from now and even after death! Due to indulgences that people can't help but partake in, such as smoking and drinking, this app will show you what you will look like if the bad behavior continues – and even at death. So whether you're a chain smoker or a drunk, this app knows, and calculates your life expectancy based on the data.
Simply input your age, sex, gender, location, food consumption and other factors to generate your results. MirrorME+ is great to show your chain smoker friend that just can't kick the bad habit what will happen to them. Search for MirrorMe+ in the App Store or click the download link in the references below.
Pimple Popper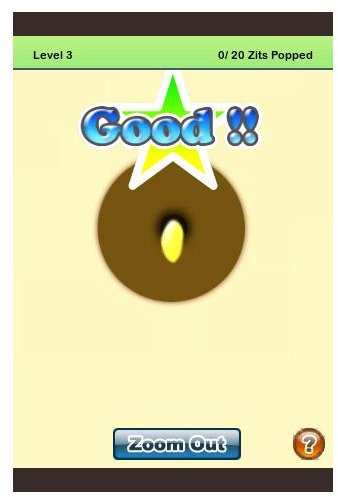 Almost everyone gets some type of satisfaction from popping a pimple. Admit it! You do too. Now you can pop away all day with Pimple Popper. This sick and wrong iPhone app is addicting because "once you pop, you can't stop," and that's the developers motto.
Keep popping pimples to advance to different levels within the app and pop different types of pimples including blackheads, whiteheads and zits. Search for the app in the App Store to download to your iPhone or click the link below in the references section.
Poo Log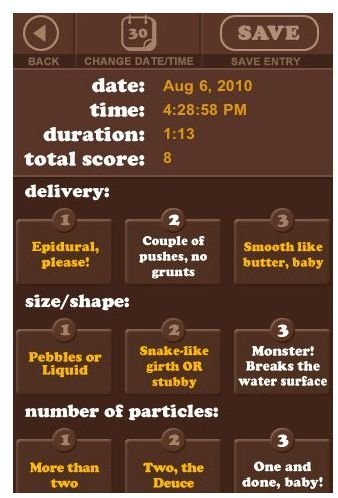 Poo Log app does exactly what the name says – logs your poo. Gross! With a digital timer and journal to record each bowel movement, this sick and gross iPhone app lets you record your digestive track and graph the results.
Based on the bestselling book, "What's your Poo Telling You?" by Josh Richman and Anish Sheth, MD, this app gives you the ability to log each bathroom break to ensure you're doing #2 as you should. Download Poo Log now to log your poo or search for it in the App Store.
A Sex Offender Tracker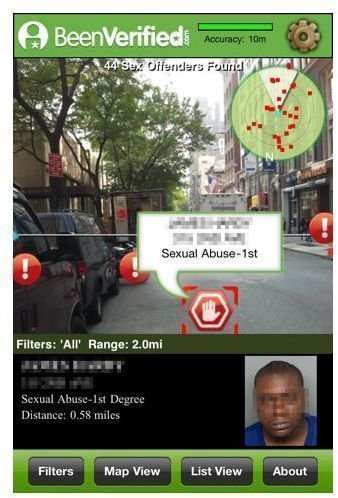 The Sex Offender Tracker allows you to view offenders in your area, if you're located in the US, and have an iPhone 3GS or iPhone 4. The app uses your GPS feature to search for registered sex offenders anywhere in the country so you can stay far away! It also provides the exact location of the offender, a photo and details about the offense to keep you informed and connected about who's around you. "Hide yo kids! Hide yo wife" and download the app from the App Store or click the link below.
Zombie Booth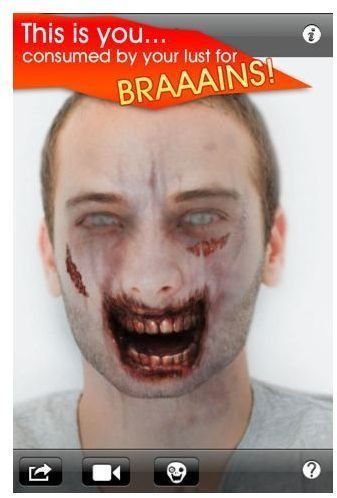 Zombie Booth turns any face into a creepy blood-sucking zombie with animation effects and bloodcurdling sounds. Give your friends a scare by recording videos to send to them via text, Facebook, Twitter and even YouTube. The app will even attempt to 'bite' your finger once downloaded. Click the link below to download Zombie Booth or search for this weird iPhone app in the App Store.
Check out iPhone for zombies for more zombie related fun.
References
All images remain copyright of the respective developers.