Guide to iPhone Screen Repair Solutions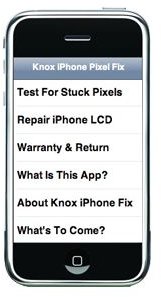 Fallen iPhone!
The iPhone is a fragile device. Even the lowest impact can cause its screen to crack, break or turn blank. Because we use iPhones on day to day basis, it's extremely hard to practice caution all the time. The only solution for such a situation is iPhone screen repair.
Fortunately, there are several options for fixing the damaged iPhone screen. One of the options is getting it repaired/replaced from Apple. But the Apple iPhone FAQ states that:
"Apple's Limited Warranty for iPhone excludes coverage for damage resulting from accident, disassembly, unauthorized service and unauthorized modifications. Please review the warranty for further details. An iPhone that has failed due to damage resulting from accident, disassembly, unauthorized service, or unauthorized modifications is not eligible for warranty service, however, your iPhone may be eligible for Out-of-Warranty (OOW) Service if the damage is repairable"
Therefore, an iPhone that has been damaged due to an accident will not be eligible for warranty service. The iPhone user will have to shell out $199 along with $6.95 shipping charges for its repair.
However, with the success of Apple's iPhone, the iPhone repair industry has exploded with third party iPhone repair companies that can fix your iPhone's screen at a much more competitive price. But by doing so you may violate Apple's warranty.
Another option for repairing your iPhone screen is to do it on your own. There are many online training tutorials and videos that take you through the process of repairing your iPhone screen step-by-step. If you opt for this option, you will have to order service parts and tools to carry out the repair and take extreme caution while repairing your iPhone's screen.
Now that we are done exploring iPhone screen repair options, let's look at a few faults that occur with the iPhone screen and solutions for the same.
Issue # 1: Bottom-half of the iPhone's touch screen does not work/Multi-Touch Display does not Respond
Solution: If you are experiencing this fault, follow the standard troubleshooting steps. Turn the iPhone off and power it on again, press and hold the Wake/Sleep button for a few seconds until the red slider appears. After sliding the slider, press the Wake/Sleep button until the Apple logo appears. If this doesn't solve the problem, reset and restore from backup as a new iPhone. And if nothing mentioned above works, contact AppleCare.
Issue # 2: iPhone's Touch Screen Dead/Blank/White
A blank, white, or dead touch screen display can be quite frightening! Here the display remains blank but you can hear incoming calls, text messages, and music. Pressing the Wake/Sleep button also wouldn't do anything.
Solution: Don't panic, this can be easily fixed by resetting the phone. Press and hold the Home button along with the Sleep/Wake button for at least 10 seconds. The screen will clear up and the Apple logo will appear. When the Apple Logo appears, it means the iPhone has been reset.
If the above solution doesn't work, simply connect you iPhone to iTunes and do a full restore. If this doesn't help, contact AppleCare.
Issue # 3: Unresponsive iPhone Screen
Solution: If your iPhone touch screen becomes unresponsive, fear not! Apple is aware of this "dead spot" or unresponsive area issue and is encouraging customers to contact AppleCare for repair. What's more is that such iPhones are eligible for warranty service and Apple provides a free loaner iPhone during the repair period.
Issue # 4 Dead or Stuck Pixels
Solution: Though the issue of dead or stuck pixels on the iPhone isn't rampant by any means, it isn't exactly been uncommon either. Thankfully, most reports point out that Apple willingly replaces iPhones with truly dead or stuck pixels.
However, a third party app developed by Knox offers a fix for dead or stuck pixels on your iPhone's screen. This webapp is AJAX/HTML based and doesn't require jailbreaking. The app's goal is to excite a stuck or dead pixel and release it. Though it's not a guaranteed fix, it's certainly worth a try.
Issue # 5: Broken/Cracked iPhone Screen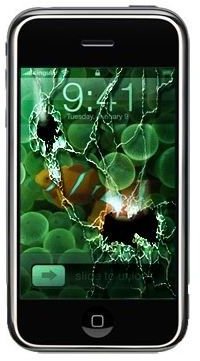 Solution – A broken or cracked iPhone screen is the worst amongst the issues listed here because the Apple warranty doesn't cover a broken screen. You will be required to shell out $199 plus the shipping and handling charges for getting it fixed from Apple.
If you are not ready to pay such a hefty price for replacing the broken screen, you can check out the services of a third party repair company that offer similar services at rates cheaper than Apple. However, availing such services can void your iPhone's warranty.
If you are feeling adventurous, by any chance, you can also replace the broken iPhone screen by carefully following online tutorials and guides.
Ever Damaged your iPhone's Screen?
If so, did Apple give you a new iPhone for free or did you have to spend money for repair? Please share your experience in the comments.
References