Playing Truth or Dare iPhone Apps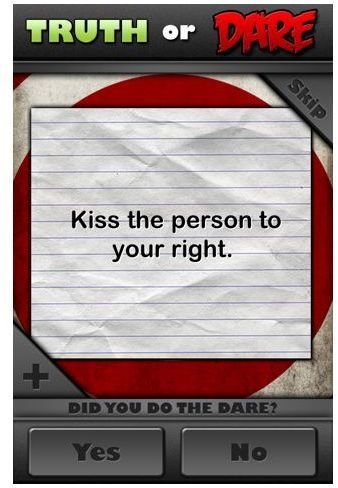 Play Truth or Dare with more fun and show off to friends with these amazing apps on your smartphone. Playing Truth or Dare with these iPhone apps will give your games more edge and excitement. Plus you can customize the questions and dares with your own twists, to really get your friends on their toes. See more great features and begin playing right away.
Truth or Dare!
This Truth or Dare app allows you to fully customize truth and dare phrases to
suitably play with family and friends. After all, these questions and requests will only be useful if you get right to the meat of the matter, so you can really tackle vulnerable topics that will undoubtedly have an effect on specific players. These truth and dare entries will be saved in the app and can be edited at any time.
The app has a bunch of fun and crazy truth and dare phrases to get anyone sweating. For each session you can add the name of the players and track their performance through a penalty system. In the event they forfeit a request you can assign a penalty and record it, also you can customize these penalties to what you want them to do.
You can also check out the Teen and Adult Truth or Dare version of this app (see references for download).
Truth or Dare – 18+
Loaded with fun truth and dare phrases and a play board to add players and keep scores,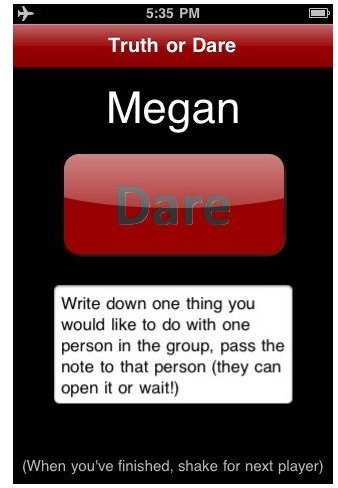 this app is perfect for teenagers and adults alike. If you are a fan of the game then you will love some of the silly questions generated by this app.
It also employs a fun way to play – shake the phone and see how players are selected and how new questions appear on the screen. Then select whether you want to dare someone on a challenge or quiz them on the truth about something. You can add the name of each player for every game, and see the questions pop up right there on the screen for each person, so you don't have to navigate off the page to access the questions.
The interface provides easy navigation with colorful icons and large text so you can instantly access the questions. This way you spend less time fumbling through your phone and more time on friends playing the game.
Also check out Truth or Dare - Free (see references).
Truth or Dare with Spin Bottle
Not only does this app have terrific truth and dare questions but you can also implement the tools to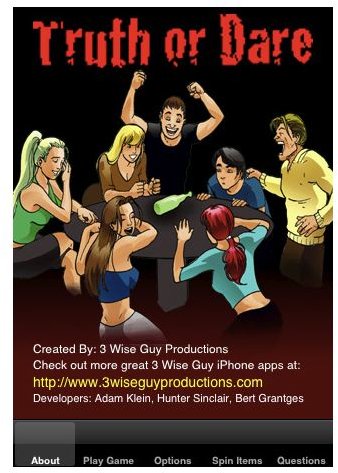 execute these requests properly. This is most exemplified with the integrated 'spin bottle' feature. Users can choose from up to 20 types of bottles to play Spin the Bottle. For example you can spin either a baby bottle, beer or champagne bottle.
The interface is quite basic, but it sure gives you an extensive list of questions to play the game. There are over 300 truth and dare questions, all of which are customizable. You can edit any of these questions to make them more suitable for the players. If you want to add your own questions, the app allows you to do so too. Additionally, you can add new content plus adjust the sound, vibration and volume. Playing Truth or Dare with this iPhone app couldn't be more fun.
Truth or Dare (Adult Version)
With all the fun iPhone apps for playing Truth or Dare out there, this list wouldn't be complete without a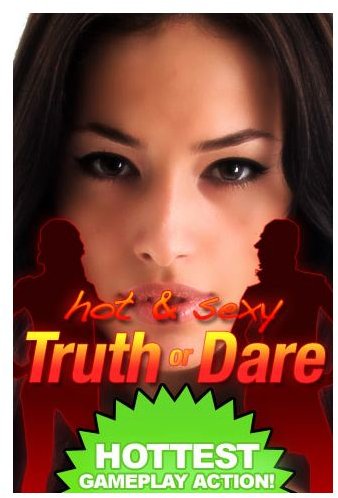 somewhat wild version. After all, some people's main interest when playing this game is getting closer to a crush or cute friend. This is the app to help you get all the details you want through explicit truth and dare questions and requests, best employed in a more personal setting with good friends.
The game is centered on fun, adult rated content so you can play and execute sexy fantasy dares plus get a date dare, quiz for truth with secret dares, truth with cupid dares and freebie truth and dares. Then there are ladies revenge dares and men revenge dares, mystery truth and dares plus more.
Also, check out Naughty Truth or Dare (see references).
Action Vérité Ado (Teen Truth or Dare)
This app is developed for teens only – maybe because adults couldn't dare pull off some of the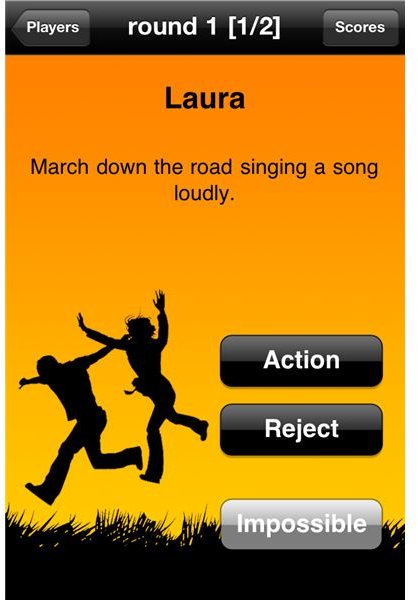 dares it might ask. It is designed around the basic concept of the game Truth or Dare with a few additions. Players are randomly selected by spinning a simulated bottle, typically if they refuse to answer a question truthfully or forfeit a dare they score zero points.
The app features over 600 questions and gives you the option to add your own content. You can play with any number of players, change players during the game, plus play with friends on Facebook, all along with other great features. It is easy to use and boasts a pretty nice interface. You will find it is compatible with the iPhone as well as iPods and iPads.
References
Image Credit - Screenshots courtesy of the respective app developers.