Best iPhone Dice Roller Apps for RPGs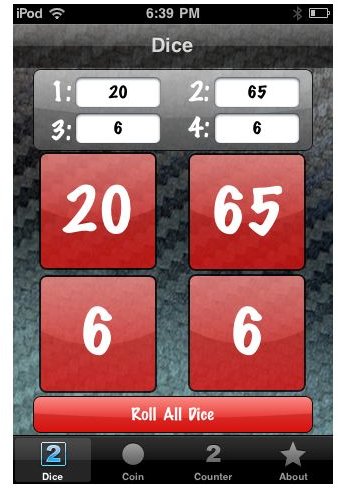 Dice are important to the RPG gamer. They represent the element of chance in the game and have a part in many of the best game stories. From those times when the warrior rolled an instant kill critical in the first round of a major boss battle to the time you had that battle when you couldn't kill the Kobold. Dice have achieved an almost mythical status in some RPG circles.
Yet there is little, if anything, that dice do, that a good iPhone app can't do, and while few will want to replace the dice bag entirely with the iPhone, having a good dice rolling app could open up possibilities. The right app could allow you to role play when and where you want by ensuring you have at least one of the most important tools always available. But, if you're going to rely on it for your game you need to have the best iPhone dice roller app for RPGs.
Dice and Coin (3 out of 5)
This app isn't going to be the best choice for most RPGs as it isn't all that visually interesting. What it does have that could make it worth a look is that it has a very casual approach to the realities of dice. That is to say that it doesn't limit itself to dice that are actually possible.
This makes it more of a random number generator than a dice roller, but if you want to roll a 31 sided die then this is going to be a good choice. In addition it adds a coin flipping option which could be useful. Still, this isn't going to be the best dice rolling app for more than a tiny fraction of the gaming community.
(Cost: Free)
Dice Calculator (3 out of 5)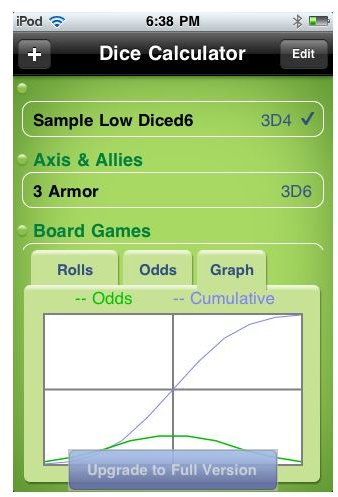 If you fall more for the scientific version of dice than the mystical then you may find dice calculator interesting. While this does allow you to roll dice of almost any type you want, as well as add or subtract from that roll, the real value of this app is in the calculator. It can show you the odds of rolling any specific number on those dice, the likelihood of rolling below that number on the dice or even a graph.
While this won't tell you how any specific roll will turn out, it can give you an idea of whether attacking the dragon is likely to turn out well or get everyone killed. Still, the interface isn't really all that much fun so it's probably not the best choice to use all the time.
(Cost: Free, Upgrade 99 cents)
Dice Bag (3 out of 5)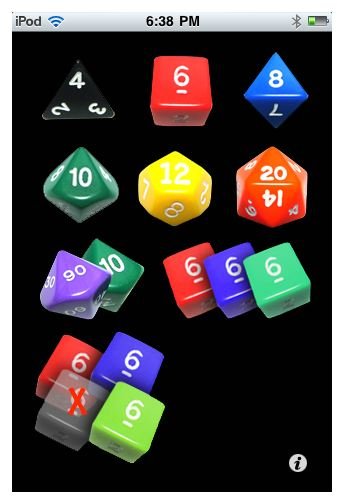 Dice Bag is almost certainly the fastest of the dice rolling apps to use. Once you open it you'll have a screen of different types of dice starting from four sided in the top going through the basic of 6, 8, 10, 12 and 20 sided but also adding 100 sided, three 6 sided dice and four 6 sided dice with one removed. Touch any of them and you'll get a dice roll immediately and it does add a bit of sound. So if you don't care about the visual, and you just want numbers quick and easy, then dice bag is a great choice.
(Cost: Free)
DnDice (4 out of 5)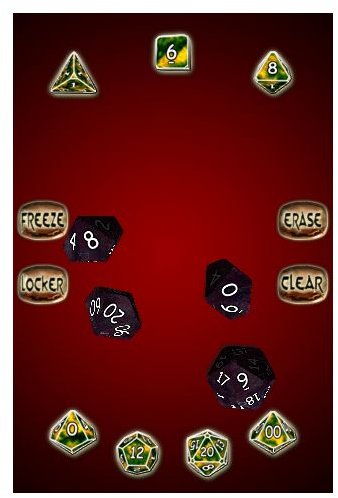 This app gives a few less options than some of the others, but it has one huge advantage over many of the others which is that you can actually see the dice rolling and control how hard they are thrown. This simulates the feeling of throwing a dice far better than any of the other dice rolling apps.
In addition the dice feel real on the screen. They can strike each other and bounce off the wall. Rolling the dice is also very easy and so, while the option to color dice or mark them in some way would be nice, if you just want to roll dice quickly and actually feel as if you're rolling dice then this is a good choice.
(Cost: Free)
Pip (5 out of 5)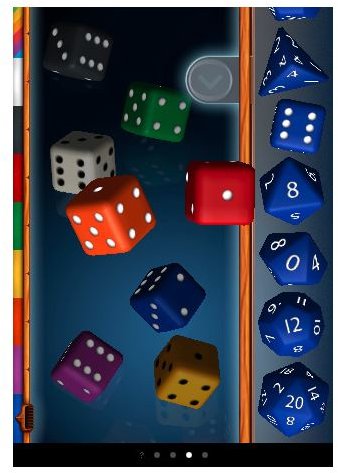 This app offers a wide variety of dice that really do feel more real than any of the other dice rolling apps. This lets you easily roll almost any type of dice you can think of including not only the traditional dice but also more specialty options such as fudge dice. This means that if you play certain types of games it is going to be your only choice. Even if you simply use traditional dice, though, the 99 cents for this app is well worth the cost if you plan to use the app much, because this really does feel more real than any of the other apps.
(Cost: 99 cents)
The Dicenomicon (5 out of 5)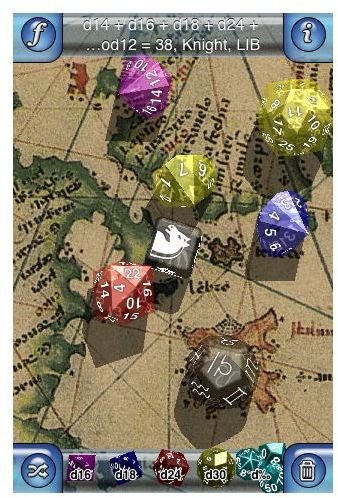 The biggest drawback of the Dicenomicon is the price. There are a lot of free dice rolling apps available and nearly as many that cost 99 cents or $1.99. Yet if you really use your app a lot and want the best then The Dicenomicon is at least worth looking at.
It looks good with different backgrounds you can roll your dice on. It also has a good variety of options for the dice so you can create virtually any dice you want. Finally you can create dice formulas so that you can do things like "exploding dice" that let you continue to roll so long as you're rolling 6's for example. Still, while this is probably the best iPhone dice roller app for RPGs, unless you plan to use this regularly in your game it's probably overkill on the price.
(Cost: $4.99)
References