What is the Best Diabetes App for iPhone?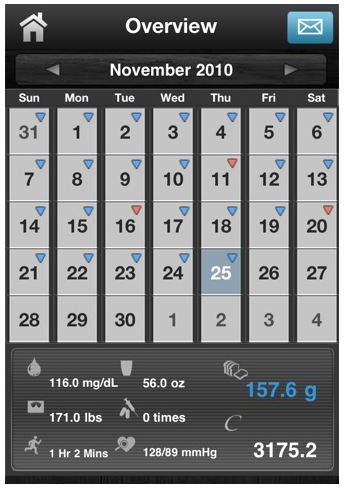 Diabetes Buddy - Control Your Blood Sugar
This app will help you control your blood sugar level - something which is very important when coping with diabetes. Through its four core features hopefully, you'll be able to monitor your sugar intake to keep your blood sugar stable. The app allows you to track the factors that influence your blood sugar level, monitor blood sugar fluctuations, plan ahead and share data with your doctor.
If you don't usually believe developers' supplied information about their apps, perhaps you'll believe the testimonials of those who've purchased this app. Through its clean and simple interface, I found this app pretty useful indeed. Even though I'm not diabetic, I think having the ability to put together your daily carb intake, glucose, water consumption and weight directly on the calendar is pretty helpful. What else do you need if you can log and monitor your glucose levels, your medications, manage your activities and more?
(Price: $4.99)
Diabetes Pilot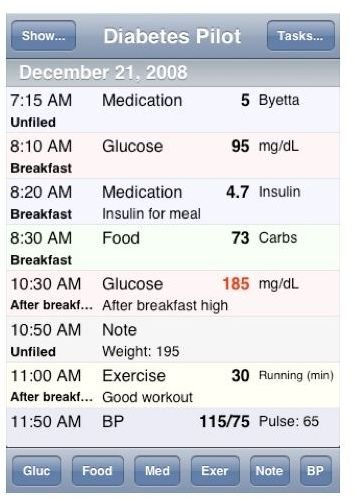 Weird name for a diabetes app? Well, never mind that, because what is important is that this app is definitely useful and reliable too. Proof of its reliability is the fact that this app was developed by diabetes professionals, backed by an established company and designed by people who are suffering from diabetes themselves. The result? A fast, flexible, complete and easy to use app to help you cope with diabetes.
With those credentials, I guess you might have guessed by now that this app is definitely feature-packed. Indeed it is and you'll find it useful whether you use insulin or other medications or just dieting and exercising. This app will help you get organized so you can manage and analyze information related to your diabetic condition. The app lets you synchronize and record data and foods with the diabetes software on your Mac or PC, record glucose, medications, meals, blood pressure and notes, graph your daily glucose readings and weight and more.
(Price: $11.99)
Glucose Buddy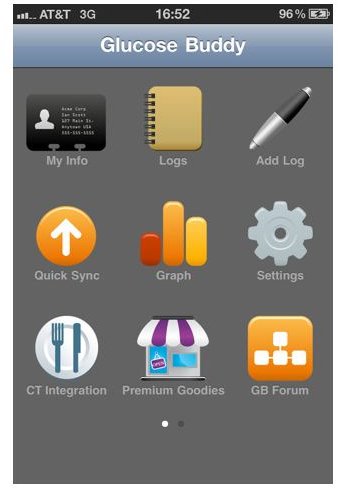 Here's another highly-rated and well-praised iPhone diabetes app. It was also ranked as the number 1 diabetes app by the founder of diabetes site TuDiabetes.com and was covered by the Diabetes Forecast Magazine, Wired Magazine and other medical-focused magazines. That all adds up to a pretty good iPhone app considering that it was introduced with one main purpose - to help you keep track of your blood sugar levels - online.
Yes, it's primarily a data storage utility for people with diabetes. The idea is for you to enter your glucose numbers, carbohydrate consumption, insulin dosages, and activities. You can then view your data online from the glucosebuddy.com servers where you can create a free account. You can also print your data from the server. And recently, the app was integrated with Calorie Track which is a calorie/nutrition and exercise app to help you log food and activities easier. It seems a pretty good integration, although some users are not liking it since you need to pay an additional $2.99 to get the Calorie Track app, which is a shame considering that Glucose Buddy is free.
WaveSense Diabetes Manager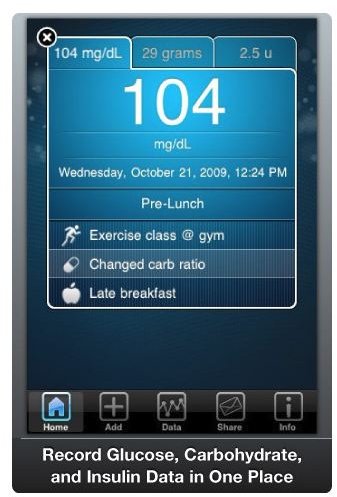 This app has the same purpose as other previous apps on our list - it lets you track your glucose results, carb intake and insulin. So you enter your information and quickly the app will transform it into convenient charts and graphs – giving you a different perspective on managing diabetes. As an added feature, the app also has some videos demonstrating healthy eating habits, lifestyle choices, as well as insights from other people who are suffering from diabetes.
Running down its features will give us – a logbook for tracking your glucose results, trend chart for visually representing your glucose results, email reports, color-coded results, carb/insulin tracking, tagging and more. One thing that stands out from this app's feature list is the great user interface which can be best described as sleek and clean. Unfortunately, some comments from the App Store are not all that positive. Some have pointed out the lack of important features such as the inability to add other meds, lack of updates since it was released and more. But for its main purpose, the app does what it says it can do and it's free so what more could you ask for?
Insulin Calc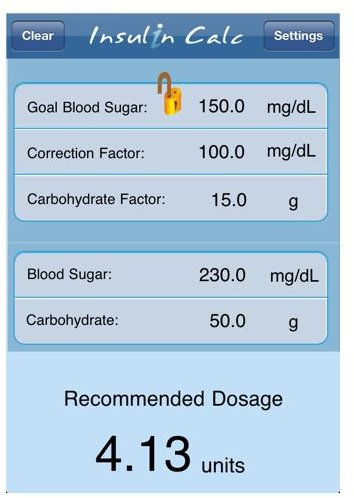 The last iPhone diabetes app in our round up is a handy and smart app which allows you to get the dosage of fast acting insulin that you should inject easily and quickly. But before you use this app, you must first ask your doctor for your personal Correction Factor, Carbohydrate Factor and Goal Blood Sugar. When you get that information, you can then input it together with the carbohydrates that you've eaten and your current blood sugar. Then the app will calculate the recommended insulin dosage that you should take. The app was made to make the task of insulin injection easier – and it covers this objective pretty well.
(Price: 99 cents)
What is the Best Diabetes App for iPhone?
All five apps that we have listed are useful, reliable, accurate and worth-downloading if you are diabetic and you want to manage your blood sugar level, insulin injection and other factors that will help you to cope with diabetes. Diabetes Buddy and Diabetes Pilot are the most highly recommended, although they both come with price tags.
References
Image credit: Screenshots courtesy of iTunes App Store.